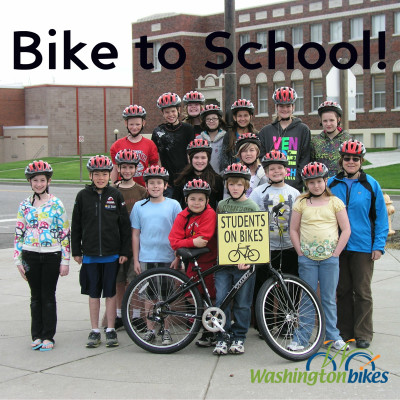 Today is Bike to School Day and thousands of school children will be pedaling to their destination today. We hope your kids are among them. Maybe you'll even be riding with them!
There are 46 Bike to School events scheduled in 18 Washington communities this year. A quick sampling includes:
La Conner Elementary is organizing a group ride (and walk) to school starting from Pioneer Park.
Moses Lake's Peninsula Elementary is holding its first ever Bike to School Day. Activities include adult-led bike trains, teaching parents correct helmet fits, and a bike raffle.
Seattle Progressive Preschool is one of 17 Bike to School events listed in Seattle. Parents are biking their young ones to school and participants will celebrate with stickers and snacks.
Vancouver's Sacajawea Elementary has biking events planned throughout the week including helmet fittings and daily rewards for riding.
View the full list of Washington's Bike to School events.
Washington Bikes is helping youth around our state to discover the joy of riding a bike. Visit our Safe Routes to School page to learn more.