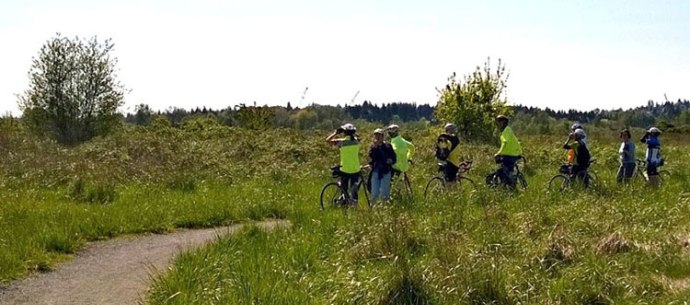 Life member and volunteer Phyllis Counts shared her love of birds and bicycling with others through a donation to the WA Bikes auction last fall. She now shares it with a larger audience with this blog post.
Last fall, along with our highly enthusiastic "birder" friend Mike McKinstry, we had an idea for a WAbikes auction donation:  Better Birding by Bike! We were looking for a way folks could learn about our local birds and their habitat without using cars.  Bicycles seemed like a quiet, non-polluting means of getting us to the birds.
The auction catalog description went something like this:
Better Birding by Bike!
Pedal off on a day of springtime bird watching on bicycles — the very best way to go birding! This guided daytime tour for up to 8 adults includes bicycling with Mike McKinstry and other avid birders to several of the area's birdwatching hot spots. This includes a delectable Northwest picnic lunch and an autographed copy of Birding in Seattle and King County, by Eugene S. Hunn.
If you ask most people what kind of birds can be seen around here, they might just say "Seattle? All we have are pigeons, crows and seagulls." But, we were able to see an amazing variety of feathered residents right here in our own urban environment!
Mike put us in touch with his friends Jan Bragg and Tracee Geernaert, Seattle Audubon Society Master Birders, who agreed to meet us at the Montlake Fill and later at Magnuson Park.  Mike would handle the tour of the Seward Park Loop.
Lorelle and Dwayne Shearer purchased the tour at the auction. On a sunny morning in April, we gathered early at Seward Park, where Mike led us up the Loop road to the upper parking area where we saw Pine Siskins, Chestnut-backed Chickadees, Red Breasted Nuthatches and several Northern Flickers. We were also treated to migrating Pine Grosbeaks in the tops of the evergreens!  Also present were two mature Bald Eagles sharing the top of a fir tree.
We rode bikes north out of Seward Park, for about ten miles along Lake Washington to the Montlake Fill by way of the University of Washington Yacht Club and Conibear Shellhouse road so we could see Western Painted Turtles sunning themselves and meet with our birding experts, Jan and Tracee.  As we walked our bikes quietly along the trail, they pointed out Pied-billed Grebes, all kinds of ducks and a very seldom seen Green Heron, described as a "solitary and secretive bird " which was at that moment building a nest!
While at the Montlake Fill we heard a Virginia Rail calling, and got great looks at Yellow-rumped Warblers, Common Yellowthroats, a female Ring-Necked Pheasant, Marsh Wrens and Red-wing Blackbirds.
After walking our bikes up the pathways through the Fill, we started riding again at the Center for Urban Horticulture, onto the Burke-Gilman Trail towards Magnusen Park. At the park we stopped at our designated picnic lunch spot near the boat ramps, where we had a nice lunch break and a close look at a Horned Grebe in full breeding plumage! After lunch, we followed Jan and Tracee for a look at nesting Belted Kingfishers, Cooper's Hawks and Anna's Hummingbird.  Our last view was a hard working Black-capped Chickadee excavating a new nest cavity on a Madrona snag!
It was then time to ride the 12 miles back to Seward Park to end the tour. Here's a map of our birding route.
Many thanks to Mike McKinstry, Jan Bragg, Tracee Geernaert, and Lorelle and Dwayne Shearer for joining in the fun and supporting Washington Bikes!
If you want to learn more, try a search on the internet under Birding by Bike.  Or you might visit this blog post we found called "Half the Wheels, Twice the Fun",  written by Hugh Powell.
To learn more about any of the birds named in this article, please visit Seattle Audubon Society.