If you love all things bicycle and you live in Spokane, then you don't want to miss the Spokane Bike Swap & Expo next weekend, April 11-12.
Organized as a benefit for the Friends of the Spokane River Centennial Trail, the Spokane Bike Swap is the place to buy new and used bikes, swap your old ones, connect with bike groups like us, practice using the bike rack on transit buses, get information on super Spokane bike events like Spokefest and Spokane Summer Parkways, sign up for rides like the Jedermann Gran Fondo and Lilac City Century and Family Fun Ride, and more.
Be sure to drop by the Washington Bikes booth to say hi and meet our executive director (and founder of Spokane Bikes) Barb Chamberlain and the great volunteers who will be there with her.* You can pick up a copy of our popular Washington Bike Laws pocket reference, a "Drive Aware" brochure to share with your non-bicycling friends who drive, and bike maps from around Washington state.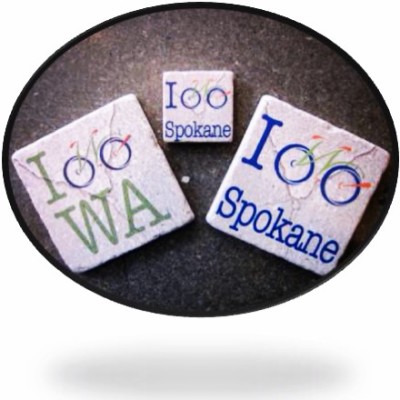 We'll also have our pop-up retail store at your service:
Support bike advocacy with your tax-deductible donation or membership. (Why both? Some people like to consider themselves members, some people like to donate. All support welcome!)
Get made-in-Washington bicycle themed merchandise like the I Bike Spokane and I Bike WA items shown here.
Pick up a copy of our guide to multi-day bike tours to inspire your bike travel for years to come.
Check the Spokane Bike Swap website for more details about the event and we hope to see you next weekend. Speaking of seeing you….
*Want to volunteer with us? Email Barb, barb@wabikes.org, if you'd like to help with set-up Friday afternoon, work a two-hour shift Saturday or Sunday, 9am-3pm, or help with teardown at the end of the event (which goes really fast).