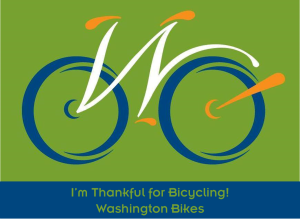 It's easy to get a tad Grinchy about commercialization around this time of year, or to let the food orgy of Thanksgiving override your common sense along with any moment in which to experience genuine gratitude.
That's the beauty of a bike ride. Whether you ride every day or once in a while, you know it gives you a space and time apart from the pulls and tugs of work, family, and technology. The ride itself provides both a time in which to pay attention to gratitude and many things for which to feel thankful.
What a bike ride home gives me at the end of the day:
exercise
fresh air
direct experience of neighborhoods I don't live in and wouldn't otherwise see up close
the chance to smile at a little kid holding his dad's hand as they walk at toddler pace along the sidewalk
enjoyment of my body's ability to power itself up a hill
the exhilaration of a long downhill coast
think time in which to come up with an idea and spend some time shaping it
easy parking if I need to make a grocery stop — so much simpler than finding a spot for a car
money in my pocket to spend on more interesting things than gasoline
and a hearty appreciation for my sweetheart's cooking at the end of the ride.
For these and so many other reasons, I give thanks for biking.
[Tweet "So many reasons to feel thankful for biking! What are yours? #Thanksgiving"]
Your Turn
What are you thankful for that biking has given you?