Become a Member
Become a member and help us grow bicycling statewide.
Our members are the key to our success in creating complete and healthy streets, developing more inclusive communities for cycling, expanding our online resources for every type of riding, and seeking to make bicycling accessible to everyone. Your membership or donation funds legislative advocacy, education and safety programs, and lets us represent cyclists' interests at the local, state, regional and even national level.
Join or Renew Now!
Share the Road and Become a Washington Bikes Member — One Year Free! 
Share the Road License Plate: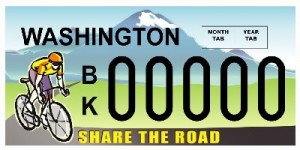 Get an individual one-year membership FREE when you purchase a Share the Road License Plate for your motor vehicle. This super-colorful license plate announces to the world that you support bicyclists, makes your car a mini-moving billboard for safe driving behavior, and supports safety and education programs.
I Bike WA!
Do you support a bike-friendly Washington? Wear it on your sleeve! All proceeds from the bright blue I Bike WA! T-shirt support our mission of outreach, advocacy and education.
Purchase this and other WA Bikes merchandise on our SHOP page.
Make a Donation
Washington Bikes is a registered 501(c)3 organization. Your membership is a 100% tax-deductible donation – but if you prefer, you can donate without becoming a member. Make a fast, secure donation through PayPal (you don't need to be a member of PayPal—all you need is a credit card) here:
You can also make workplace donations through