Washington Bikes and Cascade Bicycle Club 100 percent encourage people to wear helmets, but we believe it should not be a criminal matter.
Helmet laws have been shown locally and nationally to disproportionately harm Black, Indigenous, and People of Color communities.
King County officials are expected to vote on a repeal in October.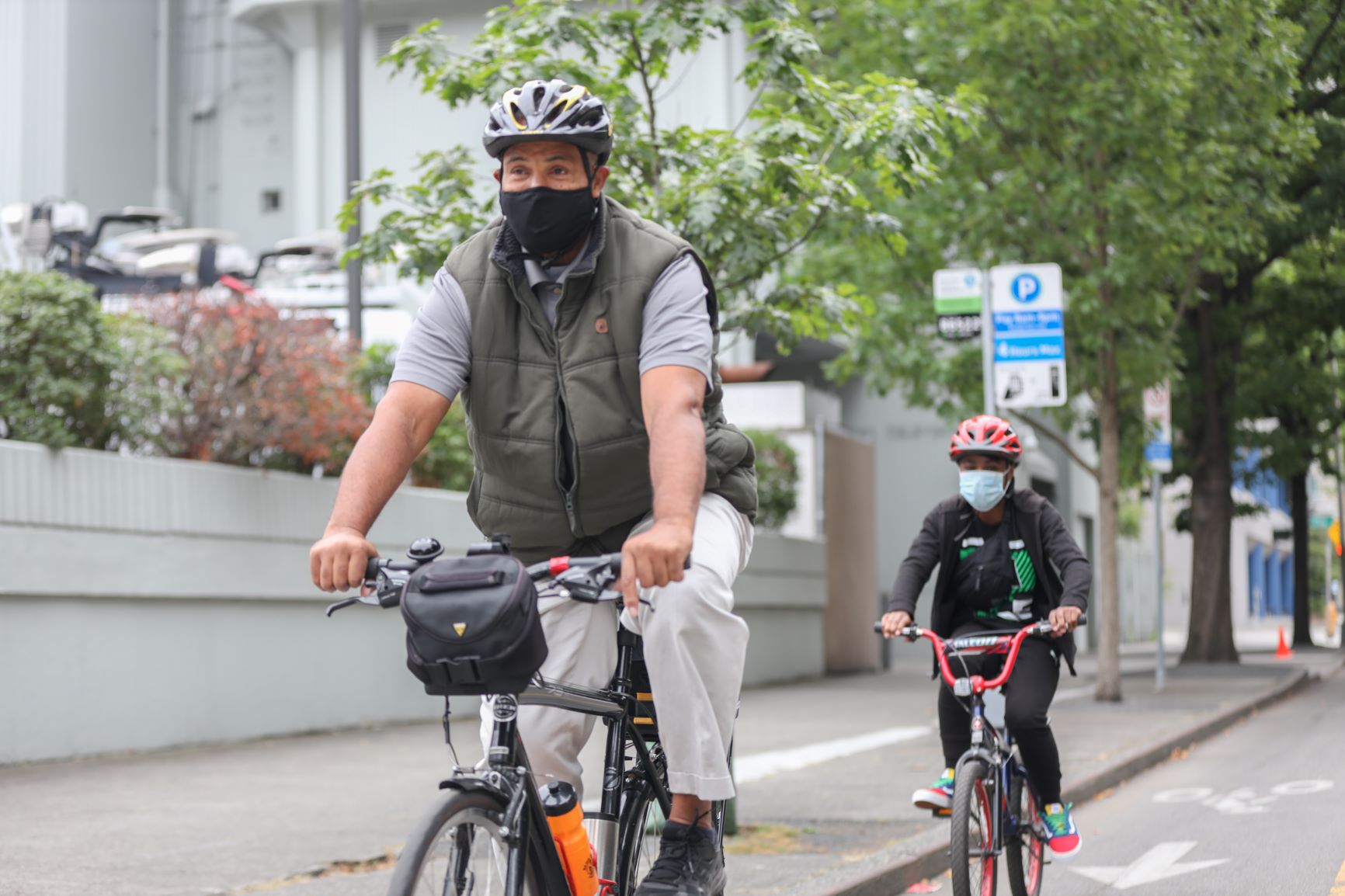 An effort to repeal the mandatory bike helmet law in Seattle and King County due to racial bias in enforcement, as well as the targeting of individuals affected by homelessness, has taken a big step forward.
The King County Board of Health has directed its staff to draft a formal repeal of the bike helmet law, which has been on the books since 1993 and has been enforced by Seattle since 2003. The board is expected to vote on the repeal at its October 21 meeting at 1 p.m.
Washington bikes and Cascade support repealing the law and have worked in partnership with multiple community organizations to encourage the King County Board of Health to strike the ordinance from its books.
"Cascade and Washington Bikes 100 percent support voluntary helmet use, and we encourage everyone to wear one, but we do not believe it should be a criminal matter," says Executive Director Lee Lambert.
In advance of the King County Board of Health's vote, Cascade and Washington Bikes are encouraging their members who live in King County to contact the Board of Health to urge repeal.
Repealing the King County ordinance would eliminate enforcement in all unincorporated areas of King County, plus 22 cities and towns including Seattle that either lack their own helmet laws or adopt the county's law in their municipal code, according to Ethan Campbell, a University of Washington doctoral student who conducted a countywide analysis of helmet laws for Central Seattle Greenways.
Seventeen other communities in King County have their own municipal bicycle helmet laws that would be unaffected by a Board of Health repeal, according to Ethan Campbell, a University of Washington doctoral student who conducted analysis for Central Seattle Greenways. Campbell's research showing that Black and Indigenous people have been disproportionately targeted for ticketing helped convince us to support the repeal effort. 
Helmets Yes, Helmet Laws No
We believe the best way to protect people riding bikes from death or injury is by creating safer streets through public policy measures such as reducing motor vehicle speeds and building more protected bike infrastructure that separates people on bikes from fast moving vehicles.
"Creating safer streets means creating places where people of all ages, abilities, races, and ethnicities can access public space equitably and comfortably," says Tamar Shuhendler, Cascade's community organizer.
Motor vehicles are the biggest threat to people on bikes. Bike helmet manufacturers have stated that they do not design their helmets to protect people from the devastating impact of being hit by a speeding motor vehicle. Bike helmets, which are effective at protecting people's heads in self-induced crashes or falls–such as from hitting a pothole or curb–are no match for a speeding car.
"Public agencies that want to encourage greater helmet use should consider programs that provide free or reduced-price helmets to individuals who want them but don't have the means to acquire one," says Vicky Clarke, Cascade's policy director. "Making helmet use a criminal matter has led to increased interaction with law enforcement for marginalized communities, and that's something we oppose."
People who would like to learn more about why Cascade and Washington Bikes are pro helmet but opposed to helmet laws can read our blog post, "Helmets Yes, Helmet Laws No."
Using Our Head and Changing Our Mind
Cascade supported the King County helmet law when it was enacted in 1993, a time when helmet use was far lower than today. Much has changed in the nearly three decades since then, however. Most notably, a study of Seattle Municipal Court records showed that Black people were ticketed in Seattle at a rate nearly four times greater than white people. Reporting has also shown that the law was used to target people affected by homelessness. In addition, there is now widespread awareness that bike helmets are a wise choice.
The 17 communities in King County with their own municipal helmet ordinances include Auburn, Bellevue, Black Diamond, Burien, Des Moines, Duvall, Enumclaw, Federal Way, Issaquah, Kent, Lake Forest Park, Maple Valley, North Bend, Pacific, Renton, SeaTac, and Snoqualmie, according to a list compiled by Campbell. Efforts to repeal those municipal laws could begin once King County's law is stricken from the books.
Statewide, more than 30 Washington communities have bicycle helmet laws, according to the Bicycle Helmet Safety Institute. A list of bicycle helmet laws nationwide compiled by the institute shows that 40 states including Washington have communities with some form of bicycle helmet law, often for minors.
Our effort to repeal the law is guided by our Commitment to Anti-Racism and Cascade's Mission, Vision, and Values statements that commit us to pursuing equity and inclusion in bicycling and in Washington state. Cascade requires everyone participating in its events and rides to wear a helmet, and it provides them for free to youth and adults in our educational programs.
The message is clear: Wear a helmet, but don't punish and criminalize people who don't–or who can't afford one.