Electric bikes are a practical and healthy solution for addressing the climate crisis and transforming Washington's transportation sector–the state's largest source of carbon emissions.

Submit testimony in support of the e-bike bill before its next hearing on March 23.
Washington Bikes is encouraging its members to support a bill that would reduce the cost of electric bikes, with the goal of boosting e-bike sales and enabling more people to pedal rather than drive.
HB 1330 would exempt e-bikes, which can cost several thousand dollars, from Washington's 6.5 percent sales tax, making them affordable to more people. The bill has passed the House and will be deliberated next Tuesday, March 23, by the Senate Ways and Means Committee, which would have to approve the legislation before it could be sent to the full Senate for a vote.
"The more we make this emerging technology affordable, the less we have to worry about traffic, parking, greenhouse gas emissions, and steep car payments," says the bill's prime sponsor, Rep. Sharon Shewmake of Bellingham. Shewmake, elected in 2018, is an avid e-bike rider and a Washington Bikes champion in the state Legislature.
Members and supporters of Washington Bikes are encouraged to contact their state senator to voice support for the measure. Individuals can also give their thumbs up to the Ways and Means Committee by going to this link, clicking "pro" on the Position menu, then filling in their name and information.
"It's a win for our wallets, the environment, our health, and people who just want to get around town easily," Rep. Shewmake says.
Why E-Bikes?
Hugely popular in bike-friendly European nations, e-bikes are less common in the United States, where their sales are growing. E-bikes must be pedaled like regular bikes, but they provide a boost that amplifies a rider's power, making them a practical solution for replacing cars for commuting and running errands, especially in the hilly Pacific Northwest.
If passed, the exemption would take effect Aug. 1, 2021 and expire in 2027, or when $500,000 in sales tax exemptions have been granted.
Bike manufacturers and e-bike shops are speaking up in favor of the legislation. "These tax incentives will help lower the cost of acquiring an e-bike, making a purchase accessible to many more riders in the state," says Larry Pizzi, chief commercial officer for Alta Cycling, the Kent-based parent company of bike brands including Diamondback and IZIP. "E-bike trips will replace car trips, easing congestion on our highways, benefiting the environment and improving riders' health."
Brian Nordwall, owner of Seattle E-Bike, says he has potential customers for whom the sales tax exemption would make a big difference. "The social, health, and environmental benefits of this bill would far outweigh the loss of revenue to the state," he says.
Supporters point to the subsidies Washington provides to the buyers of electric cars as a precedent for passing this bill into law. Washington provides up to $2,500 in sales tax incentives for purchasing electric cars. The state sales tax incentive is in addition to a federal tax credit of up to $7,500 for buying an electric car. "We already provide exemptions to electric vehicles in Washington state, and we should do the same for e-bikes," Shewmake says.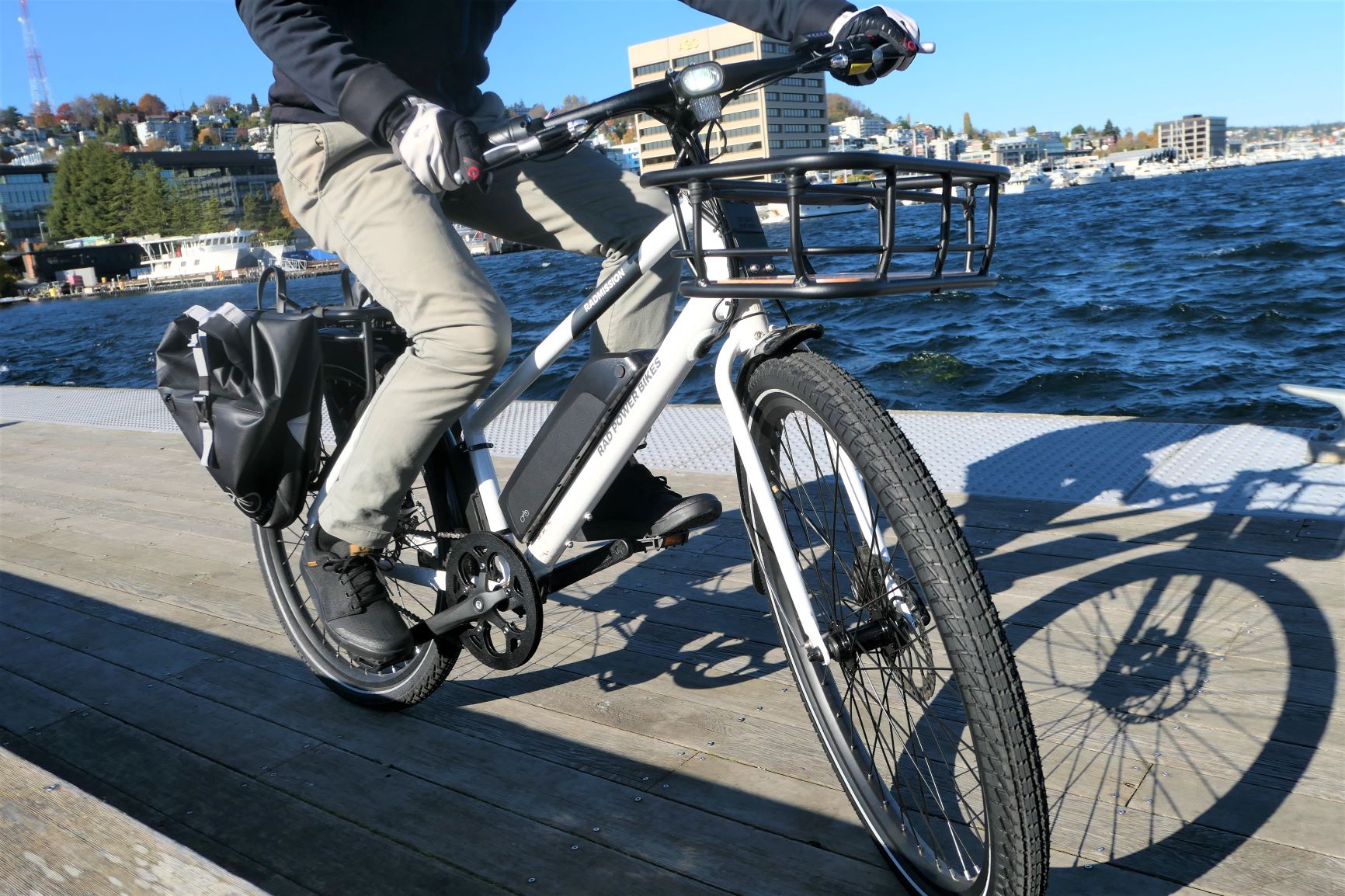 Cars and the Climate Crisis
Increased use of electric bikes could help solve the climate crisis, which is being driven in large part by gasoline-powered motor vehicles.
Transportation is the largest source of greenhouse gas emissions in Washington state, accounting for nearly 45 percent of the state's emissions in 2018. Transportation is likewise the biggest source of carbon emission in the United States, accounting for 29 percent of the U.S. carbon footprint, with gasoline alone comprising 22 percent of the U.S. carbon emissions.
More than 45 percent of car trips in the United States are three miles or less, according to the National Household Travel Survey, while more than 20 percent are one mile or less. A large percentage of these trips could be accomplished with an electric bike by people of all ages.
A study conducted in Portland, Ore., estimated the city's carbon emissions would drop by 12 percent if electric bikes were used to replace 15 percent of car trips. "These estimates show that e-bikes have the potential to help cities and regions achieve their climate goals," the study's authors wrote.
A survey of e-bike owners by the National Institute for Transportation and Communities shows that, once people have an electric bike, they use their cars less. Electric bike owners ride more often, and they feel safer riding the streets on an electric bike than a traditional bicycle. Respondents said that 76 percent of their e-bike trips would have otherwise been made by car.
"It doesn't get treated as a serious commute mode, but it is," says Rep. Shewmake, a professor of environmental economics at Western State University in Bellingham. "I lost 10 pounds and began riding it everywhere after I got an e-bike."
E-Bike Subsidies Work
Washington's e-bike bill is part of a growing national and international effort to boost the use of e-bikes as car replacing vehicles. The U.S. Congress is considering an e-bike bill. The Electric Bicycle Incentive Kickstart for the Environment (E-BIKE) Act would give a 30 percent tax credit up to the amount of $1,500 for an e-bike purchase.
E-bike subsidies are also popular in Europe. In Sweden, a government subsidy caused sales to increase by more than 50 percent. England is preparing to introduce subsidies for e-bike purchases. Oslo, Norway, has offered subsidies for residents to buy electric cargo bikes–the so-called pickup trucks or minivans of e-bikes due to their hauling capacity.
California passed a bill in 2019 that provides residents of low-income communities up to $7,500 to buy an e-bike or join a bike-share program if they trade in their car. The California Legislature is now considering the E-Bike Affordability Bill, which would create a $10 million fund to help individuals buy electric bikes.
Rep. Shewmake's bill would also provide a sales tax exemption for up to $200 in cycling equipment including helmets, lights, and locks. She called it bipartisan legislation. "Definitely contact your senator, send them an email, and share your personal story if you have an e-bike."
Learn More and Support the Bill!
Read Rep. Shewmake's bill and follow its progress in the Senate.
Submit a comment on the bill.
Submit a "Pro" position to the Senate Ways and Means Committee.