We had a blast at the inaugural Bike Walk Roll Summit presented by Amazon this October. Refresh your memory, or learn anew what the Summit held — and how you too can now experience the presentations, panels, and keynote addresses.  
This October, Cascade Bicycle Club and Washington Bikes co-hosted our first ever virtual Summit – The Washington Bike, Walk, Roll Summit Presented by Amazon. The Summit is in its fifth year, and 2020 was our most successful Summit, by many metrics – including registration, engagement, and attendee feedback on content. During the five day event, over 600 attendees tuned in to 15 sessions on issues from racial justice in the cycling community to the technical skills needed to make active transportation infrastructure that works for all ages and abilities. We also heard from two expert keynote speakers, Charles T Brown and Anna Zivarts, on issues of Arrested Mobility and disability rights advocacy.
Highlights from the Summit Sessions:
During the Monday keynote session, Charles T Brown explained his body of work around Arrested Mobility, discussing the ways in which Black people and communities of color are policed in public space, as well as the ways in which we must address the impacts of policing on these communities. He also participated in a follow up keynote debrief, along with experts and community leaders Dr. Destiny Thomas, Dr. Edwin Lindo, and Yes Segura, on the ways in which we can achieve mobility justice in our communities.
YouTube link to Charles T Brown Session
On Wednesday, we were joined by disability rights advocate Anna Zivarts, who leads the Disability Mobility Initiative Program at Disability Rights Washington. Anna shared her personal experiences as well as professional expertise in disability justice. She discussed the ways in which we must move away from car dependency in our transportation systems, and how we must center equity and accessibility in our communities.
YouTube link to Anna Zivarts session 
Check out some more highlights!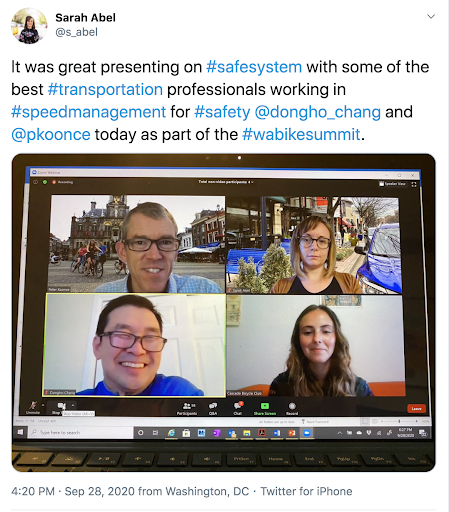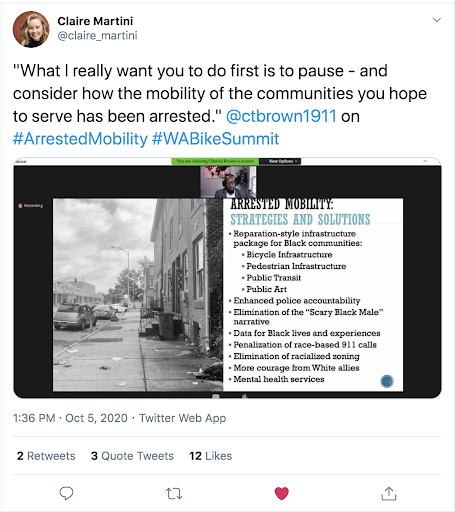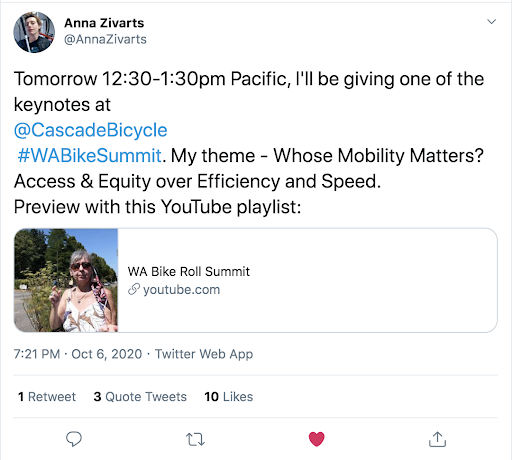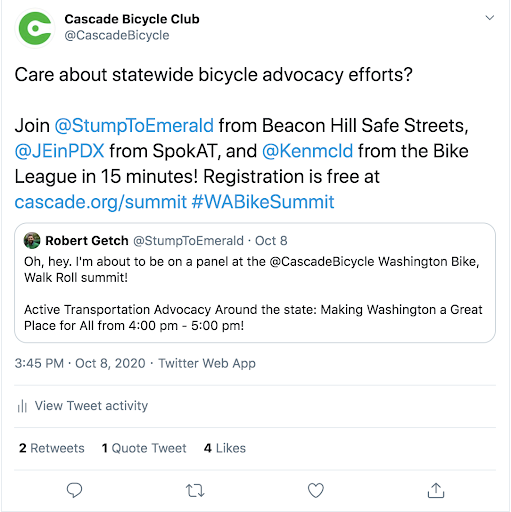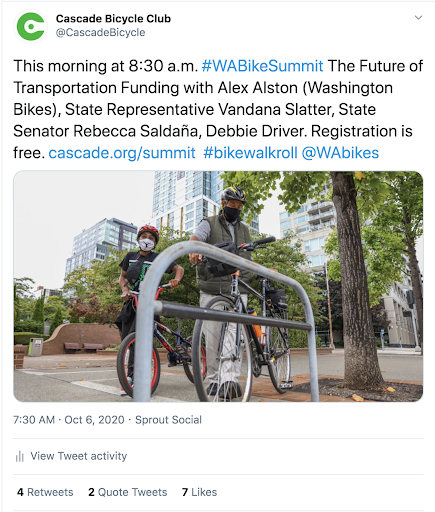 2020 has been an incredibly tumultuous and transformative year, as we respond to the COVID-19 pandemic as well as the national reckoning and uprising against systemic racism and police brutality. The Washington Bike, Walk, Roll Summit presented by Amazon provided a space for advocates and professionals in the active transportation community to come together and reflect on how we can address our past failings, and step up to address the current moment and plan a more equitable future.
Our sessions included conversations about how we address and respond to the COVID-19 pandemic through equitable community engagement, organizational reform and redirection, and potential revenue streams for transportation funding into the future. Our expert speakers also discussed the need for racial equity in the cycling community, bringing together key voices in the active transportation community to speak to these issues and methods. 
The next Washington Bike, Walk, and Roll Summit will take place in Autumn 2021, and we hope to meet in person in Spokane. We are excited to continue the conversations we had at the 2020 Summit about racial equity, community engagement, mobility equity, and accessibility, and the ways in which we make systems that work for everyone biking, walking, and rolling. 
PS: If you missed the Summit, fear not! You can access each session recording here:  Summit session YouTube recordings