A long ride through south King County — with treats. Another in our series by Nancy Yu.
We've made our way south to the city of Auburn for a ride through Green River Valley. This route tours the towns of Covington, Ravensdale, Kanaskat, and Cumberland to the Green River Gorge with a stop at the Black Diamond Bakery.
We exit the Auburn Game Farm Park for the short climb up Riverwalk Dr SE to Auburn Way S; the main thoroughfare of town. The turn on M St SE takes us over to the other side of town on SE Auburn Black Diamond Rd.
SE Green Valley Rd follows along the Green River for 7.3 flat miles through the Muckleshoot Prairie. This area is home to rich open agricultural farmlands, horse farms/ranches, tree farms and goat farms.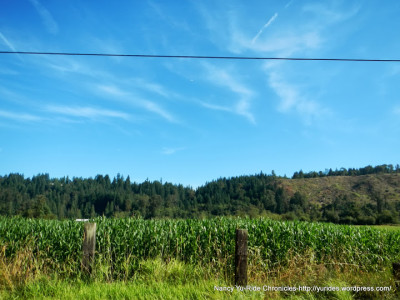 The short steep climb up 218th Ave SE takes us to SE Auburn Black Diamond Rd. The next 6+ miles on SE Auburn Black Diamond Rd and Kent Black Diamond Rd SE takes us through the wooded residential ranch and tract style neighborhoods towards Lake Meridian.
We cross under WA-18 to Covington Way SE; this is the business/shopping district of Covington with the usual big box stores; Costco, Fred Meyer and the smaller chain stores/restaurants-Safeway, Subway and of course Starbucks. SE Covington Sawyer Rd leads us through more wooded neighborhoods and small businesses.
The turn on 216th Ave SE leads us through more austere neighborhoods near Lake Sawyer. The road goes thru three name changes as it exits the residential areas and enters the thick forests surrounding Lake Sawyer Regional Park.
The 1.3 miles on Roberts Dr takes us to the civic center area of Black Diamond out to the other end at the red Farmers Market. The turn on 3rd Ave/WA-169 continues through a short section of businesses, a mobile home park and an industrial area near the edge of town.
Maple Valley Black Diamond Rd SE leads us to the Four Corners in Maple Valley and Ken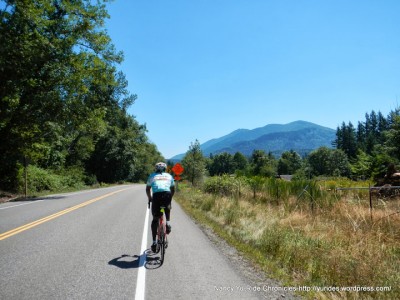 t; it's a very busy area with shopping centers and a business district. SE Kent Kangley Rd goes pass the green forests of Danville Goergetown Open Space and continues out through Ravensdale Retreat Nature Area.
We head south on Retreat-Kanaskat Rd; this road goes pass the lake front homes around Retreat Lake to the wooded areas out to the large energy substation. We cross the RR tracks on Cumberland Kanaskat Rd and ride along the Green River for a quick in and out through the towns of Kanaskat and Palmer. The road continues through the country with open meadows and acreage ranches and farmhouses to the next town — Cumberland.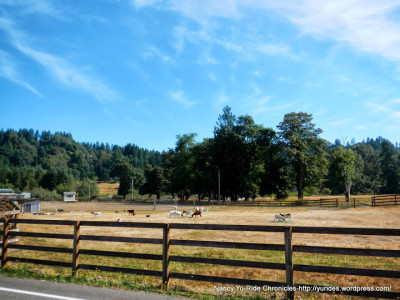 We exit Cumberland on Veaszie  Cumberland Rd SE; this road leads us out-of-town towards Deep Lake and to the rural countryside with open ranches, farm houses and agricultural fields.
The stretch of road leading up to the climb up Stanridge Hill on SE 392nd St has phenomenal views of the iconic Mount Rainier sitting high as the backdrop to this gorgeous country setting!
From WA-69 N/264th Ave SE, we take Enumclaw Franklin Rd SE for the next 3.9 miles up to SE Green River Gorge Rd. This is beautiful section of road with minimal to no traffic; it goes through the forests surrounding Black Diamond Bridge State Park,Green River Gorge State Park and the Green River Gorge Conservation Area. Take a moment to stop and view the deep Green River Gorge at the overpass area-it's a pretty awesome sight!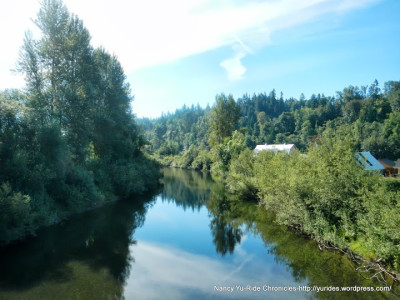 SE Green River Gorge Rd/293rd Ave SE goes on for the next few miles and changes to SE Green River Gorge/Franklin Howard Rd and Lawson St for the last 1.2 miles into Black Diamond. A little jog around town will take you to the Historic Black Diamond Bakery on Railroad Ave.
Enumclaw Black Diamond Rd SE/WA-169 takes us to SE Green Valley Rd for the Green River crossing on 212th Way SE and to the short steep climb up Whitney Hill.
SE 384th St takes us through the rural ranchlands around Muckleshoot Prairie; this road jogs along the edge of the Muckleshoot Indian Reservation with multiple name changes.
For the return to the Game Farm Park, we take Auburn Way S to Riverwalk Dr SE and drop down to 29th St SE and R St SE.
For dinner, we stayed in Auburn and went to Pho Dinh Restaurantfor some Vietnamese beef and chicken noodle soup-it was all good!
This route has a little bit of city and lots of scenic roads with miles and miles of idyllic country landscapes. The majestic Mount Rainier is never too far away!
Garmin Stats:
78.73 Miles with 3717′ of elevation gain
Max elevation: 886′
Max grade: 13%
Terrain: Rolling with a few short steep climbs
Weather: WONDERFUL! Sunny and clear with tamps ranging from the low 60's to the low 80's. S winds with 82% humidity. Click here to view an interactive version of this map: http://ridewithgps.com/routes/3340030.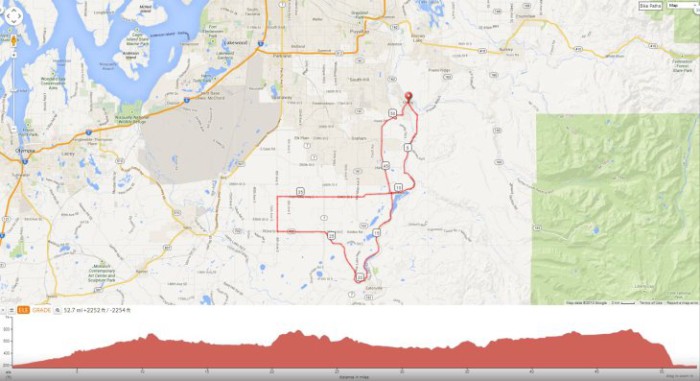 Guest blogger Nancy Yu writes about her bike travels at Ride Chronicles. She says, "I loved cycling around Washington. It's a beautiful state with a wonderful network of trails and bike-friendly people. I ride to explore and love sharing my findings! I hope the write-ups and pictures will inspire those who can to get out there and enjoy the natural beauty of all that is available to us."