Today's story comes to us from our friends at Bike Clark County.
Vancouver Parks & Recreation, Bike Clark County, and National Park Service Partnership Result in Summer Bike Camps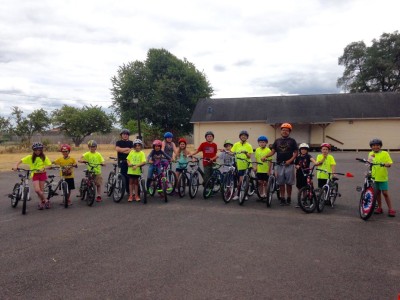 Dreaming big and a spirit of collaboration brought Vancouver Parks and Recreation, Bike Clark County, and Fort Vancouver National Historic Site together in a unique partnership that successfully paired bicycling and youth fitness. It all came together as Bike Skills 101, a series of four week-long day camps for kids ages 6 to 14 in July 2015.
There is an old proverb that says, "Success has many fathers, but failure is an orphan".  Apparently no one associated with Bike Skills 101 got the memo, because each partner was quick to point out how crucial the other partners were to making it all work. Or maybe this is just what a great partnership looks like:  each partner recognizing how working together can optimize the strengths, abilities, and outcomes of the whole. This partnership had federal, municipal, non-profit organizations, and volunteers seamlessly integrated in pursuit of a common goal to help kids have fun and be safe while riding their bicycles.
The idea originated sometime in 2013 with City of Vancouver Parks and Recreation Department employee Jen Thomas and Bike Clark County President Eric Giacchino.
"We talked about how cool it would be for the youth in the area to have a camp in the summer where they could learn bike safety," Thomas said but the idea didn't progress beyond that until a year later when Eric suggested they present the idea to the Vancouver Parks Director. The proposal was approved, "Then the work began," said Thomas. She indicated that a key to launching the program was when Fort Vancouver National Historic Site offered space at the Historic Reserve to house the camps. The space was Building 410, a bare bones facility that is situated along a multiple use pedestrian and bicycle path that provides an ideal location for riders to try out their new skills.
Bike Clark County provided use of their fleet of bicycles from the Safe Routes to School programs for participants that did not have their own bicycle, as well as a team of well trained volunteer mechanics to ensure that all bicycles used were safe and functional. Registration and instruction was handled by Vancouver Parks and Recreation Department.
The camps were run by Heidi Marshall, the Fitness Coordinator at both the Firstenburg and Marshall Community Centers.  Despite her busy work schedule, Marshall was excited to step up to run Bike Skills 101, "I thought it was a perfect fit. Bikes go hand in hand with recreation, fitness, and exercise."
The camp had 80 kids in its first season with a goal of introducing "kids to fun outdoor exercise, maintenance, and road skills on a bike," according to Marshall. They used a combination of the League of American Bicyclists Traffic Skills 101 and Safe Routes to School national curriculums to teach kids basic rules of the road, bicycle safety checks, and riding skills. The morning sessions were spent with classroom time and the afternoons focused on practical skills and eventually longer rides.
After finding the location, the most daunting challenge in kicking off the camps was, "Finding the perfect team to run it, which we did. They did a wonderful job and I hope that we will see them running the camp again next year," said Marshall.
Bike Skills 101 Instructor Hannah Gunter agrees, "A pilot program always has challenges, but we had a great staff and support to overcome them."
Giacchino recognizes how critical the partnership was, "The relationships with The Fort and Parks and Rec was the key.  Bike Clark County had all the equipment and technical expertise but we needed these other organizations to bring it all together".
He also recognized the critical role that Bike Clark County volunteer mechanics played in making the Camps run smoothly, "The shop guys were key to making this thing work. Without them keeping the bikes rolling we wouldn't have been able to have a bike safety camp."
Aaron Gibson has been volunteering for Bike Clark County as a mechanic and bike maintenance shop manager for the last three years. He sees his donated time as well worth it, "Once you do what we do and truly see the joy on these kids' faces, you know you're truly making a difference." He feels that the program would be even more successful if Bike Clark County could grow into having paid staff and a brick and mortar shop space, "If I could ask for anything it would be a legitimate bike shop, open seven days a week, in the heart of Clark County….we could send hundreds of kids through camps each year."
Looking To the Future
All of the partners are looking forward to building on the success of this year and growing the program. "I have a vision for it. I'd love to see it grow and see it become an even stronger and more wonderful program serving our community," saidTracy Fortmann, Superintendent of the Fort Vancouver National Historic Site.
Giacchino shares this vision, "I'd love to see year round, expanded programs for kids and adults also.  Tracy envisioned even higher levels of camps like bike touring.  The Fort is the perfect place to do all this.  My dream would be to find someone to help us make improvements on Building 410 at the Fort to really take things to the next level.  We could have a regional bike destination there with a small bike shop, bike rentals, and even a hostel upstairs for bike tourists!"
"I am excited to see the growth and changes for next year," said Marshall, noting the need for some structural changes like expanding the camp for four to six weeks and separating into two separate camps based on participant age with half-day camps for kids ages 6-10 and full day camps for those 11-14.
She also notes some practical needs. This year's camps overlapped with extremely hot weather with many days in the 90s and even several 100 degree days with no air conditioning or other amenities  She would like to see volunteers to support the staff, a building makeover, and a full size refrigerator with a freezer.