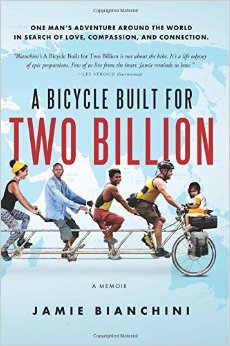 When life handed Jamie Bianchini several bowls of lemons, he sought comfort where he always found it—on his bicycle. In April, 2002 Jamie set off on a bicycle ride around the world on a tandem. Riding solo. As he made this incredible journey, Jamie invited strangers to join him on the rear seat of the tandem.
After eight years, 81 countries and over 1000 riding companions, Jamie returned home and put his Peace Pedalers expedition to paper in A Bicycle Built for Two Billion. Now he shares his intercultural adventure through a captivating multimedia slideshow featuring stunning photos, videos, music and stories.
Seattle area cyclists will have an opportunity to meet Jamie and view his presentation at a special event on September 1 at 6:00 pm at Cascade Bicycling Center. His talk is receiving rave reviews around the country, so you don't want to miss it!
This is a free, family-friendly public event and is presented by Washington Bikes, Cascade Bicycle Club and Ortlieb USA.
Event Schedule:
6:00pm to 7:00pm: Meet-and-greet with a door prize raffle with prizes from Ortlieb and more for all those who arrive before 7:00
7:00pm to 8:00pm: Jamie & Cristina's multimedia presentation of A Bicycle Built for Two Billion
8:00pm to 8:30pm: Mix, mingle and book signing.  Signed copies of Jamie Bianchini's newly released book A Bicycle Built for Two Billion will be available
[Tweet "Join @cascadebicycle @WAbikes @OrtliebUSA for tandem travel talk 9/1 w/@peacepedalers"]