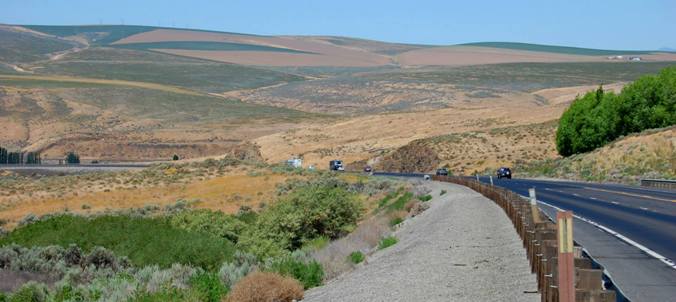 For the second year, the Spokane Bicycle Club and Cyclists of Greater Seattle (COGS) partnered on their ride from Seattle to Spokane. Having participated in the the maiden version of this ride last year, I knew I had a great week of adventures to look forward to. One big snag for me, due to a medical issue and the ensuing slow recovery at the beginning of the year: I had not done much more than my short commutes to work in order to prepare. As it turned out, each day of the tour had its own special form of challenges, but also its own rewards and good feelings to think about each night.
If the idea of a cross country tour has ever held appeal to you, but you hesitate due to either the physical or even planning challenges, a supported group excursion like this is a great way to jump in. With a truck carrying our bags, and with arranged stops along the way for food and water, all we needed to do was follow the cue sheets, take pictures and enjoy the scenery.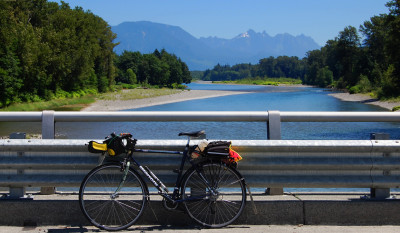 Day 1: Seattle to Skykomish (81 miles)
This was the only long mileage day. You might imagine getting to Skykomish to involve some climbing, but there's not really a great elevation gain between Seattle and Skykomish. Everyone met each other and the support vehicles at Gasworks Park on a sunny Monday morning to hand over the bags before rolling out. Our route begins on the Burke-Gilman Trail until turning off at Woodinville and generally following the RSVP route until Monroe, before wending into the woods and farms on old highways to get to Highway 2 near Startup. Since much of our group is from Spokane (and I'm a Seattleite), I tended to see familiar old paths in a new light, through the eyes of visitors. Skykomish has options for camping, as well as rooms to stay in at the historic Cascadia Inn. Both years we have been treated royally at dinner and breakfast by the owners of the cafe, who even tailored their hours to help us get an early start.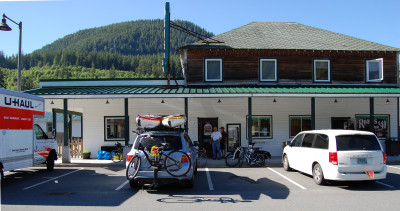 Day 2: Skykomish to Leavenworth (51 miles)
Today the challenge of miles is replaced by the that of climbing. The silver lining is that the climb up to Stevens Pass is not that steep. It's more of an exercise in patience than strength, and the surprise that made it all worthwhile to me was a little detour taken at a turnoff to the left at milepost 55 by a sign that says Iron Goat Trail. Here you escape the noise of traffic and join the Old Cascade Highway, which parallels US 2 for a few miles, but in deeply wooded, shady surroundings with views of an icy stream and waterfalls and, best of all, virtually no cars. You'll forget you're going uphill. This scenic byway spills back out on Highway 2 not far from the top. After cresting the summit, you'll be treated to a mostly downhill segment to the town of Leavenworth. I chose the KOA campground for my overnight, but opted for a cabin. This KOA has nice showers and, to our delight, a pool to seek relief from the afternoon highs in the mid 90s.
Day 3: Leavenworth to Quincy (56 miles)
On any cross country riding day, I try to think of what specifically there is to look forward to. What's my next little goal? A nice thing about the Leavenworth to Quincy leg is that it begins with a LOT of downhill cruising. By the time we made the turnoff to roll into Wenatchee, still morning, we could look back and see how amazingly distant the Cascades had receded into the distance. Our route led us through the old towns of Peshastin and Cashmere, then onto Apple Capital Loop Recreational Trail, paralleling and finally joining Highway 28, right up to the Rock Island Dam. At this point, there are monumentally tall cliffs to your left and ahead, reminding you that the little town of Quincy sits up on a much higher shelf of land, and that one way or another, you're going to end the day's ride up on that pinnacle. Also, it's getting hot again. If you are looking for inspiration at this point, hope is not lost. The climb goes in two main stages, first a gently curving gradual slope, then a brief level-off that offers a spectacular view of the Columbia River making its turn south down below. After that, a steeper, but shorter last pitch up to the top. Keep your eyes open to the left side as you reach the top. There's a delightful open-front market adjacent to the apple orchard called Hilltop Harvest Barn, which sells "the best ice cream ever made." Roll in and order a dish, you've earned it!
Day 4: Quincy to Coulee City (47 miles)
This day, Thursday, started innocently enough, just an easy cruise out of Quincy down the flat or slightly downhill highway to Ephrata (our only official food stop) and then past Soap Lake. A little ways out of Soap Lake, we take a turn off the highway onto a lesser-traveled road and into more remote countryside. I remember this from last year as the hottest and (for me) slowest leg of the route. We are headed for Pinto Ridge, the highest point in Grant County. With no shade and a steady climb, we wend our way past a few buildings (some empty) but mostly past sage brush and dry grasses. Appropriately, the entrance to one ranch has the classic bull-with-horns skull mounted above it. Water bottles empty quickly, and thanks to our support team, we find replenishment. If I were riding this stretch alone, I'd be sure to carry a lot of extra water because there's none available along the way. You can tell when the top is approaching because there's a cell tower located there and, right after, one of those signs most welcome to cyclists — the "truck barreling downhill" symbol. Right after the summit there is a precipitous drop followed by a gradual outrun with great visibility. I coasted to 42 mph and might have gone faster had I not started to work the brakes. What a rush! After this, there's actually still some work to do, and here's where I ran into a bit of trouble. It's just a series of rises and descents to get to the town of Coulee City, but with several "false summits" I kept thinking I was at the brink of coasting into town only to get over a rise and see a couple more miles of roadway stretching into the distance. This is the one place where my lack of physical preparedness was made clear. I started losing energy, and had to break my goals down into smaller and smaller increments to make headway, even counting the reflector posts as I passed them. I was stopped and sipping some water when another of our riders rolled up and stopped to talk, then shared some of his Shot Blocks with me. It was just the ticket and I regained the energy to move on. As luck would have it, this next crest really was the last, and the two of us began our final easy coast down into Coulee City. The town and our campsite sit right at the edge of Banks Lake, and it was a most rejuvenating feeling to wade into the water and float for a while. As the sun dipped towards the horizon, change was literally in the air. Along with the appearance of lenticular clouds, the winds began to pick up gradually and quickly until they were practically howling, into the night. Our good luck forecast for the next couple of days: strong tailwinds and temperatures climbing only into the 70s and 80s rather than the 90s.
Day 5: Coulee City to Davenport (61 miles)
On this second to the last day, the miles increase a bit, but the terrain feels flat, even though we do gain in elevation slightly over the course of the day. Thanks to our unrelenting tailwind, today feels almost like coasting downhill. Mile after mile. After yesterday's hardships, today was thoroughly enjoyable. From dry brush to vast rolling green fields of young wheat. One small town after another appeared, each with its own sights and discoveries. Just outside Almira, there was fawn standing in the ditch alongside the wheat stalks. in Wilbur, there was Doxie's Diner and Billy Burger. A few more empty houses, but this time everything is surrounded by lush, fertile farm fields stretching out to the horizon. Today's miles pass quickly, and soon we are pulling into Davenport. Camping for some of us is at the fairgrounds, which has showers available, not to mention easy walking proximity to the best recovery drinks around, the margaritas at El Ranchito. Both this year and last, the proprietors have been fabulous hosts to our group for dinner. We nearly fill the place, and it's amusing to see the startled look on people's faces as they walk in from an empty parking lot to see a full house.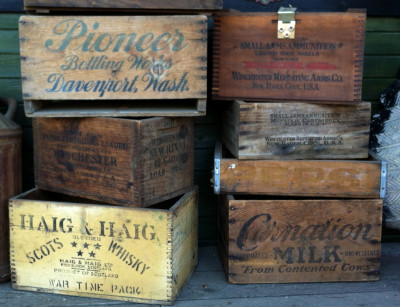 Day 6: Davenport to Spokane (38 miles)
On any multi-day ride, I rather like the idea of the final day being shorter than the others. Our final leg into Spokane is just under 40 miles, and with gentle terrain, so it allows for a leisurely breakfast at the Cowboy Cafe of the Black Bear Motel. The owners of this place have spent many years curating their collection of Old West artifacts. It's a visual treat whether you're walking the grounds or just sitting at the breakfast table. After five days of riding, these will be the most guilt-free pancakes you'll eat. While the bulk of our group is finishing near the bus station so the Seattle riders can turn around and head home, I opt for the second year in a row to turn off at the Fish Lake Trail and head out to Cheney, where I used to have family and still have many memories. This former rail line threads among lodge pole pine and alongside still-active train tracks, with views along the way down into the valley. Spokane has so many picturesque rail-to-trail paths through and out of town, and exploring them could be a reason by itself to visit with your bike. Rides like these are just another reminder that so much worth seeing lies out of sight of the main thoroughfares that most people use to travel across our state. Go slow, see so much more.