Vashon Island, a bucolic escape from the pressures of urban life in central Puget Sound, is a quick ferry ride from Seattle and Tacoma. It is known for its quiet beaches, quaint villages, small farms, and miles of low-traffic hilly roads for bicycling. It is also the home of Passport to Pain (P2P) bike ride.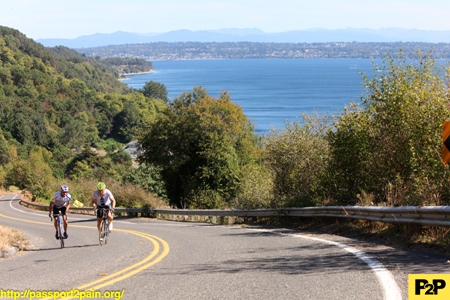 You have an opportunity to win an epic cycling weekend on Vashon Island. Washington Bikes is raffling off a Vashon Island Cycling Weekend for Two that includes two entries to Passport to Pain on September 12, a two-night stay at the Giraffe Guest Suite, and a gift card to Vashon Coffee Roasterie and Minglement. This package is worth over $400.
P2P is the toughest bike ride in the Puget Sound. This Vashon Island ride on September 12 is filled with epic ups and downs! Riders have three Pain courses to choose from: The Idiot – 80 miles and 10,000 vertical feet of climbing, The Weasel – 50 miles and 6500 feet, and The Weenie – 30 miles and 3400 vertical feet.
Our weekend package makes it worth your effort to ride P2P and enjoy some island hospitality! You and your guest will spend two nights at the Giraffe Guest Suite. Situated on the top floor of Giraffe in the heart of Vashon, the 4-room suite includes a bedroom with King bed, a sitting room, efficient kitchen, and a bathroom. Your package also includes a gift card good at Vashon Island Coffee Roasterie and Minglement.
Not into pain? If your guest (or you!) isn't into pedaling The Idiot, then Passport to Pleasure is the course to take! Weekend pleasure options include the Vashon Sheep Dog Classic, the Saturday Farmers Market, a visit to Point Robinson Lighthouse, kayaking or paddle boarding the surrounding waters, and more.
Raffle tickets are $5 each and can be purchased using the form below. (We use Paypal to process payments but you do not have to have a Paypal account.) Proceeds support Washington Bikes work to grow bicycling statewide. The raffle will close on September 8 and we will announce the winner on September 9. Passport to Pain is on September 12.
Enter me in the Vashon Island Cycling Weekend raffle!