Why do we travel? Often, to see something different, or have new experiences, or for some of us even to have adventures. You might think that the farther you go, the bigger the adventure or the more amazing the experience, but that's not necessarily so.
I was reminded of this recently while on a bike ride from Seattle to Spokane with about 40 people, arranged cooperatively between the Spokane Bicycle Club and Cyclists of Greater Seattle (COGS).
An inspiring variety of sights and sites are available right here in Washington, and what better way to travel amongst them than on a bike.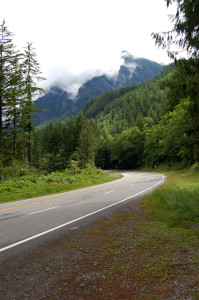 We left on a wet Monday morning, and as long time West of the mountains people know, June is pretty much an even call on whether it will be sunny. As it happened, we rolled out in the mist. However, it also rarely rains hard here, so it's not like it was a hardship. We followed parts of the RSVP and Flying Wheels routes until we got to Monroe, and then joined Highway 2 for the journey out to Skykomish, our first stop for the night. At the campground, my campsite was surrounded by trees, some of which had diameters twice the length of my bike. Even though it rained most of the night, the branches provided such a solid canopy that few raindrops actually touched the tent.
Day two brought our climb up to Stevens Pass. It was predictably wet, but the road shoulders were generally wide, and short detours onto the Old Cascade Highway presented pristinely quiet wilderness. Once we topped the pass and started down the mostly downhill leg to Leavenworth, conditions changed from cool and wet to gradually warmer and, finally, the sun broke out along with that way that east of the mountains smells different, and the dense forest became more widely spaced Lodge Pole pines.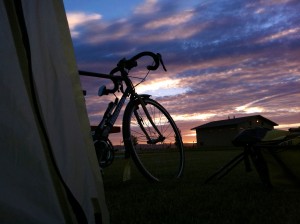 On a bike, you are more likely to visit small towns you'd never see from the Interstate. We overnighted in Quincy, where the owners of The Idle Hour restaurant actually closed for the evening just to serve us. Later in the ride, we nearly filled a Mexican restaurant for dinner in Davenport, and it was something to see the confused faces of people walking in from a nearly empty parking lot to find the place bursting at its seams with people.
Of course another facet of travel that becomes more special on a bike is the feeling you get for the physical topography of the land. Out of Quincy we climbed slowly via snaking remote roads up to a place called Pinto Ridge, which it turns out, is the highest point in Grant County. Sure, it was warm and slow, but then comes the reward for what you just invested. There's nothing like watching the terrain unfold in front of you while coasting at whatever speed you're comfortable, ever deeper into the coulee, spotting the blue water as it first peeks out of the rock and brush, as well as the cooler air that replaces what you just sweated through.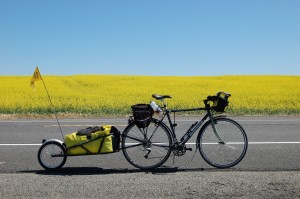 After Coulee City, we rejoined the now mostly straight Highway 2 for the final eastward legs to Spokane. Thanks to a generous tailwind it felt almost downhill, and because it's early summer, the colors are brilliant. For some of us, the start of the trip was familiar "back yard" territory, and for the other half it was the other way around, and for a couple who came from out of state to ride with us, it was all new. Riding with new friends helps you see the familiar in new ways, and to appreciate the richness that we have right here in our mutual backyards.
As a postscript, I'd like to add that because I wanted to end up in Cheney, I took off solo down the Fish Lake Trail out of Spokane, which gets you halfway there before you need to jump back up to the highway. It is a jewel, smooth pavement that takes you right out of town and into quiet forest with a view of the Marshall Creek valley. Between this and the Centennial Trail that takes you out to Coeur d'Alene, the Spokane area has some wonderful trail riding opportunities.
If you would like to receive a cue sheet of Kevin's cross-Washington ride, fill out the info below and we'll send you one!