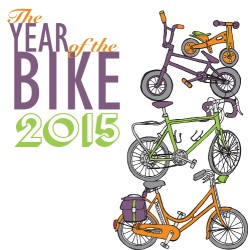 The time is now and the place is here. Downtown On the Go is excited to finally announce:
2015 is the Year of the Bike in Tacoma.
Downtown On the Go will roll out the Year of the Bike on Feb. 12 with a free screening of the bicycle documentary AfterMass: Bicycling in a Post-Critical Mass Portland.  The film will be followed by a community discussion on how positive changes to the cycling culture can happen in Tacoma. The discussion will be led by Joe Biel, director/co-producer of the film, Elly Blue, author of Bikenomics: How Bicycling Can Save The Economy, and Downtown On the Go's Bike Coordinator Matt Newport. Details about this event can be found here.
The Year of the Bike premise is simple: if we want to see more people biking to work or to school or to shops in downtown Tacoma, they first need to make some shorter bike trips within their own neighborhood. Through rides, resources, advocacy, and social media (#yearofthebike), anyone can make it the Year of the Bike. A year-long poster campaign and outreach to local bicycle groups, clubs and supporters invites those who already ride around Tacoma to be Bicycle Ambassadors to the rest of the city.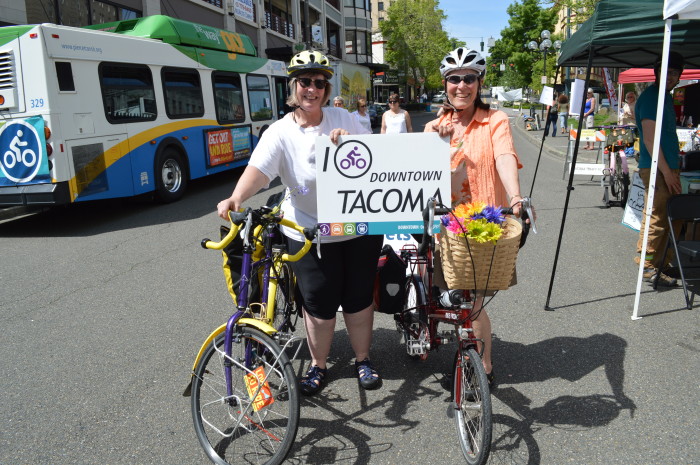 3 Ways You Can Make 2015 the #YEAROFTHEBIKE
1. Ride Your Bike! Bike to school, bike to a friend's house, bike to the coffee shop, bike anywhere. Ride by yourself or ride in a group. It doesn't have to be far or difficult. Find and share ride ideas at Bike253.com and track all of your bike trips at piercetrips.com.
2. Make Your Voice Heard. Tell our City Council that you want a city built for bikes. Citizens' Forums are held every second Tuesday of the month at the Tacoma Municipal Building and give you an open-mic opportunity to speak directly to your elected city officials.
3. Be a Bicycle Ambassador. Downtown On the Go is looking for active members of the biking community to help grow the number of people on bikes in Tacoma. To get involved, call us at 253-682-1739, or send us an email at info@downtownonthego.org.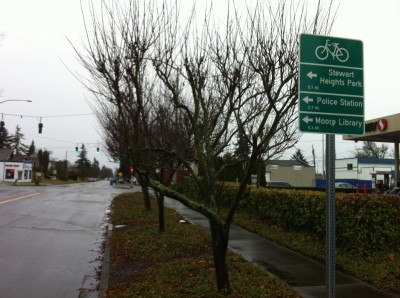 Why now? Why Tacoma? Through a mix of infrastructure, planning, and cultural shift, bicycling is again becoming a normalized form of transportation in our city. Tacoma's cycling history dates back to the 1880s, when the Tacoma Wheelmen's Bicycle Club was originally founded to help fund street and sidewalk projects to improve bicycle mobility in downtown Tacoma. Like other cities, interest in bicycles waned during the mid 20th century, but during the last decade Tacoma has seen a growing resurgence of bicycle use.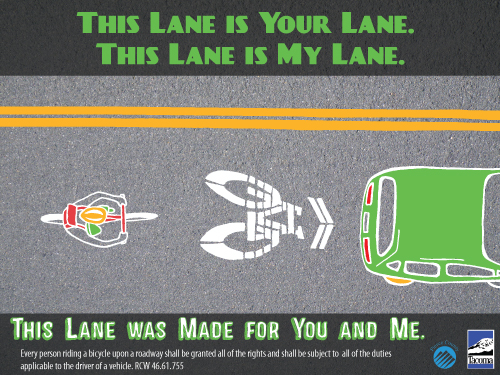 The recent push for infrastructure led to the completion of a 13.1 mile bikeway in 2014, which traverses the entire city from North to South with wayfinding signage, crossing improvements, and embedded bike counters. Active Transportation Coordinator Diane Wiatr and her team at the City of Tacoma have followed up the infrastructure with an educational This Lane is Your Lane campaign  that reminds and informs all road users how we can share the streets.
Tacoma residents spoke on behalf of the bike community at every monthly Citizens' Forum held in 2014. Those voices helped secure much needed funding in the City's budget for bicycle improvement projects already identified in the Mobility Master Plan. Not only has the City Council been listening to residents who want to see more accessibility for bikes, but the Councilmembers themselves have been riding, too, as  commuters and casual ride leaders. Mayor Marilyn Strickland is  scheduled to make a formal proclamation announcing 2015 as the Year of the Bike on Feb 10 at the City Council meeting.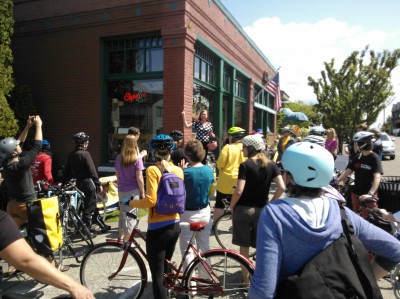 The community is coming together to support all of these new riders. Last fall 2nd Cycle Community Cycle Center moved into a large, permanent space in the Hilltop neighborhood, where they empower riders with the tools and knowledge needed to maintain their own bikes. Their refurbished bikes and shop time are offered on a pay-what-you-can  sliding scale, because treating the cycling community with equity is at the heart of their project.
VeloFemmes continues organizing rides and social events to encourage and motivate more women to try cycling, not only for recreation, but for transportation. Our local Kidical Mass group is starting its third season of monthly rides, teaching parents and kids to ride in the street safely with confidence and respect. Other groups like the Skid Kings and the MOB Riders are keeping biking fun for the 21+ crowd, too.
Perhaps most importantly, Tacomans are rediscovering their communities. A vibrant network of Farmers' Markets, pocket libraries, neighborhood parks and artistic treasures are drawing residents out onto the streets and sidewalks. Bicycles are helping residents engage with their neighborhoods as they seek and experience these hidden treasures, and they're doing it now.
Help Downtown On the Go make 2015: the Year of the Bike.
[Tweet "I'm rolling for #yearofthebike in Tacoma. Join me. #bike253"]