Park yourself — in a mini green space or play space you create yourself on a city street.
In the annual worldwide Park(ing) Day event, to be held September 19 this year, artists, designers and citizens transform metered parking spots into temporary public parks.
In some cities you'll have to plug the meter all day to take over a space. In other towns it's managed through a formal permit process. Either way, getting a lot of people to do it can make for a fun festival atmosphere throughout your downtown. To get a taste of what it can be like, check out the Seattle Bike Blog's photo tour by bike.
Want to be a Placemaker?
Check with your local street or transportation department on their rules. You want to have fun, not get busted.
Let us know you're creating a space and send us a photo. We'll feature it on our Facebook and do a post here with a slideshow to inspire others for next year.
Park(ing) Day Sites in Washington State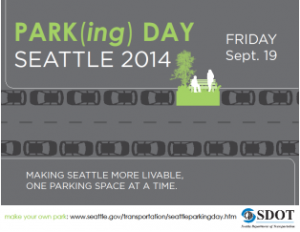 We'll update this list as we hear of additional Washington towns where people plan to make their streets a bit more livable for a day.