Bee is a fair-weather bike commuter and recently rode in her first Seattle to Portland (STP) ride. She plans to do the STP again in 2015 with her husband, and with a goal to finish in two days. Bee and her husband live in Seattle with their two terriers and she enjoys reading copious amounts of books, kayaking, jogging, and geeking out on low-sodium cooking.
I'll start with a confession: My first STP experience lasted three days, which I'll explain in a moment. My very good friend V asked me if I'd be interested in riding the STP; a little background, it was also V who suggested we do the 3-day walk (Susan G. Komen) a few years ago, so we have begun this history of taking on challenging endeavors together; so after some thinking and studying my schedule, I said sure!
For those who have been following the Bee and V blog, you won't be surprised to hear that the whole training plan for getting STP-ready began in February 2014 and went until June, when my group and I passed our 100-mile milestone. I trained and rode the STP with two wonderful women and for about 80% of the training rides (up to 60 miles) my hubby joined us as well; he was a great ride support and changed many flats (thanks hon!).
Northwest cycling can be challenging, many of our training rides involved wet terrain, frigid winds blowing off of Puget Sound, and cold/rainy-gear considerations (this isn't news to Pacific Northwest cyclers). A note about fitness level, especially for those who may be considering anendurance event or setting a fitness goal: I commute by bike (14-mile round-trip), but only during reasonable weather and average about five months/year of biking and before the STP, 100% of this cycling was on an e-bike (full disclosure: just keepin' it real); I walk my dogs every day, jog about once a week, play co-ed softball, and get in some tennis every now and then, so by comparison to Washington State standards, I don't consider myself a hard-core fitness buff.
Our group went on some beautiful and challenging training rides, there was the Cedar River Trail through Renton with a goal to visit the Black Diamond Bakery, we didn't complete the entire ride because we weren't hill-ready at that point, and the hilly terrain did quite a number on us, so we drove to the bakery (delish) instead. There was the sponsored ride through Tulip Country (the Tulip Pedal in April) which was one of the most challenging (mentally and physically) due to crosswinds, rain, and some knee aches. My two favorite rides were the Bike n Brews, El Norte and South) which took us on 40-milers in parts of Seattle where they served us beer. I can now say that *that* is the best kind of cycling.
I already mentioned the hardest ride, but I think I'm allowed two, the next hardest ride was our century, which was a long loop up around Snohomish and then down through Issaquah to finish at Matthews Beach near Magnuson Park. That ride was the kiss of death in terms of completing the STP in two days. We held a pace of about 10-11 mph and it took our group 13 hours to finish that day. This ride was exactly one month before STP show time, so it was pretty clear that our original plan for riding 150 miles on day one (staying in Kelso) and 54 the next day likely wouldn't happen. Two of us, myself and V, decided to go ahead and leave on Friday: the revised plan was to ride 70 miles to Yelm, then ride 70 miles on Saturday to Kelso, where we'd meet up with K and then the three of us would finish the ride into Portland on Sunday together.
So that's what we did. Friday (Yelm), Saturday (Kelso), Sunday (Portland)
I almost didn't write this guest blog post because I didn't want to confess that it took three days instead of two or the unthinkable, one day, to do the STP, but I'm feeling good about the experience and glad, with hindsight, that we chose that schedule, it was the realistic option. Without the Friday ride, we would never have stayed in the most well-appointed hotel in Yelm, the Prairie Hotel, and we wouldn't have gotten to commune with an amazing number of bunnies (baby bunnies, squee!) on the early morning 15-mile Yelm-Tenino Trail as we left Yelm, and we wouldn't have been there to greet the very first one-day STP rider who passed us cheerily at light-speed with a loud GOOD MORNING LADIES! A short while later, the first female one-day STP rider who looked a little confused at our presence. Nonetheless, we applauded and cheered as she rode passed.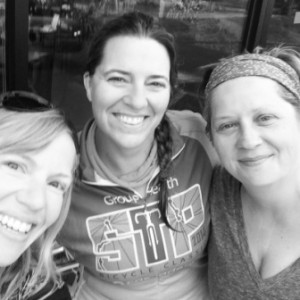 What to say about the whole experience start-to-finish that sums up five months of my life? I dearly loved the time with V and K, deciding which rides to do, spending hours outside and seeing this part of the country so intimately, and getting to know these warm, smart, lovely ladies who were also testing their minds and bodies. We were all in this together. Because that's what it really comes down to, how your whole being prepares and adapts to being pushed.
I'm currently reading The Happiness Project by Gretchen Rubin, and to paraphrase, she describes the definition of being happy and judging a person's happiness levels ultimately as a 'continuous environment of growth.' This resonates with me, because that's what training for and completing the STP feels like — continuous focus and concentration to get your mind and body to leap over the finish line. Some days you're feeling strong, some days you're weak and low in spirit; some moments you're feeling depleted (by heat, or cross-winds, or not enough hydration, or yet another flat tire or unexpected hill to climb) and in some moments you're feeling boosted (by bunnies, warm sun, endless vistas, sweet-natured folks who attach misters on their mailboxes, baked goods in small towns when you're famished and can't go another mile, a micro adjustment in your shoulders and seat position). Riding the STP has left me with an attitude of strength and pride and with a desire to try the 2015 STP, this time with a two-day finish goal.
Thank yous: I want to thank a lot of companies and individuals who were a part of making the STP a reality for me. Starting in February 2014, Gregg's Cycles, especially Fritz and Sam who helped me pick and get fitted for the perfect bike for my cycling goals. Thanks to the Cascade Bicycle Club for hosting a terrific bicycle maintenance class (and guess what? there were no flats at all during the STP, but had there been…). Thanks to WRENCH (Yay Buck!) who completed my pre-STP bike tune-up and to Velo Bike Shop for taking my bike in two days before STP for an emergency spoke repair. And lastly, thanks to Emerald City Naturopathic Clinic for recommending Feed Zone Portables Cookbook and Lake Union Wellness for working on my sciatic nerve and piriformis problems. #over40fitness 🙂
Things I'll do differently in 2015:
* More time in the saddle
* Two more mid-length rides that are back to back (e.g., 70 and 70)
* Take more pictures and videos to savor later
* Visit Black Diamond Bakery by bike
* Take a training ride that incorporates the ferry system
* Ride for a charities
* Join the Cascade Cycle training series (e.g., The Chilly Hilly)
* Cross-train with weights (especially arms and back)
* Commute by road bike 🙂