Andrea Parrish is a communications geek, cyclist, photographer, and creative type in Spokane, and this is a lightly edited version of a post she originally wrote for Bike Style.  You can view her creative work at andreaparrish.com. You can also purchase some of her photographic work at our Washington Bikes store in Pioneer Square.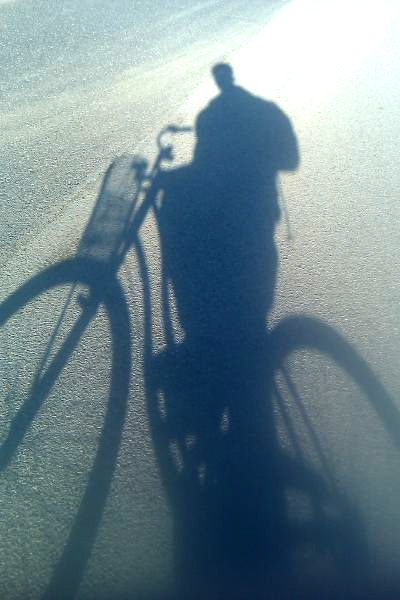 The image that seems to come to mind when one hears the term "bike commuter" is often one of two things: either one of a lithe woman wearing incredibly cute clothes, pedaling easily with cute panniers and a perfect hairstyle… or one of incredibly fit individuals in full cycling kits, speeding around on bike lanes, looking like they "belong" there.
When I say I am a bike commuter, these are the images I sort of like to think people have. The reality for me, however, is very different, but it is one that I do my best to accept with open arms. I am a fat girl on a bike.
Let me be clear. I don't consider the term "fat" to be a derogatory term in this context; it is descriptive. I am 6'4″ tall, wear a dress size 24, and at last weigh-in I was at 325 pounds. When I started cycle commuting, I weighed in at around 410 pounds.
Biking at this size admittedly comes with a variety of interesting challenges. I had to send my first commuting bike in to the manufacturer to be repaired because the metal sleeve for the seat post ripped in half from the pressures of my weight (and height). I've had to get my back tire rim replaced more than three times, because I kept popping spokes every time I hit any pothole. The internal hub that held my breaks needed to be re-packed at least once a season. I have yet to buy a bike "off the shelf" and assume that I'm replacing at least four parts before I even start pedaling. Clothes that easily go pedal-to-office are, at best, difficult to find.
Even with all of that, though, I absolutely adore biking. The feeling of freedom, the sense of accomplishment, and even the stares I get as I pedal by. I am a fat girl on a bike, and I love it. Biking allows me the chance to get in a workout in the time I would normally spend driving. Biking is the one thing that is easy to fit into my (sometimes far too busy) schedule. It's also an incredible community, a sense of freedom, and above all a great reason to have a beer on the way home. Last summer I completed my first century ride (in 13 hours) and the high was practically indescribable.
There are a few things I have learned that make biking easier, no matter how large or small you may be. First of all, leggings, tights and a cotton camisole will become your best friends. Skirts are amazing to bike in, but only with leggings to provide some coverage and comfort. A good camisole can also serve as your base layer. If you are like me and have to switch shirts when you get to work, because biking more than a mile or two means you will sweat, no matter how hard you try not to. A good cotton camisole means you can change shirts easily, no cramped bathroom or private office required. This is especially important since, in men's or women's sizing, specifically "biking" clothing, is basically non-existent in my size.
Second, a good local bike shop is absolutely invaluable. My first commuter was a Kona AfricaBike, which is a three-speed cruiser bike with a basket, a step-through frame, and a covered chain. Over the years, I have ended up replacing the rim, adding a back rack, adding panniers, and switching out the bike seat. Two local bike shops have helped me get the bike adjusted, sized, and repaired time and time again. They never flinch when I bring in my bike with the latest weird problem, they just do their best to fix it. I've never once had a local bike shop make me feel "fat." When I went to buy a new bike, it was those local shops that I visited, and they again didn't bat an eye when I asked what the weight limit on the bike would be.
Third, it's not completely unusual for the rhetoric around the benefits of cycling to include losing weight or "becoming more healthy." These discussions cast someone my size as the "before" picture, and the pictures of cyclists tend to have approximately zero size variety This isn't specifically unique to cycling — but it does create an environment where someone expressing surprise at my size and biking schedule is more common than not.
Biking has no size. Being a fat girl and a bike commuter (and cyclist in general) at the same time means that I face some interesting challenges, but those challenges are worth facing head-on, because growing biking means welcoming a wide variety of individuals into cycling, and I'm happy to be one of those fat girls on a bike.
[Tweet "Biking has no size, says @tinytall in Fat Girl on a Bike. #womenbike"]