Guest blogger Betsy Lawrence is the co-founder of Spokane's Belles and Baskets women's riding group, the subject of a TedX talk. She also serves on the Spokane Bicycle Advisory Board. 
I had the pleasure of accompanying my wonderful friend Angie to Walla Walla for a weekend vacation that she won in a Washington Bikes raffle earlier this spring. I had never been there, so it was all a great adventure for me; all the businesses who donated prizes made for a perfect visit.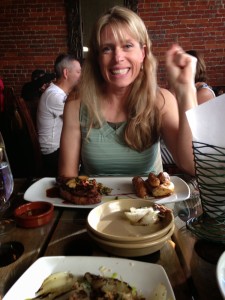 First we checked into the Inn At Blackberry Creek, a gorgeous old house with a creek running nearby, situated near bike lanes in a quiet neighborhood. Our room had an enormous king-size bed, large bathroom, closet that could be a small bedroom, and several windows overlooking gardens and the creek. Coffee, cookies, and fruit were available anytime and there was plenty of outside and inside seating. I also saw several bikes available to guests.
After relaxing a bit in the Inn, we walked along Main Street to check out gift shops and wineries before dining at the Saffron Mediterranean Kitchen. This small restaurant requires a credit card number when making a reservation, so we were careful to be on time.
For an appetizer we shared a grilled Walla Walla sweet onion that was cooked with braised pork, toasted walnuts, and smoked olive oil and enjoyed a main dish of grilled steak and fingerling potatoes. All the food was prepared perfectly.
While the desserts at Saffron looked lovely, we wanted to enjoy more of the warm evening, so we walked down the street to the Dolci Rosa Bakery (full disclosure, this was my second trip there of the day; I had peanut butter gelato on my way into town!) where Angie had a luscious lemon tart and I indulged in a chai, french-style macaroon.
After a cozy evening of girl-talk, we awoke to a delightful breakfast. The Inn has a breakfast menu with several choices, so I had oatmeal and a glorious assortment of fruit while Angie had a dish of fruit and a cheese and veggie fritatta.
We jumped onto our bikes and rode six blocks to a park to begin the Ann Weatherill Cycling Classic, which benefits local bicycle causes and Washington Bikes. The ride gave options of 30, 50, or 100 mile routes that all look challenging and fun, but after checking in, we rode the route for two miles and then veered off for our own adventure.
We found the Mill Creek Recreational Trail to be a perfect way to chat, bike, and enjoy the view. The trail is about fifteen miles, some paved and some packed gravel.
It couldn't have been more perfect weather for selfies and vistas.
After the ride, we returned to the park and joined many other cyclists for a catered lunch of pasta with home made sauce, Caesar and tossed salads, and cookies. The organizers of the ride explained that the entry fees go toward bike lanes and other cycling infrastructure. It was a well-run event for a very good cause.
I am so fortunate to have be able to spend time in this cute town with one of my best friends and am grateful to the Walla Walla businesses that donated to Washington Bikes for this raffle. I would certainly recommend Walla Walla as a bike destination!
If this post makes you want to visit the Walla Walla region, you may want to pick up a copy of Cycling Sojourner Washington and check out the Walla Walla Wine Ramble tour for additional ideas on where to ride, eat, and stay.
Share Your Story