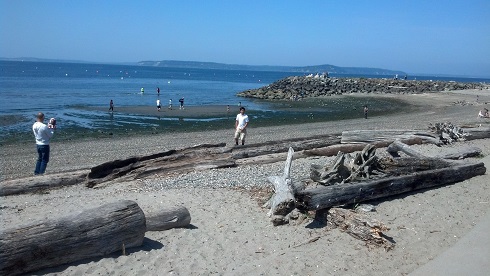 Snohomish County Bikes: an ongoing series highlighting great bike rides across Snohomish County.
The smell of salt water, a place to sit outside and look out at the horizon, a pleasant little downtown to wander around: We headed to Edmonds for all this and a cup of coffee and enjoyed a great day trip from Seattle into Snohomish County. (Learn more about the Salish Sea thanks to Stefan Freelan of Western Washington University.)
How Long Is a Day Trip?
The length of the ideal day trip by bike varies depending on who you ask and how much you ride. If you bike regularly for short errands and outings of 2-3 miles, a 10-mile trip isn't that big a leap. Going for a 40-mile day, however, you're going to feel it. For a daily commuter doing more like 10-15 miles a day 40 will be less of a jump.
The key to the comfortable day trip lies not just in the length, but in how you break it up. Find some pleasant destinations the right distance apart and you'll be able to ride more than you thought you could.
For this destination, you can opt for more direct routes or ones with longer mileage, and you can use transit to cut the mileage down. The point is to enjoy the ride — not to do so much mileage you end up exhausted and unhappy.
For you high-mileage types who will find this trip "too short," you may just find (as my training/racing husband did) that a sunny Sunday at a much different average speed makes a nice change of pace on a recovery day.
Designing the Route
All maps start from the Washington Bikes store/office in Pioneer Square. Click on "More Options" in each map to open it in a separate window and adjust for your starting point and other preferences.
WA Bikes sits close to transit connections, including Amtrak coming into King Street Station, light rail from the airport, and the ferry terminal, so we make a great first stop for bike travelers to pick up bike maps (and a copy of our bike tour book makes a good companion, too!). If you need a tune-up, Back Alley Bike Repair in Nord Alley right behind our office will set you up.
You'll make the trip longer by using the Burke-Gilman Trail, which you could do coming or going. Here's the funny thing about the BGT: Once you're on it, you're separated from a lot of good food, coffee, breweries…. So choose your route based on when you think you'll need those fueling stops.
Look at the terrain profile before deciding. While you won't ride anywhere in this region without some climbing you can choose a route that gives you quite a few downhills in one direction, so of course it would have you climbing endlessly going the other direction, possibly without the shoulder space you need.
Another option not addressed here: Use the Sounder commuter train to get either to or from Edmonds, depending on how you choose to organize the trip. It only runs on weekdays at times serving peak commuter traffic so you'll need to plan carefully to work it in.
Option 1: Bike to Edmonds from downtown Seattle, ~18 miles
This first map routes you through neighborhoods with possible refreshment stops and makes use of trails and bike lanes wherever possible.
Total pedal time: Roughly 2 hours to Edmonds, not counting coffee stops.
Food in Fremont: 
In Fremont Flying Apron is your go-to for vegan, gluten-free goodies.
The Sixgill serves up some creative high-end pub food; ask if they have Schooner Exact's Ale-Liance IPA on tap, which benefits our bike advocacy work.
Blue Moon Burgers uses locally sourced beef and offers gluten-free buns as an option.
Solsticio lies directly on the trail and serves up breakfast, lunch, espresso, and smoothies.
Lots more places to choose from — this list gives you a starting point.
Tricky spot in Ballard: Pay lots of attention to the street configuration as you reach Fred Meyer in Ballard. In a temporary fix to a gap in the BGT, you'll use a two-way bike lane in a street corridor shared with a one-way car lane. It's a bit odd and your best bet may be to convert to pedestrian mode to sort out the access to the lane.
Coffee in Greenwood: Farther north, if you passed on a Fremont stop and are regretting it, stop at Herkeimer's Coffee in Greenwood. But don't linger too long in any of these pleasant neighborhoods; your goal is Edmonds.
[Tweet "The best bike day trips tell you where to stop for coffee, like this Seattle/Edmonds plan. #SEAbikes #bikesnoco"]

 Option 2: Bus to Lake City, bike ~10 miles to Edmonds
Depending on time of day and day of week, Sound Transit #522 or King County Metro #312 will drop you at Lake City Way and 125th. This cuts bike time to Edmonds in half and puts you within a block of Kaffee Klatsch, where you can park your bike in the big rack that takes up a parking space out front and fuel up with German baked goodies before heading west and north.
Food in Lake City: Better yet, plan this for your return and hit one of the restaurants in a mini-international district along the blocks near the transit stop:
Total pedal time: Approximately 1 hour to Edmonds from the transit stop at 125th NE. Transit time varies depending on your starting point and transfers. From downtown, Sound Transit #522 is an express; it's about 20-25 minutes or so from the 4th/Jackson stop near WA Bikes to 125th NE/Lake City Way.
On this route you'll ride through mostly quiet residential streets, a couple of busier streets, and then pick up the Interurban Trail for a short stretch.
When you get onto N. Richmond Beach Road it's a busy 4-lane street but you'll end up with a fast downhill under tall trees. This isn't the first route Google Maps will suggest; we modified it to try to get closer to glimpses of water en route.
Watch for the Richmond Beach Coffee Shop on your right. You might opt to turn off to explore Richmond Beach Saltwater Park, with its off-leash dog park and pebbly beach, before continuing to Edmonds.
Woodway Park Road is an especially pretty part of this route: Shady, with big, beautiful homes along the way. It has a narrow shoulder but you're downhill going north.
As you arrive in Edmonds prepare for ferry traffic. This route brings you straight to the turn for the dock, so depending on the time of your arrival you may get stuck waiting for the left turn. You can always opt to become a pedestrian and walk your bike to execute the left from 3rd onto Main toward the ferry landing, waterfront park area, and Waterfront Coffee House.
What to Do in Edmonds
Well, for one thing, there's the waterfront staring you right in the face. On each side of the ferry you'll find park space on the water with benches for your unwinding time.
The park to the north of the landing has bathrooms and drinking fountain, along with signage about the underwater diving park that explains the many buoys near shore. The shore wind makes this a fun place for kite-flying, too.
[Tweet "I'm putting this Seattle/Edmonds day trip on my #bikeit list. It's about the ice cream. #SEAbikes #bikesnoco"]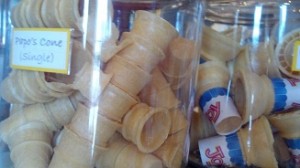 We stopped in at Waterfront Coffee Company, which no doubt goes absolutely nuts when people waiting for the ferry need a quick caffeine fix. We got there late enough in the day that the pastry assortment was down but they had plenty of Snoqualmie Ice Cream in the case, and the cutest miniature ice cream cones you've ever seen in case you need just a tiny taste of that full-fat goodness.
If we'd been there on a Saturday we definitely would have checked out the Snohomish Farmers' Market (May 4-Oct. 21 in 2014). Fresh berries, baked goodies, and all the flavors of the season.
We focused our day on doing things that didn't cost money: Ride our bikes, look at the water, enjoy public art. Thus we didn't check out the shopping, but it's there along with places to eat identified in this map of Edmonds restaurants (PDF), a historical museum, and Thursday night Art Walks.
This slideshow requires JavaScript.
Return from Edmonds to Lake City: 8.8 miles
Don't backtrack the way you came. You'll climb up with no shoulder on roads that yielded a lot of fun coming down.
Instead, this map makes use of the Interurban North for a stretch and takes you to the Burke-Gilman Trail via Honey Bear Bakery in Lake Forest Park and 192 Brewing Company right on the trail in Shoreline— strategically placed refreshment stops.
From either of these you can take the trail south, then leave it and head to the transit stop in Lake City to call it a day.
If you're doing this, I advise leaving the trail at 42nd Pl. NE for a slightly shallower climb full of switchbacks rather than the much steeper,  in-your-face climb at 123rd. You'll come to the top at 42nd Ave. NE; take that south to 123rd, then turn right to reach Lake City Way in the stretch with the restaurants listed above.
Return from Edmonds to Pioneer Square, Seattle: 25.5 miles
This map takes you by bike all the way back to Pioneer Square, leaving the trail at a strategic point to route you past Chaco Canyon Organic Cafe in the University District (and you'll find lots of other food choices in the area).
This also enables you to skip the well-signed but slow and challenging construction zone in the midst of the University of Washington campus, and it sets you up for the University Bridge crossing. (Google Maps will always try to route you to the Fremont Bridge — your option to do that instead and it's a pleasant ride; this just gives you a different route and views.)
Since this is designed as a leisure ride, the map departs from heavily traveled Eastlake to utilize the Chesiahud Lake Union "Trail"– an on-street route that keeps you close to the water.

And there you have it: A day trip of varying lengths depending on your starting point and preferences, with lots of refreshment stops to give your legs a break if they need it.
If nothing else, stop in at a couple of these places, buy a small item as a thank-you for use of the restroom and chance to refill a water bottle, and tell them you represent two-wheeled business and appreciate them being bike-friendly. You'll make them even more welcoming for the next bike visitor.
Your Turn: Write Your Ride
Write your ride and introduce someone to your favorite day ride. Whether it's a loop or an out-and-back, you're providing them with fresh eyes on a new place to venture on two wheels.