Sometimes I wonder what am I gonna do
'Cause there ain't no cure for the summertime blues.
–   Summertime Blues by The Who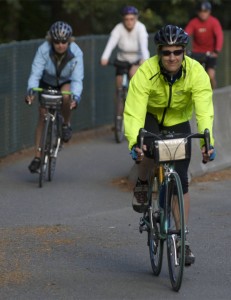 So lamented The Who in this classic rock song. I can only presume that no one in the band spent much time on a bicycle because nothing cures the summertime blues like a good bike ride!
Summer is the season of bike rides and we have more than our fair share of great bike rides in Washington. If you want to chase away the summertime blues AND help grow bicycling in our state, then sign up for one or more of these upcoming rides that support the Bicycle Alliance:
The Peninsula Metric Century on June 2 is a challenging ride through scenic Kitsap Peninsula. Enjoy panoramic waterfront views, rural countryside, and lots of rolling hills. You have four route options to choose from and strawberry shortcake and ale at the finish line. New this year, the 100-mile route can done as the Gig Harbor Gran Fondo (with RFID timing) for an additional fee. This ride is organized by Tacoma Wheelmen's Bicycle Club.
Head to Walla Walla for the Ann Weatherill Cycling Classic on June 15. The Ann Ride—as the locals call it—showcases the vineyards, orchards and wheat fields of Walla Walla Valley. Organized by the Wheatland Wheelers, this fully supported ride features a finish line buffet and a pint of local ale. The Ann Ride has its roots in bike advocacy and safety education. Learn about its history.
Explore the scenic cycling routes of Thurston and Lewis Counties in the Two County Double Metric Century on June 23.  This ride offers five route options ranging from the family-friendly 23-miler all the way up to the 125-mile loop that will challenge experienced cyclists. Capital Bicycling Club puts this ride on.
Enjoy the hospitality of West Sound Cycling Club when you ride Tour de Kitsap on July 28. Choose from multiple route options as you pedal the scenic roads of Kitsap Peninsula. Take in the fantastic views of West Sound and re-energize yourself at the themed rest stops.
The Courage Classic Bicycle Tour, August 3-5, is a fully supported 173-mile cycling event that provides everything you need along the way. Revel in mountain scenery as you cross three Cascade passes, and take advantage of rest stops every 15-20 miles. Courage Classic is a fundraising ride for Rotary Endowment for the Intervention and Prevention of Child Abuse and Neglect.
Experience some of the best riding that the Puget Sound region has to offer in a ride Outdoors Northwest includes in its Ten Best Classic Rides in the Northwest. RAPSody – Ride Around Puget Sound – treats you to spectacular Northwest sound and mountain views, cycling on roads less traveled, and the companionship of friendly bicyclists on this two-day ride. Slated for August 24-25, this is RAPSody's tenth anniversary. This ride is organized as a benefit for Washington Bikes by five Puget Sound bike clubs: BIKES of Snohomish County, Capital Bicycling Club, Cyclists of Greater Seattle, Tacoma Wheelmen's Bicycle Club, and West Sound Cycling Club.
Looking for more than a fireworks display or backyard BBQ for Labor Day? Come ride PROS: Perimeter Ride of Seattle! Held on September 2, PROS offers water views and lofty hills as you circumnavigate the perimeter of Seattle. Full PROS is about 80 miles and a PROS lite option is 56. This ride is organized by COGS – Cyclists of Greater Seattle – and all proceeds are donated to Washington Bikes.