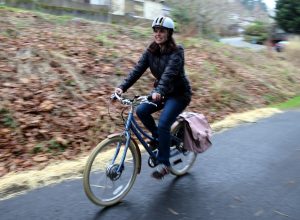 New E-bike law in Washington state takes effect on June 7, 2018.
In early 2018 the Washington State Legislature passed SB 6434, establishing a legal framework consistent with national standards and giving the electric bike (e­-bike) industry greater certainty in the Washington market.
The new law also more clearly defines where e-bikes can and cannot be used on bikeways, trails and streets, as well as ensuring that jurisdictions and agencies have the tools for enforcement and management of e-­bikes on our streets and trails.
Cascade Bicycle Club published the following Frequently Asked Questions about Washington's New E-bike Law:
What does the e-bike bill do?
Expands the definition of bicycle to include e-bikes; defines three distinct classes of e-bikes; updates rules around use of e-bikes
What is an e-bike?
A bicycle with two or three wheels, a saddle, fully operative pedals for human propulsion, and an electric motor with fewer than 750 watts of power
What are the three classes of e-bikes?
Class 1: an e-bike that provides assistance only when the rider is pedaling and ceases to provide assistance when the bicycle reaches the speed of 20 mph
Class 2: an e-bike where the motor may be used exclusively to propel the bicycle (without needing to pedal) and is not capable of providing assistance when the bicycle reaches the speed of 20 miles per hour
Class 3: an e-bike where the motor provides assistance only when the rider is pedaling and ceases to provide assistance when the bicycle reaches the speed of 28 mph; also equipped with a speedometer
Where can I ride my e-bike?
It depends on where you're riding. If your city doesn't have specific laws on the books, the default is that Class 1 and 2 e-bikes can go everywhere traditional bikes can.
Class 3 e-bikes are restricted from shared-use pathways, as well as sidewalks. There is an allowance for Class 3 bikes on sidewalks in cases where there is no other safe alternative. Class 3 e-bikes are allowed on infrastructure that is within or adjacent to a highway (street).
E-bikes cannot be ridden on a trail that is designated as non-motorized and that has a natural surface made by clearing and grading the native soil with no added surfacing materials. This provision in the legislation was amended to help improve interactions with other types of users on soft-surface single track trails. Exceptions may be made by a local authority or agency of this state that has jurisdiction over a particular trail.
Are e-bikes allowed on sidewalks?
Class 1 and 2 e-bikes are treated as traditional bikes, which means they are allowed on sidewalks, subject to local laws that restrict bicycle riding on sidewalks.
Class 3 e-bikes are prohibited on sidewalks except when there is no other safe option for the bikes to travel (for example on a bridge without a trail or other safe place to bike).
How fast do e-bikes travel compared to traditional bikes?
The top assisted speeds of 20 mph and 28 mph can be deceiving. E-bikes typically resemble traditional bikes in function and average speed. Studies suggest a difference of 0-5 mph between a traditional bike and e-bike.
It's important to note that like motor vehicles, most people biking are not typically traveling at top speed at all times. This is the same for e-bikes.
Why restrict an e-bike's power output to 750 watts?
The maximum of 750 watts aligns with federal consumer protection regulations. If the wattage is higher than 750, it is no longer classified as a bike, but instead as a motor vehicle for the purpose of consumer protection. Above 750 watts it is subject to more rules, including licensure and registration.
What do e-bike manufacturers and retailers have to do because of this new law?
Manufacturers and retailers are required to permanently affix a label (in a prominent location) printed in arial font and at least nine-point type that contains the classification number, top assisted speed, and motor wattage.
When will the legislation become law?
The law will be enacted June 7, 2018, with the requirement to label new e-bikes on July 1, 2018.
I owned an e-bike prior to the 2018 legislation becoming a law; what happens to my e-bike?
E-bikes purchased prior to the bill becoming law are not subject to the new requirements in the e-bike law update.