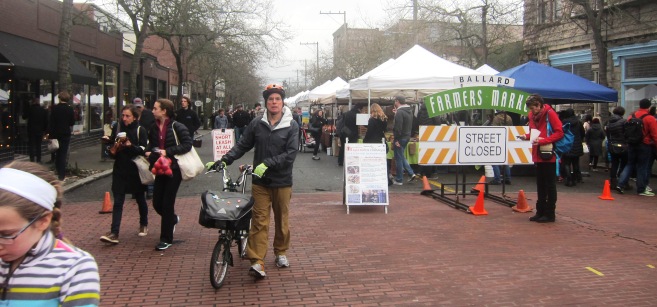 To market, to market, to buy a fat pig.
Home again, home again, jiggety-jig.
It was a Sunday in mid-January and skiing sucked due to a lack of mountain snow. What's an outdoor girl to do? The temperature was mild in Seattle, the day foggy and a bit drippy. I decided to try out a bike ride that I had devised in my head: The Sunday Farmers Market Bike Ride.
Farmers markets are fun cycling destinations by bike. With 140 farmers markets in Washington state, many of us can bike to one easily and they can be nice outings for the family. These community markets create a sense of connection by giving us an opportunity to meet local growers and buy fresh foods and plants directly from them. You can often find local musicians, some healthy recipes and get some gardening tips there as well.
While most farmers markets operate seasonally (typically spring through fall), Seattle has a handful of year round markets and I discovered that four of them are open on Sundays. It was this newly acquired knowledge that inspired this bike ride.
The Sunday Farmers Market Bike Ride visits the neighborhood farmers markets in West Seattle, Ballard, and Capitol Hill/Broadway. It also includes stops at the Fremont Sunday Market (not a farmers market – more like a flea market) and the landmark Pike Place Market in downtown Seattle.
Because I live in West Seattle, I began and ended this 25-mile ride at the West Seattle Farmers Market. Since it's a loop ride, you can begin from any of the farmers markets on the route. You can also choose to visit fewer of the markets. Make sure you have baskets, panniers or a backpack so you can shop!
The Seattle Neighborhood Farmers Markets also participate in the Bicycle Benefits program. Bike to the market and show your helmet sticker at the info booth to receive a $2 coupon for that day. Don't have your sticker? You can purchase one at the info booth for $5.
This is really about the experience of biking to and supporting your local farmers market. If you haven't visited your local farmers market or you haven't been there by bike, please give it a try.
You may not have to ride alone. Thurston County's Bicycle Commuter Contest organizes an Earth Day Market Ride in April. Last year 80 riders braved the rain to bike to the Olympia Farmers Market. Whatcom Smart Trips partnered with the Bellingham Farmers Market to encourage folks to bike, walk or bus to the market in August and September by holding two prize drawings.
These are just a couple of examples. Check with your local bike club, Bike Month organizers, and Kidical Mass groups to see if they are planning a Bike to Market ride. Better yet, organize one yourself!