Washington Bikes announces 2018 general election endorsements
This year Washington Bikes endorsed legislators who led or partnered on efforts to create safer streets, increase accessibility to trails, improve healthy communities and health outcomes, and contribute to the economic vitality of Washington's communities. Additionally, Washington Bikes has endorsed first time candidates who share our vision for lowering the barriers to bicycling for all ages and abilities.
Why do we make endorsements? Washington Bikes works to secure funding for bicycle infrastructure and policies that increase access and safety. To make that happen, it matters who Washington's elected leaders are.
We'd like to thank all of the candidates, endorsed or otherwise, for taking the time to participate in Washington Bikes' endorsement process.
Washington Bikes is pleased to announce endorsements for two ballot measures that will appear on November ballots: the SAFE Mobility Levy and I-1631.
The SAFE Mobility Levy on Bainbridge Island is a property tax levy that will raise city revenues for active transportation and recreation projects by about $2.2 million a year for seven years. If passed, the measure will yield investments in infrastructure improvements for people who bike and walk, including shoulder widening, bike lanes and trail projects with an emphasis on safe routes to school.
I-1631, the statewide clean air initiative will impose a $15 fee on each metric ton of carbon dioxide beginning in 2020 and increase $2 annually until the state achieves its emissions goals. The funds raised will invest in programs, activities and projects aimed at improving clean air, clean energy, healthy forests and healthy communities. If passed, I-1631 will invest in reducing vehicle miles traveled and increasing public transportation, non-motorized transportation and affordable transit-oriented housing. These efforts align with Washington Bikes' goals around healthy communities, mode shift and thriving local economies.
The Washington Bikes endorsement speaks to thousands of engaged Washingtonians statewide who care about a range of issues. From wanting more connected trails, to safer neighborhood streets, to more opportunities for physical activity, Washingtonians are looking for leaders and policies that will advance these priorities.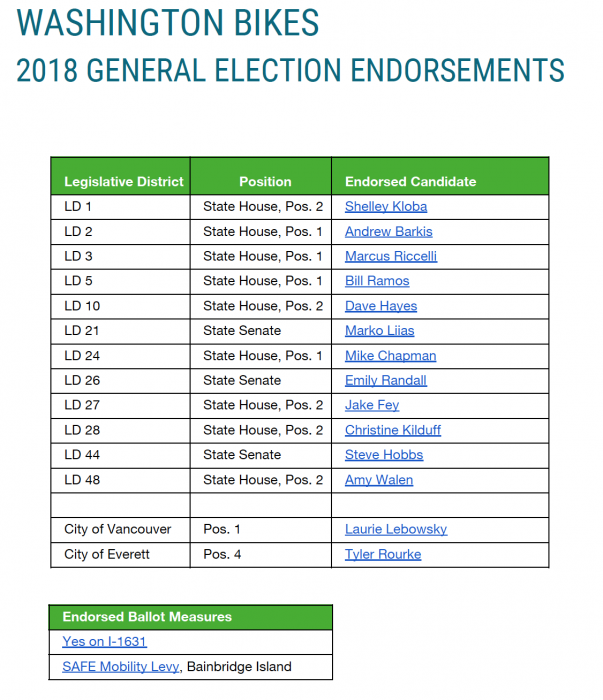 *Download a PDF version of the endorsements list.
With less than six weeks until Election Day, we are in the final stretch! Are you ready to vote? Make sure you are registered to vote through the Washington Secretary of State's office. If not, you still have a couple of days to register. Monday, October 8th is the deadline to register to vote in the November election. Curious what will appear on your November ballot? Check out your sample ballot at Ballotpedia. Lastly, Washington is a vote-by-mail state, so expect your ballot in the mail in roughly two weeks.