We rounded up the first wave of rave reviews for Cycling Sojourner: A Guide to the Best Multi-Day Tours in Washington. The kudos keep coming and we're sharing some more.
"Ellee Thalheimer has created Cycling Sojourner, the perfect guide book for me, and for anyone who wants to explore Washington from a whole new vantage point…. It's a given among the cycling community at-large that Washington has some of the best cycling culture and infrastructure in the country. So if you've considered parking the car, locking up the house, and taking on a new adventure, a bicycle tour in Washington is a world-class way to do it. I recommend Cycling Sojourner for the valuable guidance it offers any cyclist planning a tour in Washington." — Cycling Nirvana
"For the aspiring bicycle adventurer whose career or family responsibilities render an epic tour across the country or around the world at least temporarily unfeasible, Cycling Sojourner Washington provides an attractive and achievable palette of mini bike tours that fit into an extended weekend.  This guide hand picks some jewels of the Pacific Northwest:  the Olympic Peninsula, the San Juan Islands, the North Cascade Highway, the wine country and rolling wheat fields of Eastern Washington, and takes care of the advance planning so all you have to do is pack & pedal." — Twin Rivers Cyclists
"Cyclists of all levels and means will find vacation adventure in "Cycling Sojourner: A Guide to the Best Multi-Day Tours in Washington. Author Ellee Thalheimer's small but information-packed, 240-page book does the grunt work of planning short tours around the state. It offers maps, historical information, lodging, restaurant tips, extra curricular activities and packing lists; along with specific information about terrain and weather for each tour." — Inland.com
"Making bicycle touring accessible to anyone, she begins with "Which Tour is Right for You?" to get you started. She also highlights all of the unique, fun little "must-do's" as if she's telling you a secret. This is a must-have guide if you are interested in cycling in Washington, including the San Juans." — San Juan Island Update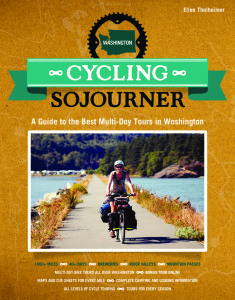 Also listed on Book Dilettante with a brief description, no review. Comments from readers of that blog: "Wish I were a cyclist. Seems there are so many scenic tours one can take!" (Harvee) and "I love my bike and this would be a great book to have if I ever visit Washington!!! Might have to check this series out!!" (Vicki)
Royalties from the book support our work in bike advocacy to make bicycling even better.
Related Reading
How to Get Your Copy
Ask your local bookstore to carry it; they can get the book through IPG Distributors
Check the nearest REI; they plan to carry it
Available via Amazon