First book in over a decade to focus on multi-day bike tours in the Evergreen State will benefit statewide bike advocacy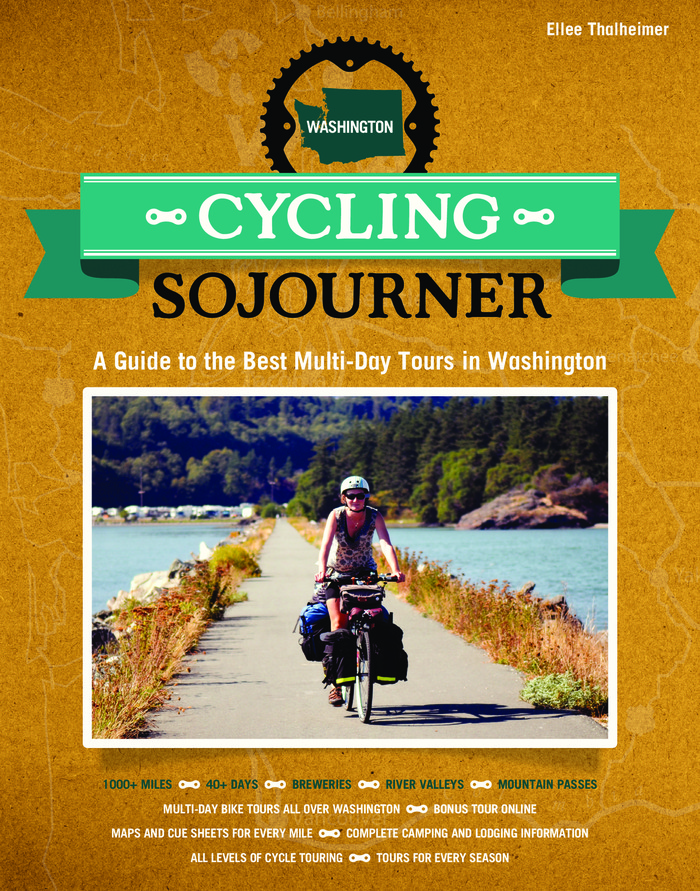 It's not every cycling guidebook that gives the bike-loving public a chance to help write the content, but Cycling Sojourner: A Guide to the Best Multi-Day Tours in Washington is doing just that. Participants in Washington Bikes's Walla Walla Wine Country benefit bike tour* will join author Ellee Thalheimer in writing and researching this Southeastern Washington route on September 19-22.  The tour fees will go directly to supporting the bike travel book's creation and Washington bike tourism advocacy.
Along with the bike tour, the guidebook's  Kickstarter campaign is running now through August 26 and allows backers to get everything from an autographed copy of the book to an original bike-themed musical performance to an organizational or business logo on the back cover, all helping fund the book's development.
Ellee Thalheimer is owner of Into Action Publications and author of Cycling Sojourner: A Guide to the Best Multi-Day Bike Tours in Oregon and Hop in the Saddle: A Guide to Portland's Craft Beer Scene, by Bike. For Cycling Sojourner Washington, she recruited four Washington authors, including: Katherine Widing, author of several books on bike travel; Josh Cohen of the The Bicycle Story; Martina Brimmer, founder and co-owner of Swift Industries, a Seattle manufacturer of handmade bicycle bags and panniers; and Steve Krippner, a GIS consultant who researched the John Wayne Trail for his master's thesis.
The book will include 9-10 multi-day tours from all over the state from islands and river valleys to mountain climbs and the rolling hills of the Palouse. With detailed cue sheets and maps, as well as information on food, lodging, attractions, activities, and how to arrive by train, the book provides high-quality, in-depth coverage for riders with all budgets and all levels of cycle touring experience.
Yet the soul of the book, and what makes it unique in the guidebook genre, lies in the voices of the five authors who use storytelling, local history, and humor to elevate the book beyond just an everyday guidebook to an inspirational muse that draws out your inner adventurer.
Washington Bikes is leading the fundraising effort for the book to promote Washington state's opportunities for bike travel, which supports local economies and increases biking opportunities for individuals and families. Royalties from the book will support the efforts of the Bicycle Alliance to increase investments in bike infrastructure for everyday riders as well as bike travelers through its policy work on the state level, where it has led the efforts around passage of the majority of bike legislation adopted in the past 26 years since its founding.
As I've been telling the community leaders, advocates, and legislators we meet with, bike travelers are fueled by calories and spend money in just about every town along the route. It's increasingly evident that bicycle tourism can benefit small towns and rural areas and help save and create jobs. We know bikes are business-friendly and the towns that welcome bike travelers will reap the benefits.
As the voice of bicycling statewide it's part of our mission to showcase some of the hidden gems of our outstanding variety of riding experiences as a way of getting more people on bicycles. This book will help us grow bicycling and prove yet again why Washington is the nation's #1 Bicycle-Friendly State.
Kickstarter campaign: http://bit.ly/WAbiketourbook
*About that tour…. watch for our blog post on its features and highlights! In the meantime, preorder your autographed copy now via Kickstarter and be among the first to get a copy.