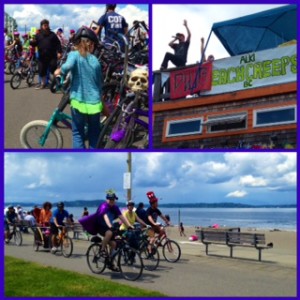 Seattle kicked off its Summer Streets events yesterday with the Alki Beach Party. Alki Avenue SW (between 56th Ave SW and 63rd Ave SW) was closed to motorized vehicles and citizens were invited to walk, bike, skate, roll their wheelchairs, and run in the street.
Rain held off long enough for the young and young at heart to stay dry in a bicycle/costume parade organized by the Alki Beach Creeps. There was also a skidding competition, chalk drawing, outdoor chess matches, music and more. Of course, there were plenty of folks biking, strolling, skating, jogging and socializing in the street and adjacent businesses.
Alki is the first of four Seattle Summer Streets events planned in 2014. Events are also lined up for Ballard (May 29). PhinneyWood (August 9), and Rainier Valley (August 16).
Seattle Summer Streets is part of the global open streets movement, or ciclovias. An open streets event temporarily close streets to motor vehicles and transforms them into public places for people to bike, walk, socialize and celebrate their communities. Spokane Summer Parkways is also an open streets event. Tacoma and Vancouver also organized open streets events last year.
Is your community planning an open streets event in 2014? Please use our Event Submission Form to tell us about it and we'll put it on calendar and spread the word through social media.
Related Posts:
Car-Free in the North Cascades: Washington's Mountainside Ciclovia
Crater Lake Announces Vehicle Free Weekend on East Rim Drive
We're Hungry for Good Urban Public Space