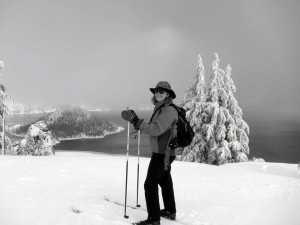 Last winter I visited Crater Lake National Park in Oregon and toured the rim on a pair of skis. It was an amazing tour with stunning views of the lake and Wizard Island, snowscapes, and plenty of winter solitude due to seasonal road closures in the park.
When I related my experience to friends, several of them encouraged me to return to the park during a warmer season for a bike ride along the rim. I think not, was my reply, because there will be too many vehicles.
Well, the astute folks at Crater Lake know how to lure bicyclists like me to the park. They have announced that September 21-22 will be Vehicle Free Weekend on East Rim Drive. Bicyclists and foot travelers will have exclusive use to 24 miles of road to enjoy views of America's deepest lake and surrounding forests. Hey, this is a National Park Service open streets event!
From the Crater Lake National Park announcement:
Crater Lake National Park is pleased to host a vehicle free weekend on East Rim Drive, September 21 and 22, 2013. This is the perfect opportunity for park visitors to hike and bike on 24 miles of road without cars and enjoy spectacular views of America's deepest lake and surrounding forests.
Weather in September can be beautiful and sunny, but mornings and evenings are cool. The park usually gets some snow in September, but it generally melts off on the first sunny day. Check out our Current Conditions page for the latest forecast and weather as the weekend approaches.
The road is not flat. At times there are steep grades to climb. Check out our brochure on Bicycling at Crater Lake for more information. The part of the road closed for this event is from North Junction to Park Headquarters. The elevation ranges between 6450 feet and 7050 feet on this section. Click here for a map!
Check the park's website for more info about Vehicle Free Weekend on East Rim Drive.
Washington is the home to three national parks and they are destinations for bicycle travelers as well. A quick check found some bicycling information on only two park websites: Mount Rainier and North Cascades. The Bicycle Alliance is actively working to create our state's first US Bicycle Route, USBR 10, which will travel through North Cascades National Park. Last year I wrote a post describing an unofficial open streets opportunity on North Cascades Highway. Wouldn't it be great if all three of Washington's National Parks held official open streets events?