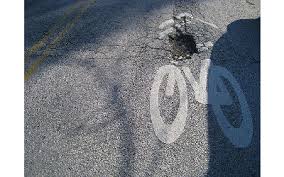 Obvious connection, right? Federal income tax due date and bicycling.
Perhaps not, if you don't know that the federal income taxes you paid today help fund the nation's system of highways, roads, and local streets, including projects for biking and walking.
That's right. We all pay for roads whether or not we ever drive. The mix varies depending on where you live.
Property taxes fund street bond projects. (If you rent, the building owner's property taxes are built into your rental rate.)
Sales taxes on everything you buy — say, bike gear and a new bike — go into your town's general fund and help pay for local street maintenance. In fact, in some Washington towns that have a Transportation Benefit District funded with a local-option sales tax, you will pay a lower sales tax rate on automobile purchases than you pay on any other purchase. That is to say, if you buy a $5,000 bike you pay more sales tax than someone buying a $5,000 car.
When your hometown or county receives federal funding, your federal income tax fills in the gap left because the Highway Trust Fund (federal gas taxes) doesn't take in as much as it puts out in funding for state and local projects.
If you unpack the various fees and taxes arising directly from driving (gas tax, tolls, that kind of thing) it turns out those driving-related taxes and fees cover just 46.8% of the cost of Washington state's roads, according to a 2013 analysis by the Tax Foundation. Less than half.
The answer to someone who says, "People on bikes need to pay for streets" is "We all pay for streets." We all benefit, after all.
Did I really think about taxes while I rode my bike today? Absolutely.
First, because I had my taxes all ready to file and thus could enjoy my beautifully sunny 10.6-mile ride to work with a clear conscience.
Second, because the deadline for my ballot on King County Metro's Prop. 1 is just one week away and I need to vote YES to keep getting the bus service I rely on as part of my transportation system.
Third, because every pothole and crack in the street is a reminder that we get the system we pay for and I ride over plenty of cracks, holes, bumps, and ruts. Years ago when the voters of Washington did away with the motor vehicle excise tax they cut an enormous pothole in funding for local street maintenance and the transit that makes it possible for people to get out of their cars and free up some space.
If you drive, you pay for that vote today in wear and tear on your car, cracked CV joints, and new shocks. Those of us on our bikes are our own shock absorbers so we pay a personal price in addition to the cost of blown tubes and tires.
As US Supreme Court Chief Justice Oliver Wendell Holmes famously said, "Taxes are the price we pay for a civilized society."
I like civilization: schools, roads, transit, libraries, parks and green spaces and wild places, clean water to drink and someone to take away my wastewater and garbage and deal with it, health care, help for those who aren't as lucky as I am, police and firefighters and military protection — the list of things I can't provide all by myself and take for granted much of the time is pretty long.
We should appreciate these things as much on April 15 as we do on July 4. TANSTAAFL.*
So yes, I did think about taxes during today's bicycling.
*For those of you who didn't read a lot of Robert Heinlein in your youth: There Ain't No Such Thing As A Free Lunch.
Day 15 in the 30 Days of Biking, 30 Words, 30 Pictures series
Related Reading
Your Turn
How often do you talk with people who assume those of us on bikes don't help pay for streets through our taxes?
Will you share this post on social media to help spread the word that we all pay?