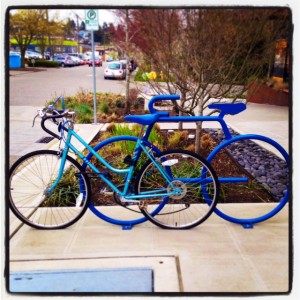 Day Three in the 30 Days of Biking, 30 Words, 30 Pictures series
Last night I started a list of words I thought might come up in the course of my 30 days/30 words/30 pictures adventure. The list quickly grew to 33 but it didn't have the word that emerged in today's biking: color. Wait–make that C–O–L–O–R.
First, the picture. This vivid shot of a blue bike at a blue bike rack shared on our Instagram account made me choose the word for today. I realized how much more colorful my relationship with my bike is than any relationship with motor vehicles I've owned. (I'm not one of those people who names her cars and they've all been very ordinary colors–white, green, blue).
My blue road bike's lime green handlebar tape reflects my fondness for various shades of that color. They're newly wrapped and the color is so intense it glows a bit, especially on an overcast day like today that provides a contrast. The bike itself isn't a special color; it's a middle-of-the-road blue with white accents that my sweetheart picked out for me.
Bikes offer color possibilities in accessories as well as handlebar tape. When I ordered custom bike bags from Swift Industries (handmade in Seattle), I thought about the color combination in terms of a future touring bike I might own, which would have to be a color that goes with the bags. If I already owned said bike it would be the other way around; I like things to match.
Picking colors for a couple of bags by @swiftindustries. So many choices! (@ Swift Industries) http://t.co/2W22pfwA4L pic.twitter.com/sEhXXViqdt

— Barb Chamberlain (@barbchamberlain) March 21, 2014

When I bought a more upright "Mary Poppins" bike I chose the silver one because silver's a neutral and goes with everything in my collection of Po Campo bags (which I started buying specifically because they're not black bags with a black interior in which everything gets lost).
El in our office has a bike that's deep eggplant with orange accents and is building a bike for Mom with a bit of a steampunk motif that's painted a lovely faded bronze-y gold. Our board member Angela Jones of Spokane has a black and hot pink road bike and absolutely everything matches, down to her shoes. Belles and Baskets co-founder Betsy Lawrence gets purple accessories to go with her purple bike, which she purchased because purple is one of her favorite colors. Even before my husband was on a race team, he chose a yellow helmet that went with the black and yellow of the road bike had then, and of course every team kit has a lot of thought put into the color and design. Color is such an expression of individualism via the bicycle.
Not that bike manufacturers give us all that many choices, mind you. There's the sadly mistaken notion that simply painting a bike pink makes it appeal to women, for starters. Then you have the fairly limited range of color options in bike gear.
If I walk into Nordstrom's to get a sweater–or into the men's section to buy a tie–I have many color choices and they're keeping up with fashion trends. An entire industry exists to forecast our colors and create those trends (explaining the tragic avocado green kitchen appliance era). So why is it that if I walk into most bike shops I'll be able to choose from somewhere around 4-5 helmet colors (two of which will be black and white) and about the same number of bike frame colors (ditto)?
Companies like Nutcase and Bern are tapping into the desire for more individual expression through helmet color and design; I predict (hope for) many more color options in the future for every part of my bike. The handlebar tape makers have it figured out–I could get tiger stripes or hot pink/light pink leopard spots if I liked that sort of thing.
(As an aside, I joke that bicycling is the only endeavor in which men have long had more color options in clothing than women. That was before Nuu-Muu, a Bellingham company, started making great active-wear dresses designed for biking and running.)
I notice color more while riding since I have time to observe. The pale green of spring leaves now will deepen over the summer until it shades into the fall palette of yellow, orange, bronze, red, and brown. The spots of color that were emerging buds a couple of weeks ago are flowers now. The color of the sky varies with season as well as with time of day. A flash of color catches my eye and I notice the vivid coat on someone waiting at the crosswalk (and because I'm on my bike I can call out "Beautiful coat!" and be rewarded with a smile, because who doesn't love an unexpected compliment on his/her color sense?).
 I suppose a bike post on color wouldn't be complete without a mention of high-visibility (hi-viz) clothing and accessories. Here it is: They're ugly. No one looks good in that lemony yellow-green. I've seen the studies that demonstrate hi-viz effectiveness in catching the eye so I'm not arguing against their use, but I ride in street clothes. It's sheer coincidence that my beloved lime green is a hi-viz color.
Related Reading
Your Turn
Did you have much choice of colors when you got your bike? Did it matter to you?
Now that you have this particular bike do you pay attention to the color of your accessories?