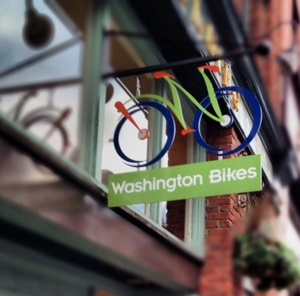 Washington Bikes recently hung our new shingle above our Pioneer Square location and our retail store is officially open for business!
You may recall an earlier blog post announcing our plans to convert a portion of our office into retail space. We want to take advantage of our Pioneer Square storefront to promote bicycling in the Evergreen State by offering bike maps, bicycle tours and rides guidebooks, and bike souvenirs and gifts–many of which are made in Washington. Revenue generated from this retail venture will be used to support our mission to grow bicycling statewide.
That transformation is complete and we invite you to drop by our store/office to say hi and browse. WAbikes members receive a 10% discount on all merchandise. Not a member? We'll sign you up on the spot!
If you live beyond the greater Seattle region, you can use our online shop to purchase some of the items that we carry in our retail store. Check our website, tune in to our social media channels (we're active on Facebook and Twitter), or sign up for email announcements to find out when we're attending an event in your part of the state. We'll let you know if we plan to set up a pop-up store at an event.
Thank you to Andy Goulding for designing our new sign and to Eric Abbott for patiently taking us through all the applications and reviews necessary to get approval to hang it above our door!