Shop
Washington Bikes: The Jersey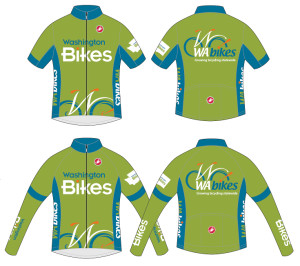 Order this made-in-Spokane Castelli jersey available in men's and women's sizes, and everywhere you ride you'll tell the world Washington Bikes.
Members receive 10% discount–if you're not a member yet, take advantage of our Winter 2013 Membership Special (available only with jersey purchase) and join on the same form you use to order your jersey.
Ready to See Where Washington Bikes? Bike Tour Book Is Your Go-To Guide!

Cycling Sojourner: A Guide to the Best Multi-Day Bike Tours in Washington will be your handy-dandy turn-by-turn bicycle travel guide–the where, the why, and the how-to of bicycle touring in the Evergreen State with 10 great tours in various regions of the state from the San Juan Islands to Washington wine country, the rolling hills of the Palouse to the scenic mountains of the Okanogan country.
This guidebook provides high-quality, in-depth coverage for riders with all budgets and all levels of cycle touring experience. Cycling Sojourner Washington takes care of the logistics and leaves the world-class bicycling to you!
Email info@wabikes.org for information on how to preorder; book will ship upon publication April 2014.

Ride Caffeinated! Gear Grinder Blend Benefit Coffee
Organic. Fair-trade. Delicious. The Gear Grinder Blend from our friends at Roasthouse Coffee will help you spin those cranks while you benefit bike advocacy. At $15 for a real pound (16 full ounces–not those 12-oz. bags at the grocery store masquerading as a pound of coffee) plus shipping it's a tasty way to support bicycling.
Read more about the flavor profiles of the medium and dark roasts and order online for delivery straight to your door.
I Bike WA! T-Shirts
Tell the world what you do with our bright blue "I Bike WA!" t-shirt. The Bicycle Alliance logo on the back (no a "collector's item" since we've changed our name!) shows the world you support bicycle advocacy and you'll enjoy the cool silkiness of the polyester-blend fabric.
Personalized Share the Road Mini-Plate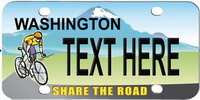 Modeled after the real Share the Road license plate, these customized mini-plates add the perfect personal touch to your bike seat or basket. They also make a great gift for a young rider, especially if you also give our "Young Rider" membership in the Bicycle Alliance of WA!
Size is 3 X 6.5 inches in metal. Personalized with up to 10 characters
$15