Spokane Petition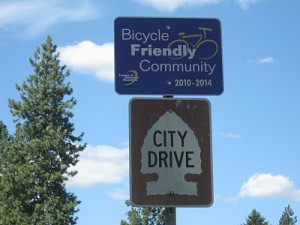 The City of Spokane has announced the elimination of the Bicycle/Pedestrian Coordinator position. The message filtering out now, as Spokane bike advocates raise questions about this decision, is that their intent is to have the bike/pedestrian function built into the work of everyone who works on city streets.
We hear that statement as a promise to make Spokane a better city for bicycling and walking—a goal we share.
The way the decision was made and announced, however, and past history give the citizens who devote their time and energy to better biking, better walking, and Complete Streets some concern. We want to treat this as an opportunity to work together for better bicycling and walking–hence, this petition.
We the undersigned ask for a constructive public discussion about our multimodal future and for a public commitment to specific, measurable goals, progress reports, and process improvements that move us–together–beyond a cars-first approach.
Then we will all be able to celebrate more comfortable, more inviting streets for all that will truly make us the city of choice for future generations.
Please select a valid form
The Specifics
We need to hear a deeper dialogue and public commitment from the mayor, the City Council, and department heads that they truly will walk and bike the talk to assure us Spokane is moving forward, not back.
To believe that biking and walking are going to be at the big table and truly embedded in every decision and design, we call on elected and appointed city leaders to engage in discussions with citizen leaders and, based on those discussions, to provide specific answers to five questions in two essential arenas: operational and aspirational:
Operational
How will training needs be assessed and how will city staff acquire the expertise necessary to create and implement thoughtful and appropriate design of streets for all?
How will staff at all levels be evaluated for their contributions to better bicycling and walking and how will their accomplishments be recognized?
What staff will serve as the point of contact within the city for concerns related to bicycling and walking?
Aspirational
Will the mayor and City Council commit to a bold and specific goal for increases in biking and walking by a specific year, allocate city resources to work toward those, and report progress to the community annually?
Will the mayor and City Council commit to the goal of moving Spokane from Bronze level Bicycle-Friendly Community status to Silver, as a means of benchmarking against national standards, and develop specific plans for this status to be achieved?
Final Note
A focused position and the work of local citizen volunteers has yielded many results in the past 4-1/2 years. To name just a few:
Recognition of Spokane as a Bronze level Bicycle-Friendly Community by the League of American Bicyclists
$10-$12 million in non-local grants and funding for bike/pedestrian projects
Significant bike projects including the downtown network, closure of gaps in the Centennial Trail, University District Bike-Pedestrian Bridge progress, Iron Bridge, High Drive, Addison-Standard, and more
Estimated bike facilities additions: 11 miles of bike lanes, 7 miles of shared-use, off-street paved trails, and 6 miles of marked shared routes (signage and/or sharrows)
We believe this kind of progress can only continue with specific aspirational and operational commitments from city leaders. We look forward to a positive, constructive response and future celebrations of continued progress.
Names of Supporters
Leann Yamamoto
Erika Henry
Gage Stromberg
Eva Silverstone
Timothy Dickerson
Philip Sandifur
Henry Greer
Robin Deruwe
John Driscoll
Daniel Schaffer
Marla Emde
Louise Harless
Alan Jacob
Linda Prussack
Craig Minette
Alexander Martinek
Chris Voges
Mary Ann Bosky
Betsy Lawrence
Susie Prussack
Roger Bosky
Lynnetta Ellis
Jaime Brush
Joshua Messinger
Chris Bernardi
Jessica Bussard
Cynthia Short
Barb Stuebing
Walt Kloefkorn  Walt
Donald Gibson
Carol Waldenberg
Meghan Pinch
Scott Stucker
Luke Baumgarten
Alli Kingfisher
Stine Hansen
Kelly Lerner
Heather Svanidze
Kaaren Goeller-Bloom
Sarah Bain
Paul Main
Neil Andersen
Rick Hastings
Bradley Bleck
Jeannie Nelson
Lori Decicio
Eric Iannelli
Kate Burke
Steve Faust
Barb Chamberlain
Scott Jozefowski
Charlene Violette
Kelsi Swenson
Carol Bryan
John Speare
Mary Rosner
Noah Sutherland
Bradley Baysinger
Karen Momany
Ryan Patterson
Hunter Dehaven
William Kelley
James Baird
Travis Nichols
Nikki Follett
Paul Mutton
David Merriman
Josh Meckel
Rebecca Moore
Dev Brierley
Tim Ray
Erika Jacobs
Teresa Lien
David Jones
Katy Zemke
Mark Steward
Luke Bakken
Suzanne Vennard Halberstadt
Andrea Parrish
Bruce Steele
Travis Coleman
Bob Lutz
Jason King
Amy Lutz
Sam Waples
Patrick Sullivan
Philip Brunner
Eric Erickson
Michael Tonkyn
Steve George
Henry Dennewith
Ella Melik
Teri Koski
Glen Copus
Jon Kercher
Omar Akkari
Landon Crecelius
Marggy Burke
Ben Giese
Dan Siddoway
Luisa Gallagher
Russ Nobbs
Toni Pratt
Kelli Osborne
Robert Hemphill
Tim Hansen
Elaine Snouwaert
John Schram
Greg Stiles
Jack Siddoway
Jeff Hayward
Kathleen Chase
Nathan Duhnke
Chris Eichorst
James O'Hare
Shelley Williams
Charlie Greenwood
William Hulings
Aaron Aaron
Sarah Hayward
John Ragan
Kate Boston
Sandra Blackwell
Deborah Di Bernardo
Suzi Hokonson
Bryan Mahar
Ed Davis
Jonathan Hawkins
Brett Chambers
Shayna Begrovich
Tyler Salvage
Brenda Almquist
Jed Barden
Don Barden
Mark Henriksen
Seth Battista
Anna Jennings
Mariah Mckay
Charles Lehman
Erik Solberg
Liza Mattana
Eliza Hersh
Matt Hollon
Steve Mattson
Crystal Gartner
Graham Gunderson
Mitchell Crane
Joseph Lotrario
Heidi Lasher
Chris Voges
Roger Bosky
Rosemary Otto
Shane  Maggart
Lee Ann Greaves
Erika Prins
Julie Starling
Scott Arbuckle
Brian Wood
Marshall Powell
Amy Mccaffree
Tom Battista
Walter Galen
Rhonda Dundon
Jackie Caro
Tomas Lynch
Steve Simmons
Rachel Jordan
Dave Braun
Carla Chapman
Judy Gardner
April Bresgal
Patricia Danner
Tracy Mahuiki
Chad Kauppi
Anjaela Mertens
Polly Nobbs-Larue
Patricia Hansen
Bill Bender
Justin Poole
Charles Crawford
Alice Hostetter
Susan Hall
Andrew Baucom
M. Price
Kirsten Frost
Tabetha Neathery
Mike Petersen
Timothy Hansen
Ryan Traetow
Sally Lodato
Jim Lodato
Randall Gehlen
Jonathan Hawkins
Michael Raab
Eileen Hyatt
Nomi Martinson
Ann Martinson
Bonnie Sherar
Peggy Davey