Get ready to ride!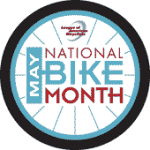 May is National Bike Month and Washington communities large and small are planning activities to encourage folks to ride their bikes to work, school and more. Here's a round-up of events that we're aware of.  If we missed your Bike to Work event, please use the comment section to add it!
Anacortes
Anacortes School District's Mt Erie Elementary, Island View Elementary and Anacortes Middle School are participating in National Bike to School Day on May 8. They are also kicking off a one-month Walk & Wheel Challenge to encourage students to walk and bike everywhere, every day.
Cowlitz County
Cowlitz on the Move is organizing Bike to Work Week, May 13-17. Visit their website or the Cowlitz Bikes Facebook page for more details.
King and Snohomish Counties
Cascade Bicycle Club organizes a month-long Commute Challenge for bicyclists in King and Snohomish Counties. The club also does a big splash for Bike to Work Day, May 17, with rallies and commuter stations scattered around the region.
Mount Vernon
Bike Mount Vernon, the City of Mount Vernon, and Mount Vernon Downtown Association have partnered together to put on Bike to Work Week, May 13-17. Check the MVDA website for a list of activities.
Pierce County
Pierce County residents can participate in the Bike Commuter Challenge, sponsored by the Tacoma Wheelmen Bicycle Club and Tacoma Bike, the entire month of May. In addition to the commuter challenge, the Pierce Trips Bike Month calendar is chock full of events for bicyclists of all ages and abilities!
Spokane
Spokane celebrates Bike to Work Week May 1 –19. There are events and a week-long commute challenge organized by Spokane Bikes. Weather permitting, Bicycle Alliance board member Marc Mims will lead a ride from Spokane Valley to the Kick-off Breakfast in downtown Spokane on May 13.
Thurston County
We think the Bicycle Commuter Contest in Thurston County, which began in 1988, is the granddaddy of the bike challenges in Washington! The contest runs the entire month of May, features bike stations on Bike to Work Day (May 17), and holds an awards ceremony in June on the Olympia Farmers Market main stage.
Tri-Cities
Three Rivers Bicycle Coalition is organizing a Bike Month Bike Challenge to encourage more folks in the Tri-Cities region (Kennewick-Richland-Pasco) to get on their bike and ride.
Vancouver
The good folks in Vancouver delay their Bike to Work Week to the fairer month of June, and will celebrate Bike to Work Week June 17-21. Check the City's Cycling Vancouver page for current information.
Walla Walla
A bike to work contest is rolled into the Earth Week Green Travel Challenge underway now, April 21-27. This challenge is open to area businesses, schools, churches, agencies and organizations. The Challenge is organized by Sustainable Walla Walla.
Wenatchee
Bike Month is getting to be a bigger deal in Wenatchee! Bicyclists can log their miles in a commute challenge, stop at an appreciation station on Bike to Work Day for coffee and treats, Ride With the Mayor on May 17, and more. Check Wenatchee Valley Transportation Council's Bike to Work page for the latest information.
Whatcom County
Whatcom County is celebrating its 16th annual Bike to Work and School Day on May 17. Celebration stations will be sprinkled around Bellingham and Whatcom County. Check the everybody BIKE calendar for other planned Bike Month activities.
Whidbey Island
Whidbey Island Bicycle Club is organizing Most Miles in May contest as a Bike Month event. Participants can track miles ridden on the WIBC website. Prizes will be awarded to adults and students. The club is also planning Bike to Work and School activities. Check their website for the latest information.
Yakima Valley
Yakima Valley Conference of Governments organizes a month-long Bike to Work Challenge and a Bicycle Commuter Recognition Event. Follow this link for more details.
National Bike Challenge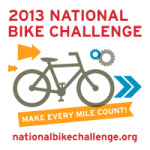 May also kicks off the National Bike Challenge. The Challenge runs through the end of September and allows riders to track ALL bike miles (transportation, recreation and mountain biking) to qualify for monthly prize drawings. You can sign up as a team or ride solo.
The Bicycle Alliance brings the National Bike Challenge to Washington because it's a great way to be part of Bike Month if your community doesn't organize a local event. And if you have a local event, it's an excellent way to keep the Bike to Work momentum going all summer long! Go to nationalbikechallenge.org to sign up.
Bike to School Day is May 8
This year is the second annual National Bike to School Day. So far, 30 schools from around Washington have registered Bike to School events. Kids in Seattle, Bellevue, Lynnwood, Vancouver, White Salmon, Mead, Port Townsend and more will be riding their bikes to school. Check here for a current list of registered schools.