A Trail of One's Dreams!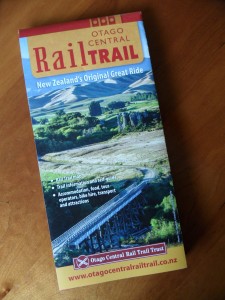 Imagine a dedicated bike trail where you can pedal comfortably for several days along the gentle grade of a converted rail-trail, going on for a full 150 kilometers (roughly 93 miles).  Now imagine riding this trail through magnificent big-sky hill country where it rarely rains, you see only a handful of people every two or three hours, and the trail encompasses a dazzling variety of topography, from wide open ranges with grazing herds of sheep, cattle and deer to scenic rocky gorges and unique little historic mining towns.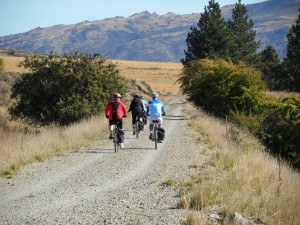 Further visualize pedaling along as your trail yields ever more expansive views while riding over 100+ year-old steel and stone bridges and viaducts and sometimes the trail takes you through impressively engineered mined-rock tunnels.  You marvel at the sights and sounds of nature while looking forward to periodic breaks to quench your thirst and enjoy tasty treats in any one of the 20 or so quaint little towns' friendly cafes and pubs that offer great pastries, barista coffees, good hearty food and, as desired, great beer and wine.
My wife Kathy and I had this truly memorable bike riding experience last April down in New Zealand's South Island, a land of very diverse topography, perhaps better known in America as the setting for filming "The Hobbit" and "Lord of the Rings."  In the lower central valley of the island, we took a 4-day bike trip on the Central Otago Rail Trail, a trail known as New Zealand's "Great Ride."  We can thank the origin of this trail to the pioneer builders who constructed the old Central Otago Railroad beginning in Middlemarch in 1891 and completing the rail line 16 years and almost a hundred miles later in Clyde.  The railroad supported many decades of mining and farming operations, moving livestock, gold, silver and other material from the mineral rich central Otago Valley to the SW port of Dunedin, New Zealand's largest city in the early 1900s.  While the railroad also intermittently carried passengers it ceased operations in 1990 when it completed hauling materials for the Clyde Dam project that helps store and supply water for the Otago Valley.
With the cessation of rail operations, many little towns along the line started to decline and die until some far-sighted farming families got together with local business leaders and began pushing the idea that a bike trail might bring tourists and money back to their towns.  They lobbied the national government for assistance to get it built and the Department of Conservation officially opened the trail to the public in the year 2000 and dedicated it as a public preserve, with year-round access and no fees.  It was further improved over the years in terms of a consistent hard-pack gravel bed and excellent signage about history and points of interest for each section and station along the trail, and they've spruced up many nice shelters (old rail sheds) along the way, not to mention installing a few all important and well-maintained toilet amenities in a some of the longer stretches of the trail without a town.   The web link to learn much more detail about the Otago Central Rail Trail is: http://www.otagocentralrailtrail.co.nz/
 Our "Great Ride" Experience
Beginning at the eastern end of the trail in the Town of Clyde, we were met right off our bus from Queenstown at the trailhead by Steve Goodlass, a wonderfully helpful fellow we'd contacted by email last fall to arrange this bike trip.  Steve and his wife Carol Goodlass run a superbly efficient outfit based in the town of Omakau called "Shebikeshebikes."  After welcoming us, he checked us out on their very nice Apollo tandem mountain bike we rented for the trip, a bike made all the more comfortable and stable with front suspension and, as they call them, "comfy seats" that lived up to their name.  We had fenders, panniers, a bell, lights (for tunnels) and a speedometer/computer.  Steve made adjustments for proper seat fitting, provided us with helmets and gave us some safety pointers – of special relevance, given the rail-trail is hard-pack gravel, was his advice to "ride in the ruts and stay to the left" (as one drives on left-side of roads in NZ).
Through prior email discussions with Shebikeshebikes, Steve and Carol were extraordinarily helpful in advising us on accommodations and places to eat in the little towns all along the trail.  They also made our lodging reservations for three evenings, which all included breakfasts.  To make our trip all the easier, Steve took our luggage in his van and assured us the bags would show up on the doorstep of each day's lodging by 2:00 pm, and they did.  All we had to do was put our luggage back out on the doorstep by 9:00 am each morning and take off – the luggage was magically moved along to the next stop, enabling us to only think about carrying what we wanted to wear (layers worked best, as mornings could be in low 30s F and afternoons in the 60s) plus bringing along our camera and water bottles.  It all worked so seamlessly we can't say enough about the good service from Shebikeshebikes, as well as consistently delightful friendliness and courtesy we found every day from folks all along the trail – cafe vendors, pub waiters, lodging hosts and our fellow bike riders, who were mostly Kiwis!
The rail trail makes a large arc through the Otago Central Valley along the foothills of the South Island's east and west coastal mountain ranges, running slightly uphill for first half, generally NW from Clyde to its halfway high-point (618 meters/just over 2,000 ft elevation) near Wedderburn and then turns gently SW running slightly downhill to Middlemarch for the full 150 km.  Bear in mind, "uphill" and "downhill" on this gentle rail-grade are truly relative terms, as the grade was often imperceptible.  The total elevation gain along the full trail is a little under 1,500 feet.    Link to see map of trail and Otago Valley area: http://www.otagocentralrailtrail.co.nz/maps/rail-trail-map.html
While the full rail trail can (and has been) ridden in one day by hearty athletic types, doing so at such a fast clip would sadly miss the beauty and serenity of nature and the charm of the historic little towns and wonderful people along the way.  We opted for a nice and leisurely 4-day ride.  This involved typically riding about 3-4 hours each day, and in spite of the gravel trail, our bike was so comfortable we were pleasantly surprised to never have tired legs or butts at the end of each day!
We loved getting up in the crisp morning air and, after the normal continental breakfast in our lodging, heading out on the trail to enjoy the sounds of nature in miles of solitude – a little breeze and occasionally some sheep braying mixed with the soft and steady sounds of our tires rolling over the gravel trail.  It was a treat to look forward to a mid-morning coffee/latte or chai stop in one of the charming towns along the way, always finding scrumptiously fresh baked pastries.  As noted earlier, the rail trail has excellent signage all along the route, with good information about history and character of specific structures (bridges/tunnels/viaducts) and helpful notes and maps showing points of interest in each area.
Our lodgings all along the way were consistently clean and comfortable with highly congenial and helpful hosts.  We did feel a twinge of sadness starting out on our last day after a latte and chai from the Hyde Cafe, realizing our enchanting and ever so enjoyable bike ride and adventure would soon come to an end down the trail in Middlemarch.  None-the-less, all went smoothly even at the end, for there at Cycle Surgey in Middlemarch, where we turned in our tandem, we found our luggage waiting for us.  These nice folks at Cycle Surgery even provided space in their store to change our clothes and suggested a nice lunch spot before our afternoon scenic trip on the Taieri Gorge Railway down to the coastal town of Dunedin.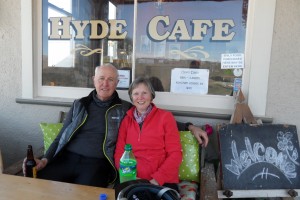 We found that riding the Otago Central Rail Trail was both an incredible adventure and an enriching experience, a chance to have a great ride in a very friendly country of great geographic and cultural diversity with wonderfully friendly people… and the pleasure was well worth the trip to the land of the Kiwis.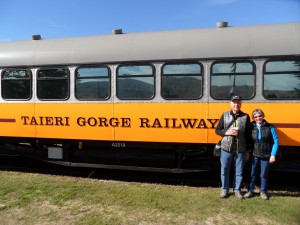 Ready to board train to Dunedin