Have fun! Challenge yourself! Win prizes! Grow bicycling!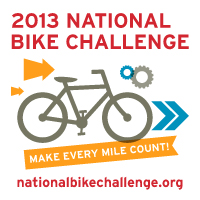 This summer, join more than 50,000 Americans as we unite to ride more than 20 million miles in communities big and small across the country.
The National Bike Challenge is a health and wellness initiative that encourages people to bike for transportation and recreation. Whether you're biking to work or to the grocery store, riding with your friends on a club ride or a leisurely outing, or tackling a gnarly mountain bike trail or a gentle rail-trail, the miles count every time you get on a bike.
The Challenge kicks off May 1 and runs through September 30, and it's free to join. Just go to nationalbikechallenge.org to sign up. You can create a team for your workplace, bike club or friends—then invite others to join you! You can also choose to ride solo, or join the We Bike WA team if you're anywhere in Washington. Your riding miles can qualify you for national prize drawings that will occur each month. The Bicycle Alliance will also hold monthly prize drawings for Washington residents.
The National Bike Challenge is organized by the League of American Bicyclists, and Washington Bikes is hosting the Challenge for our state. In 2012, 594 Washington residents logged over 228,000 miles in last year's event (read more in this post). We want to double the number of Washington participants in this year's Challenge!
The National Bike Challenge site has both national and local pages. The Bicycle Alliance is hosting your local page and it's an interactive one! Participants can ask questions, share their riding experiences, and offer words of encouragement to each other via posts on the page. The Bicycle Alliance will regularly post updates and items of interest in the news feed. It's quite the community!
So what are you waiting for? Join the National Bike Challenge today!