This November, let's elect these bike champions to keep Seattle on a course for ensuring people of all ages, abilities and backgrounds, can get around safely and comfortably by bike. Read on about what's at stake in Seattle this election cycle.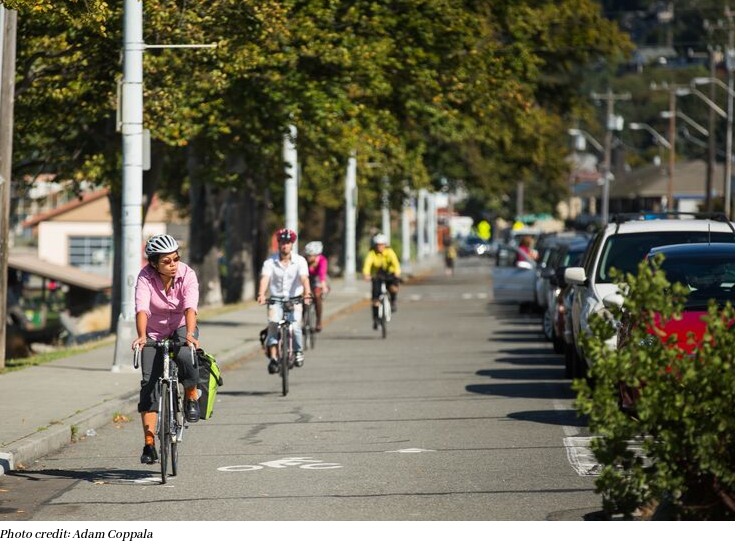 Washington Bikes 2019 Seattle Endorsements:
All seven of Seattle City Council's district seats are up for election this November, and in four districts the sitting councilmember is not seeking reelection. So, come January one thing is assured: change.
The next cohort of council members will meaningfully shape the future of transportation in the region's fastest growing city. Seattle is at a critical juncture to catch up to its peers – including Vancouver, BC, Minneapolis, and Washington, DC – who are setting the course to shift their transportation systems toward a future that is healthier, more economically competitive, and safer. As we reach the midpoint of the Move Seattle Levy, and with Light Rail expanding to Northgate by 2021 and the future Ballard to West Seattle line in planning, the time is now to propel Seattle forward by realizing a citywide vision of connected bikeways.
Over the next four years, Seattle City Council will be charged with making policy and budget decisions large and small that will impact how safe and accessible it is to bike in Seattle. Seattle's council must ensure implementation of an aggressive but realistic plan to Connect Seattle by bike – with a minimum-grid bike network, citywide, by 2021. Looking farther out, Seattle will revisit it's 2014 Bicycle Master Plan during the lifetime of this new council. Council must adopt a new plan that fleshes out the next phase of building out Seattle's bike network so that all Seattlelites, regardless of age, language, ethnicity, gender, race, and ability, have the option to get where they need to go by bike.
The Levy to Move Seattle is the primary funding source for building Seattle's bike network. As we reach the midpoint of the levy, passed in 2015, Council must maintain accountability, and ensure voter commitments are kept. The levy will conclude in its ninth year during this new Council's term. As such, Council will influence the future of our streets and roadways; whatever follows must direct resources towards people-focused transportation, including a connected network of trails and bikeways, citywide.
Lisa Herbold, City Council Position 1
On Council, Lisa Herbold has demonstrated leadership on active transportation issues. Herbold has helped hold the city accountable to following through on key transportation projects in her district – including the Georgetown to Southpark trail and retaining bike improvements within the Delridge Rapid Ride project. In her response to our questionnaire, Herbold adds that in order to fund planned bike routes, money from traffic cameras and new revenue sources must be dedicated specifically to bike projects.
Tammy Morales, City Council Position 2
During her campaign, Tammy Morales has been vocal in her support of making biking safer and more accessible, with a focus on racial equity in biking. Morales is motivated to address the reality that south Seattle currently has no direct bike route to downtown, and that fatalities for people on bikes is disproportionately larger in the south end. Morales highlights that her priorities will be to invest in the Seattle Bicycle Master Plan, and make our neighborhoods more bicycle friendly for kids.
Kshama Sawant, City Council Position 3
As a member of the Council Transportation and Sustainability Committee, Kshama Sawant's voting record and policy input reflect her understanding of how biking is a part of the solution to transportation, affordability and social justice challenges facing Seattle today. In responses to our questionnaire, Sawant highlights that safety is an important component of creating a connected network of bicycle lanes, and dedicating funding to bike lanes is an important investment.
Shaun Scott, City Council Position 4
Advocating for a Green New Deal for Seattle, with opportunities to get around sustainably and affordably, is a core campaign theme for Shaun Scott. From Scott, we heard that he hopes, "to propose and oversee investment in sidewalks, bikeways, and trails with an equity-based lens, as they are a critical component to promoting public health, enabling movement for families with strollers and folks in wheelchairs, and making first/last mile transportation options like biking for working people and young folks safer and more accessible."
Andrew Lewis, City Council Position 7
Andrew Lewis understands that when we build a connected network of protected bikeways, more people – and more types of people – will choose to bike. In response to our questionnaire, Lewis notes that the City needs to prioritize providing safe bike routes to, and around schools. Andrew also says he will emphasize pedestrian and bike improvements whenever the City takes up a major infrastructure project. In District 7, he highlights that the Magnolia Bridge replacement should be a multi-modal project instead of a one-for-one copy of the previous bridge. Additionally, he says that bike and pedestrian infrastructure will play a vital role in providing east-west connections around the Seattle Center in the redesign of Key Arena.