July 20th was the last day of the third special session of 2017. This was the longest legislative session in Washington state history — 193 days total. Washington Bikes secured policy and funding wins that will make biking and walking safer and more accessible, statewide.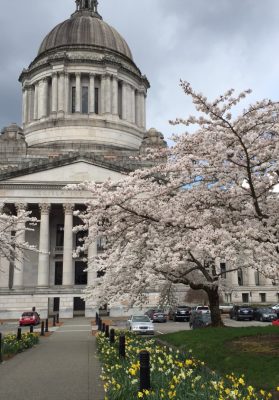 All the way through the third special session, Washington Bikes continued to monitor and work to represent bicycling in Olympia. In January, we came into the 2017 legislative session with a hefty agenda and 193 days later are proud to claim some pretty big wins for bicycling. This year we secured significant new funding for the Eastside Rail Corridor, and protected historic investments in Safe Routes to School and bicycle/pedestrian grant funding. This means Washingtonians will have more safe, connected spaces to bike and walk whether they choose to do so for health, recreation, or transportation. Working with legislative champions, Washington Bikes successfully advocated for the creation of the Cooper Jones Bicyclist Safety Advisory Council and to strengthen Washington's distracted driving laws. Read on here and here to learn how the new legislation will improve street safety for people who bike and all road users in Washington state!
Washington Bikes' budget priorities achieve funding wins for people who bike!
Funding Levels Maintained for Safe Routes to School and Bicycle/Pedestrian Grant program: This essential funding for bicycle/pedestrian education, engineering, and infrastructure was passed in the transportation budget. Historic funding levels passed in the 2015 State Transportation Package were retained, meaning investments in safer streets, better bike connections, active communities, accessible routes to school and healthier children will continue.
$2.5M towards retrofitting the Eastside Rail Corridor's Wilburton Trestle: The future Eastside Rail Corridor trail is a 28-mile bike and pedestrian path connecting five East King County major cities. The Wilburton Trestle is an historic railroad trestle that's being converted to a trail as part of the project. It's an iconic stop and essential connection on the trail between Renton and Bellevue. Funding construction of the trestle enables Kirkland to Renton connectivity on the multi-use corridor by 2020. Washington Bikes, along with public agency and  business partners, and the non-profit Eastside Greenway Alliance partnership, worked to secure this funding as part of a larger public/private funding package. This $2.5M secured through the 2017-19 transportation budget brings the funding total to $7.5M, and brings the transformative project closer to realization.
$100,000 to implement the Cooper Jones Bicyclist Safety Advisory Council, via operating budget. The bicyclist safety advisory council will get underway in September; Washington Bikes looks forward to participating on the Council, and helping to identify and recommend strategies to make our state's transportation system safer for people who bike. Additionally, Washington Bikes worked with Washington Trails Association to secure operating budget funding for an economic impact study aimed at quantifying the economic and health benefits of hiking, biking, and walking. Though the study was not funded this year, we were able to lay groundwork and are poised to seek the study funding in a future legislative session.
Passage of the new operating budget was touch and go for much of the legislative session. In the end, the state legislature narrowly avoided government shutdown passing the $43.7 billion operating budget and accompanying bills necessary to implement the budget ahead of the June 30th deadline. The budget addresses the state's court mandated education obligation by raising property tax levies, capping school levies (a levy swap), and raising additional new revenue.
Unfinished business: the 2017-19 capital budget is the remaining budget to be passed. Despite the Senate and House having agreed upon a compromise budget, the legislature adjourned without passing the $4 billion capital budget. The final votes were held up due to conflict over another legislative matter. So session concluded without a capital budget, which is unprecedented; this will have major implications for infrastructure and building projects across the state. Specific to Washington Bikes' work, the capital budget serves an important role in building out Washington state's bicycle trail network.
This year, Washington Bikes advocated to secure funds for maintenance, protection, and development of trails statewide in the capital budget. The Washington Wildlife and Recreation Program (WWRP) contains the majority of these trail projects through the recreational trails program. Additional money for the retrofit of the Wilburton Trestle was funded in the most recent Senate capital budget. In June, the House passed an earlier version of the capital budget, it too funded the Wilburton Trestle at $500,000. It is unclear when the new two-year capital budget will be passed, but until then, many projects will experience delays, be forced to find alternative funding, or worst case, fail to come to fruition.
Washington Bikes worked with legislators to highlight that biking is about healthier kids, increased public safety, stronger local economies and more transportation options. While we conclude the 2017 legislative session with significant wins for bicycling, there is still much work to be done.
Check back soon for an update on plans for the new Cooper Jones bicyclist safety advisory council. Stay in touch by signing up for Washington Bikes' alerts!