On Sunday, July 23 Washington state's new distracted driver legislation will take effect. Here's what you need to know.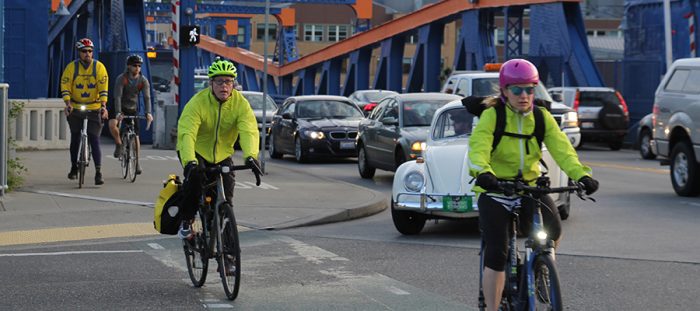 SB 5289, the driving under the influence of electronics (E-DUI) bill, passed the state legislature with bipartisan support in the 2017 regular legislative session. Washington Bikes advocated for the legislation alongside a diverse coalition of individuals and organizations, including victims' families, construction professionals, medical professionals, and transportation organizations. On May 16th, as Governor Inslee signed the bill into law, he sped up the date for enactment to July 23rd.
This diverse coalition was motivated to come together to ensure distracted driving laws in Washington were strengthened for a very compelling reason — people are dying. Fatalities from distracted driving are on the rise and people walking and biking are significantly impacted. A recent study examined deaths of people walking and biking attributed to distracted driving between 2005 and 2010 and the numbers are disturbing: Deaths for people walking increased from 344 to 500 and for people on bikes from 56 to 73.
Washington's new distracted driving law is intended to deter a specific dangerous behavior that has become more and more common: Driving while distracted by electronic devices. The intent is to keep everyone on our streets safe; the law will be most impactful to vulnerable street users, like people walking and biking. Given that many of us are behind the wheel at some point, here's a rundown of how to comply with the law and keep people safe.
So what do you need to know to follow the law? It's simple really, put your phone down while driving (this means ALL electronic devices, including tablets, laptops, and video games). Pledge to put down the phone.
What are the consequences if caught driving with your hand-held device in use?

First E-DUI – $136
Second E-DUI (within 5 years) – $234
The ticket amount goes up with each offense
The ticket will go on your record and is available to your insurance provider
You might be wondering, can I use my phone while I'm stopped at a light? The answer is no. The new law prohibits use of your phone when stopped in traffic or at a traffic light. This also means no typing messages, accessing information, watching videos, or taking photos while stopped.
This new law simply reinforces what all of us know is the right thing to do: Paying attention when we drive. On the road. Off the phone. It's the law.