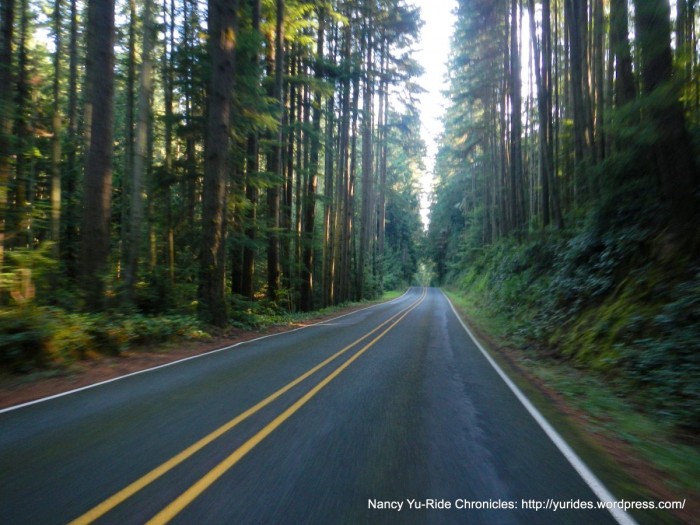 We're now a bit further north of Seattle in the city of Everett for a century ride that begins from Lakeside RV Park to Mukilteo and continues with a ferry ride out to Whidbey Island for a 91 mile hilly route that roughly goes in a counter clock-wise NW figure eight direction through the towns of Clinton, Langley, Freeland, Greenbank and Coupeville.
We exit the RV Park and take WA-99 to WA-525/Mukilteo Speedway for the eight miles down to the Mukilteo Ferry Terminal. The fare to Whidbey Island is $4.65 (other discounts may apply if eligible) plus a $1 bicycle surcharge. Arrive 15-20 minutes before departure time to be loaded prior to the vehicle loading process. There are no bike racks; they can be hooked on or strapped to the yellow side railings of the boat. The ferry crossing to Clinton is an enjoyable 20 minutes from Mukilteo.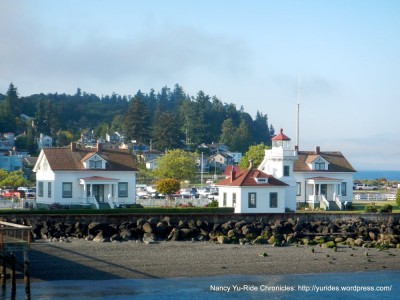 From the Clinton Ferry Dock, we take WA-525 to Bob Galbreath Rd; this road initially goes through the residential neighborhoods of Clinton before winding out towards the dense wooded area on Wilkinson Rd. The rolling hills takes us pass the Comforts Farm and Vineyards and a cute little farm stand at Ryrose Ranch.
Sandy Point Rd leads us onto the Langley Loop on Camano Ave; this road takes us into the seaside town of Langley pass the cool graphics at the Whidbey Island Center for the Arts. I also noticed lots of grazing bunnies roaming freely around the surrounding grassy areas and at the campground cross the street.
The Langley Loop continues on Cascade Ave; this short stretch of road runs along the top of the bluff with amazing views of Puget Sound. This tiny town of less than 3/4 of a mile square is filled with historic buildings that house the many different galleries, studios, boutiques, B&B's, Inns, cafes and restaurants. Even in this small community of 950 people, there are three different churches and a Alcoholics Anonymous!
Saratoga Rd leads us out of town to the "country' with its open pastoral meadows, ranches and farms. The road heads north up to the tip at Baby Island Heights along the hidden backyards of the waterfront community.
We head south on East Harbor Rd; this quiet road goes through a huge section of dense forest with small residential neighborhoods hidden behind the woods. You see the occasional flower stand out on the side of the road along with grazing deer.
East Harbor Rd ends at the outskirts of another small community-Freeland. Freeland is the island's retail and financial center. We continue on S Stewart Rd to Freeland Park for a quick pit stop. This park has a boat launch area with gorgeous views of Holmes Harbor! I even spot a bald eagle perched up on a tree-WOW!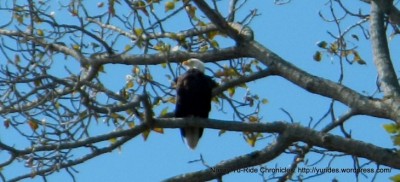 The short steep climb up Shoreview Dr takes us across WA-525 to E Bush Point Rd; this road goes through the rural farmlands out towards the small residential areas around Mutiny Bay. Smugglers Cove Rd is a road that runs parallel to Bush Point and continues north through the lush forests to South Whidbey State Park. This is a great shaded place to stop for a quick snack, water & restrooms. The rolling climbs on Smugglers Cove Rd continue pass Lagoon Point and weaves its way out to WA-525.
From WA-525, we make a quick turn onto North Bluff Rd into the smallest town on the island-Greenbank. This town is situated on the narrowest point of the island and is home to the historic Greenbank Farm-a popular tourist destination. You simply can't miss the bright red barn-it stands out against the green agricultural fields!
We stay on North Bluff Rd for next rolling 3.8 miles to the steep climb up Houston Rd and get back on WA-525 N to Race Rd. Race Rd runs along the east edge of the island near Harrington Lagoon. Morris Rd turns west and opens up to the expansive meadows of Smith Prairie.
Parker Rd leads us into the town of Coupeville, on Penn Cove along the eastern shore of the island. Our lunch stop is at the Knead & Feed Bakery Restaurant on Front St. There's a little sitting area next to the bakery with fabulous views of Penn Cove.
Coupeville is like a blast from the past with its beautiful Victorian homes and original blockhouses. The historic Front St has the usual mixes of antique shops, boutiques and restaurants. The Coupeville Wharf is one of the only remaining original wharfs and wharf building in the Pacific Northwest-WOW! This is another popular tourist destination spot!
We exit Coupeville and head a bit further west along Madrona Way; this beautiful madrona tree lined road hugs the shoreline of Penn Cove to Kennedys Lagoon. The 3.7 miles on WA-20 takes us back into Coupeville.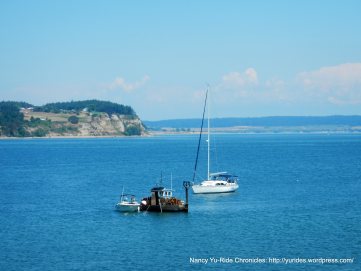 From Coupeville, we turn onto S Engle Rd for the flat stretch through Ebbys Prairie; this rural area is a rich coastal farmland with fields and fields of barley, oats and organic grains. With views of Puget Sound in the far distance, the road drops down into Fort Casey State Park, north of the Coupeville Ferry Terminal.
We continue on Fort Casey Rd up to the Crockett Blockhouse and Crockett Farm with views of Crockett Lake.
W Wanamaker Rd cuts through the coastal farmlands and ranches near Crockett Lake out to WA-505.
This section of the route retraces itself on WA-525 to Houston Rd and North Bluff Rd back to Greenbank. We continue on WA-525 S to the rolling hills on Resort Rd and Honeymoon Bay Rd towards Holmes Harbor. We get back on WA-525 through the towns of Freeland and Bayview.
The turn on Bayview Rd takes us through the small neighborhoods towards the southern point of the island near Cultus Bay. We weave our way along the shoreline on Ewing Rd, Sills Rd to Maxwelton with views of Useless Bay.
The steady climb up Swede Hill Rd takes us to the descent on Scatchet head Rd to Bailey Rd. We continue north on the rolling climbs up Cultus Bay Rd to Deer Lake Rd. The last few rollers on Deer Lake Rd take us back onto WA-525 into Clinton and to the Clinton Ferry Terminal.
It's a relaxing scenic 20 minute ferry ride back to Mukilteo. The steady climb up Mukilteo Speedway/WA-525 takes us to WA-99 and back to the RV Park in Everett.
Whidbey Island is the largest island in Puget Sound and only 29 miles away from Seattle. It's still very close but seems a far distance away in terms of old world feel-it's a wonderful getaway! It's a beautiful rural island with many small communities dotted and hidden amongst the verdant forests with plenty of history and charm! Here's another tidbit I learned from talking to a local, there are no mosquitoes and because the island is situated in the rain shadow of the Olympics, they have more sunshine than any other Western Washington location! It might be time to move! So go ahead, go north and enjoy the quiet hilly country roads and gorgeous coastal rural landscapes that comes along with it! There are no bad roads, they're all well maintained with minimal to no traffic except for the busy sections along WA-525 and WA-20, even then, there's plenty of shoulder area to ride on.
Garmin Stats:
107.23 Miles with 7776′ of elevation gain
(includes 16 out & back miles from Everett to Mukilteo)
Max elevation: 398′
Max grade: 14%
Terrain: Hilly
Weather: FANTASTIC! Sunny, warm and clear with temps ranging from the low 50's to the low 80's. NNE winds with 94% humidity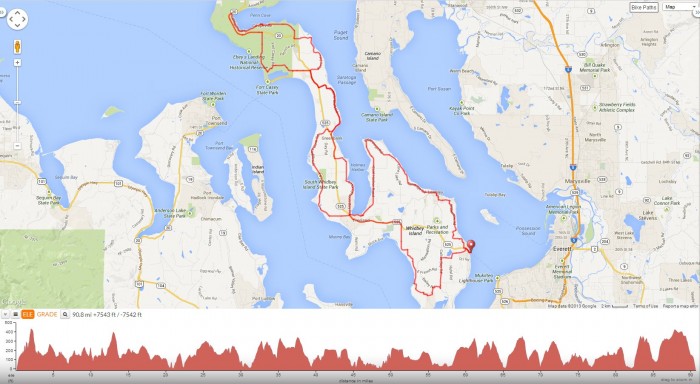 Guest blogger Nancy Yu writes about her bike travels at Ride Chronicles. She says, "I loved cycling around Washington. It's a beautiful state with a wonderful network of trails and bike-friendly people. I ride to explore and love sharing my findings! I hope the write-ups and pictures will inspire those who can to get out there and enjoy the natural beauty of all that is available to us."