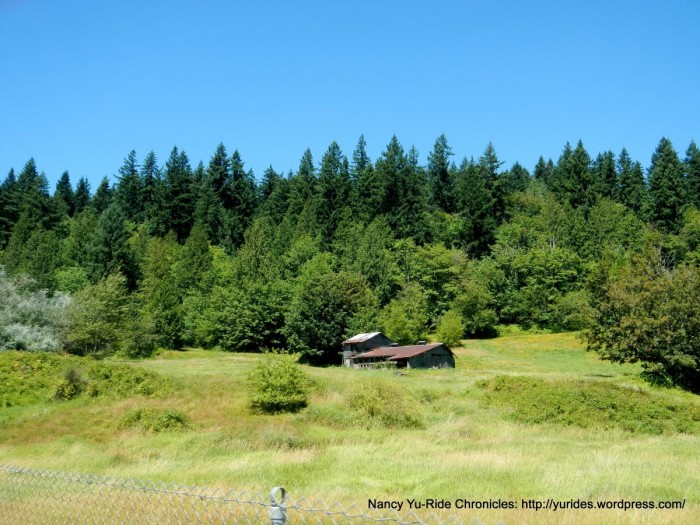 It's another sunny day in Washington! We're meeting up our friend Ken at Marymoor Park in Redmond; he's going to lead us on a ride along Lake Sammamish to Issaquah and back. We also have the pleasure of being able to ride with our Washington host, Soheil.
Marymoor Park is huge; 640 acres with multiple soccer and baseball fields, tennis courts, basketball courts, cricket field, a climbing wall, a velodrome, a playground, a reflexology path, off leash dog area, trails and much, much more-it's an amazing place! There's an activity are for everyone!
We head south on West Lake Sammamish Parkway NE, the flat terrain on road runs along the west side of the lake and the northeast neighborhoods of Bellevue. The views of the lake are obstructed by tall evergreens and grand residential homes although I can occasionally catch a glimpse of it between the houses and trees.
Seven miles out on this road, we see a detour sign for all the construction work ahead of us, so we follow the sign pointing to SE 34th Street. It's a steep hill with 7-13% grades! At the top of the climb, we find out from other cyclists that bicycles can pass through the construction zone with no problem. Extra kudos to everyone for increased heart rates and unexpected elevation gains! We turn around and descend back to West Lake Sammamish Road.
We cross under WA-90 on Lakemont Boulevard SE to Newport Way NW; this road runs parallel along the highway through several large apartment/condominium/townhouse communities in Sammamish. It goes east and becomes Maple Street NW to Gilman Boulevard, which takes us into the city of Issaquah through the busy downtown area. The shopping centers have the standard box stores, chain restaurants, businesses and fast food places.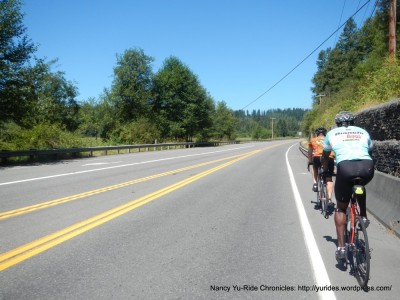 Ken leads us onto the longest climb of this route on SE Issaquah-Fall City Rd, it's one mile with an average grade of 6.2%. The road runs along the ridge up towards the SE side of the Klahanie suburban neighborhoods and continues on SE Duthie Hill Road to WA-202/SE Redmond-Fall City Road.
We head north on SE Redmonds-Fall City Road through the outer rural area of Sammamish with many farms, ranches and a nursery. Of course, I've noticed that every rural area anywhere must have a Retreat Center of some sort, hidden in the woods, where else can people go to kick their addictions or get their minds in order or to seek peace? A long stretch of this road roughly follows Patterson Creek up to NE Sammamish. A little factoid — Sammamish was ranked 15th in CNN Money's 2011 best places to live in the U.S. and came in 1st place in Forbes 2012 list of Friendliest Towns in the U.S. — who knew!
We stay on SE Redmonds -City Falls Road for 10 flat miles on great pavement and wide shoulders. The turn onto E Lake Sammamish Parkway NE takes us back to NE Marymoor Way and into the park.
Soheil leads us to the Marymoor Velodrome and we all take a few spins around the track. I got reprimanded by another cyclist on the track; "Slower riders need to stay above the blue line!" My bad for getting in the way of faster people — so sorry! It was actually kind of fun going round and round in circles. Best thing is that there are no fees for using the velodrome — fantastic!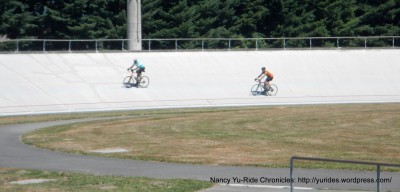 A big "THANKS" to Ken for leading us on this ride and to Soheil for showing us the Velodrome. I would've never ever been able to try it otherwise, for free at that!
Our post-ride lunch was at Joi's Seafood Restaurant in Bellevue. This place was recommended to us by Joe Sing, our waterfront tour guide. The Dim-Sum, noodles and vegetables was delicious and very satisfying — thanks, Joe!
We had a chance to walk off the lunch by attending the downtown Bellevue 6th Street Fair. There were lots of arts and crafts items, live music and food stalls. This fair had the most paintings and photographs vendors ever; mostly with scenes of Mt Rainier and bald eagles.
It was a fun-filled day of cycling, eating and just schlepping around with no time constraints! What's not to like about that?
Garmin Stats:
32.50 Miles with 1621′ of elevation gain
Max elevation: 507′
Max grade: 11%
Terrain: flat, rolling hills with one long climb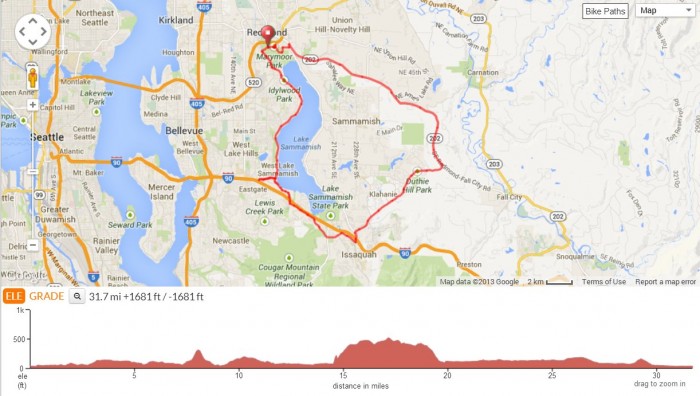 Guest blogger Nancy Yu writes about her bike travels at Ride Chronicles. We're running a series of posts from a past trip to Washington. She says, "I loved cycling around Washington. It's a beautiful state with a wonderful network of trails and bike-friendly people. I ride to explore and love sharing my findings! I hope the write-ups and pictures will inspire those who can to get out there and enjoy the natural beauty of all that is available to us."