In the Washington state transportation package "compromise," biking and Safe Routes to School investments grow sevenfold from the 2005 transportation package. Thank your legislators today for making these investment in biking a reality.
Today we at Washington Bikes are elated to announce a huge advance toward long-lasting biking investments across Washington state. No matter where you stand on other elements in the Washington state transportation spending package, one message is clear: we won big for biking and walking projects.
Through most of the session, this outcome wasn't guaranteed. Let's review the timeline:
Prior to the Senate Transportation Committee's transportation spending proposal release in February, concerns were high that the proposal would include little to no money for biking. After a big push by Washington Bikes, the Senate proposal included $106 million for biking and Safe Routes to School investments.
In its April proposal the House Transportation Committee increased biking and Safe Routes to $236 million.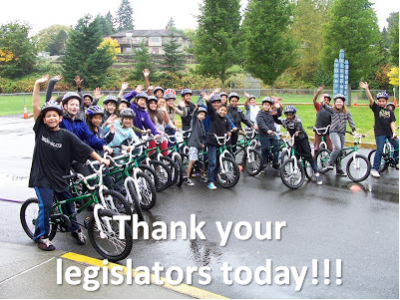 So what happened? Instead of a compromise to meet in the middle, biking and walking investments actually grew by $86 million to $320 million in the final negotiated agreement. That's right, our numbers grew. Biking and Safe Routes to School projects investments at the state level now will retain a stable base of funding of nearly $40 million per biennium for the next 16 years.
"Washington Bikes worked with legislators to highlight that biking is about healthier kids, increased public safety, stronger local economies and more transportation options," said state policy director Blake Trask. "This is a new kind of bicycle advocacy, but most importantly this work was aided by the thousands of emails from Washingtonians who care about trails, public health, protected bicycle lanes, and school safety."
Here's the breakdown over 16 years:
$75 million for the state Bicycle and Pedestrian Grant Program
$56 million in state funding for the state Safe Routes to School Grant Program
$86 million in federal commitments for the state Safe Routes to School Program
$89 million for 23 projects identified in a statewide Bicycle and Pedestrian Project List
$15.5 million for the Northgate Bicycle and Pedestrian Bridge and for Puget Sound Bike Share expansion to the east side of Lake Washington
Combined total = $320.6 million
Additionally, the agreement includes other important investment wins:
Existing funding for biking and walking safety projects has been retained, meaning $56 million over the coming years will go to hundreds of new biking projects.
The Transportation Improvement Board will administer $106 million for the finally funded Complete Streets Grant Program. This program, established in 2011 thanks in part to advocacy by Washington Bikes and partners at Transportation Choices, has been unfunded until now.
Funding for significant road projects includes multimodal features, notably the SR 520 west approach in Seattle, as well as the North Spokane Corridor.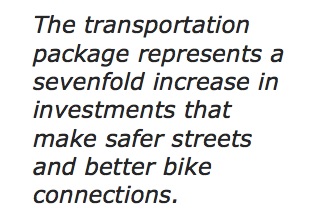 All combined these projects and programs result in well over $500 million (arguably closer to $600 million) in investments in safer streets, safer schools, and connections across Washington state over the coming 16 years. Compare this with the previous 2005 package that committed $72 million over a similar 16-year timeframe and you can see that the now-passed package equates to a sevenfold increase in investments that make safer streets and better bike connections.
"We're pleased to see that legislators saw the merit in making investments to grow bicycling statewide," said Washington Bikes executive director Barb Chamberlain. "Representatives and senators from both parties not only held the line for biking, but ultimately increased the numbers in the final compromise agreement."
Regardless of where you stand on many of the spending priorities, today we at Washington Bikes ask you to thank legislators for supporting this huge advance toward long-lasting biking investments across Washington state.
Many thanks to our members and donors who make our work possible with your tax-deductible donations for statewide bike advocacy. Join the thousands of people like you who make bicycling better.