Port Townsend to Port Angeles
Deborah Anastasi Black is a public relations consultant specializing in results-driven media relations, marketing communication and project management. She focuses her practice on Washington's Olympic Peninsula region, where she works with clients in the wine, culinary and tourism industries.
Where can cyclists encounter old growth forest, mountain vistas, rolling farmland, serene lakes, flowing rivers and ocean beaches, and even catch a glimpse of our Canadian neighbors to the north, all within a 130-mile radius? Nowhere but on Washington's Olympic Peninsula!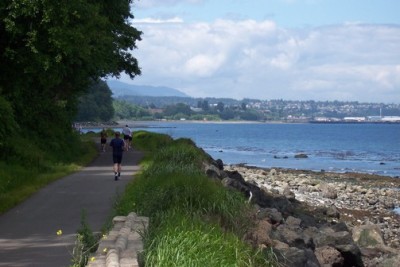 The Olympic Discovery Trail (ODT) traverses this most scenic region of the state from historic Port Townsend on the east side to the ocean beaches of La Push on the west side. With 69 miles of trail currently completed, the route is a mosaic of paved off-road trail, backcountry roads, restored railroad trestles and small town streets, with short stretches of highway shoulder. Multiple access points make it easy to enjoy one or more segments of the trail at a time, with attractions, restaurants and lodging facilities just a short detour away.Interested riders can access an interactive online ODT route map created by the Peninsula Trails Coalition at www.olympicdiscoverytrail.com. The map divides the trail route into four sections: East End, East Central, West Central and West End. Viewers can use the map's GPS feature to view locations and elevations, and can also download GPS coordinates into their own GPS from the Ride with GPS website.
Enjoying the Trail One Section at a Time
East End
Heading east to west, the first section of the ODT is 27 miles long, from Port Townsend to the community of Blyn. The route begins with a 7.3 mile off-road stretch known as the Larry Scott Trail, and continues for another 20 miles along Hwy. 20, Hwy. 101, and peaceful Old Gardiner Road with its fantastic views of Discovery Bay.
Side Stop: Just off Hwy. 101 in the community of Gardiner near Blyn, Wild Birds Unlimited is worth a stop for birders and non-birders alike! Stroll through the beautiful public garden with a stunning view of Discovery Bay.  Pick-up a bag of Lavender Mocha Mix in the store, a local culinary delight, and a hint at what lies ahead as the next section of trail passes through Sequim, the Lavender Capital of North America!
The stretch from Gardiner to Blyn requires a 1.5 mile ride on the shoulder of Hwy. 101 before accessing a trail head at the Jamestown S'Klallam Tribal Center. Known as "the Strong People," the S'Klallams have lived and prospered on the Olympic Peninsula for generations.
East Central
The East Central section of the trail connects Blyn to Port Angeles via the city of Sequim. It is 26.4 miles long with 24.4 miles paved and completed, and two miles of temporary connectors. Riders will peddle alongside heritage farmland, pass through Sequim Bay State Park, a 92-acre marine camping park on saltwater coast, set among huge fir and cedar trees, cross the Johnson Creek Trestle, which rises 85 feet above the creek, and wind through Carrie Blake Park before arriving at Sequim Avenue. Here is the best access to downtown Sequim with its thriving Farmers Market, restaurants featuring local cuisine, and a variety of lodging options. In July, ride amongst fragrant lavender fields at peak bloom and enjoy the annual three-day Sequim Lavender Weekend, July 17 – 19, 2015.
Agricultural Attraction:  Sequim Lavender Weekend is a signature event, drawing visitors from across the country and abroad. Now in its 19th year, the celebratory long weekend features lavender farm tours, a world-class  street fair, myriad lavender products, lavender-infused food and beverages, and a host of community events including art shows, live music, wine tasting and much more.
Cycling Event: Pedal Power Weekend, August 1-2, 2015
Pedal Power Weekend combines two diverse cycling events, Tour de Lavender and Ride the Hurricane.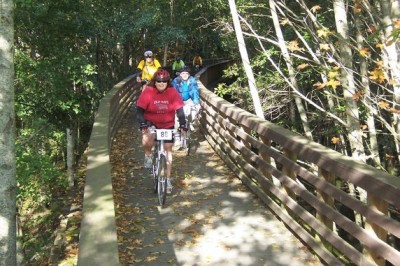 Tour de Lavender comprises two events, the Metric Century Plus Ride on Saturday, Aug. 1 and the Family Fun Ride on Aug. 1 – 2. A journey along the pastoral rural roads of the Sequim Dungeness Valley, the Metric Century Ride takes in Sequim's world-renowned lavender farms before heading taking west along the Olympic Discovery Trail to the Port Angeles waterfront and looping back. Recreational riders of all ages and ability levels will enjoy peddling among the lavender farms on the Family Fun Ride. Registration and information at https://tourdelavender.wordpress.com/.
Ride the Hurricane on Sunday, Aug. 2, is a unique event during which Hurricane Ridge Road in Olympic National Park will close to traffic from 7am – Noon. It is not a race but a recreational ride open to all abilities and ages. For registration information, visit www.portangeles.org and click on Ride the Hurricane.
Continuing west from Sequim toward Port Angeles, the trail passes through Railroad Bridge Park, crossing a 1915 Howe Truss Railroad Bridge listed on the National Historic Register. The bridge is currently closed, however, awaiting repair to damage caused by a rise in the raging Dungeness River this past winter. The Jamestown S'Klallam Tribe, which owns the bridge, has begun the permitting process for a redesign of its support structure. In the meantime, a recommended detour route to the north has been established and posted.  From east to west, it exits the trail in Sequim at 5th Avenue, then heads north on 5th to the Old Olympic Highway. The route crosses the river via the highway bridge, continuing southward on Heath Road where it rejoins the trail.
A few miles beyond Railroad Bridge Park at Kitchen-Dick Road, riders can access to the Dungeness Recreation Area and campground. A trail leads from there to the adjacent Dungeness Spit National Wildlife Refuge. One of the world's longest sand spits, Dungeness extends five miles into the Strait of Juan de Fuca. The Refuge was established by President Woodrow Wilson in 1915 as a preserve and breeding ground for native birds. It is open to the public year-round for hiking, wildlife viewing, boating, fishing and shell fishing. Touring the New Dungeness Lighthouse at the end of the spit is a popular tourist activity. Bicycles are not permitted in the Refuge so as not to disturb the migrating birds.
Beyond Kitchen-Dick Road, ODT continues through Robin Hill Farm County Park with 195 acres of meadow and forest and several miles of trails open to bicycles and equestrians. Then it's on to the shore of the Juan de Fuca Straits with many opportunities for beach access.
The Olympic Discovery Trail enters the city of Port Angeles along the popular Waterfront Trail with its spectacular view of the Olympic Mountains. From City Pier, Victoria, B.C. is a mere 18 miles across the Strait of Juan de Fuca. Black Ball Ferry Line's M.V. Coho provides opportunity for an international side trip – just a 90 minute crossing. The Coho departs Port Angeles four times daily during the summer months between June 18 and Sept. 8, 2015.
Port Angeles Attractions: Located on City Pier, the Feiro Marine Life Center enables visitors of all ages to experience the marine waters of the North Olympic Peninsula by showcasing sea life collected in the Strait of Juan de Fuca, and through exhibits, a microscope station and educational programs for youth and adults.
Historic downtown Port Angeles is an easy ride from the Waterfront Trail. The former logging town has evolved over the years to a center for art and culture, with outdoor sculpture exhibits, unique shops and galleries, restaurants serving expertly prepared cuisine made with fresh local ingredients and paired with local wines, and a music scene that will have you dancing the night away.
Lodging options vary from waterfront inns to historic boutique hotels to luxurious B&Bs with excellent views of the Strait of Juan de Fuca and the Olympic Mountains.
Tomorrow we continue the journey on the Olympic Discovery Trail from Port Angeles to the Pacific Ocean.