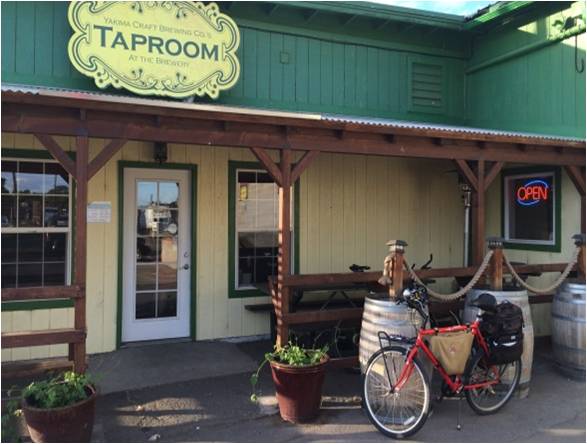 Frank Hieber is a Yakima resident whose interests include road and mountain biking, ice hockey, music, beer and baseball. He shares a favorite local ride with us today. Find him on Twitter: @ztirffritz
The Yakima Beer and Cider Loop showcases local scenery and allows riders to experience the local craft breweries and cideries.  This ride goes through several parks, and provides stops at up to 6 different watering holes around town.  The length of the ride is approximately 18-20 miles depending on the stops that participants choose. 
Depending on your pace, it could take more than 5 hours to complete.  It is an easy ride with less than 300ft of total elevation gain, but for people from cooler climates it is important to remember to hydrate properly during this ride.  Yakima is hot and it is a desert.  While beer and cider can have a restorative function, make sure that you're well supplied with water too.  Depending on the time of year, the temperature can range from 50° F to 100°+ F.
The route is available online via MapMyRide.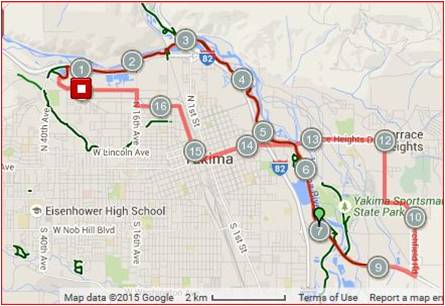 The ride can be started anywhere along the route, but the tasting room at the Yakima Craft Brewery makes a convenient starting point for the ride.  Participants can park in the lot and either start with a beer if the tasting room is open, or begin the ride toward Bale Breaker Brewing in Moxee, WA.
The ride begins with a short road ride along River Road and a right turn west onto Fruitvale Boulevard.  The northwest entrance to the Yakima Greenway Trail is hidden behind some industrial buildings.  The parking lot leads to a view of Myron Lake.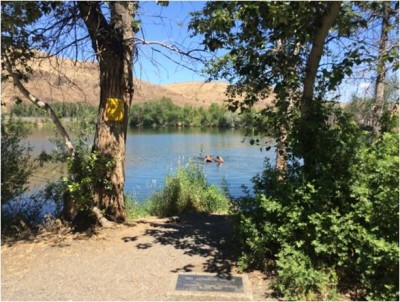 During the hot summer days in Yakima, the locals fish, paddle boat, canoe, and swim in this lake.  There are many unique sights to see while riding this trail.  Lots of birds — water fowl, hawks, eagles, and numerous other species — live here, making this a great route for birdwatching.  Early in the season eaglets can be seen peeking over the edge of a bald eagle nest located along the trail.
You'll enjoy many scenic vistas of the Yakima River as you ride.  The trail is relatively isolated, but has some facilities for water and restroom breaks along the way.  Picnic benches also dot the trail in several locations.  A few restaurants have access from the trail, including Burger King and El Mirador 2.  The trail passes through Sarg Hubbard Park, the Yakima Arboretum, and Sherman Park and goes past the Yakima Humane Society too (feel like walking a dog in the park? They'll let you borrow one!). A Greenway spur trail continues east next to SR 24.  Eventually all good things must come to an end, and this is where you must leave the Greenway.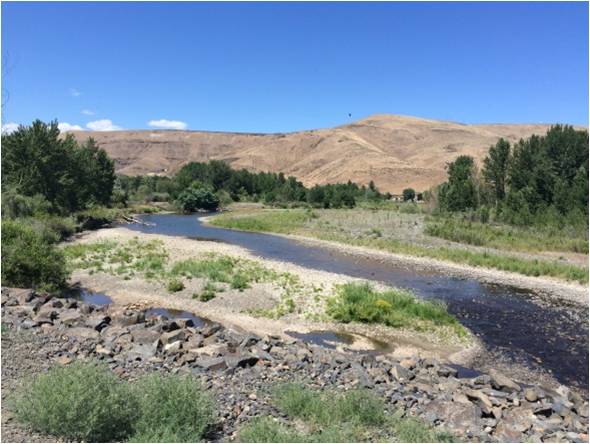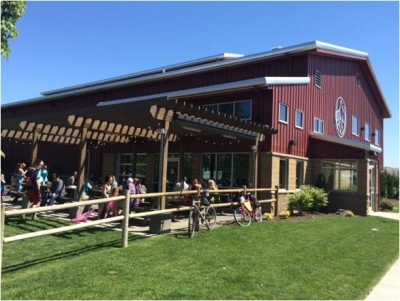 The ride continues east on SR 24 for about ½ mile. At the Birchfield Rd intersection, turn north.  Bale Breaker Brewing will be on your right.  It looks like a lush oasis tucked in the parched fields of hops that surround it.  Stop in for a pint or two and refill your water containers.  I recommend the TopCutter IPA but the Field 41 Pale Ale is also very popular and refreshing.  Bale Breaker Brewing has a grassy outdoor area where kids can play and offers both indoor and outdoor seating.  They don't serve food directly, but guests can bring their own or purchase from local vendors selling food outside the brewery.
OK, you've rested enough.  Let's keep going.
Turn right out of the brewery and continue north on Birchfield Road.  Follow this road about 1 mile. Birchfield Road becomes Gun Club Road and you'll follow that for about 1/3 mile.  Turn right and head north on 41st St and continue until the intersection with Terrace Heights Drive in about 1 mile. This is about the halfway point of the ride. Turn west on Terrace Heights Drive and continue about 3 miles. Now you have some choices/options in where to go:
Yakima Craft Brewing Tap Room, 120 East Yakima Ave. Food, beer, wine , restrooms and indoor seating. Not a full restaurant, but more than just chips and salsa.  I recommend the Vern IPA and the Ploughman's Platter. They carry more than just their own beers too, so you never know what you'll find there.
The Beer Shoppe, 320 W Yakima Ave. Limited food, a good selection of craft beers on tap in the back, indoor seating and restrooms available. The largest selection of canned/bottled beer in Yakima.
Hop Nation Brewing, 31 N. 1st Ave. There's no food from the brewery, but sometimes local vendors are outside offering food. The tasting room is large and the bar is friendly.
OK, time for some cider. Continue on your way by travelling north on 1st Avenue about 1 mile. Turn west on I Street (that's 'I' as in H, I, J…) for about .25 miles, then north on 6th Avenue for about 200 feet and west again on J Street for about 500 feet to your next stop.
Tieton Cider Works is definitely a diamond in the rough.  It looks like a prison outpost with 10-foot chainlink fence and razor wire all around, but I suspect that's a remnant from the building's earlier life.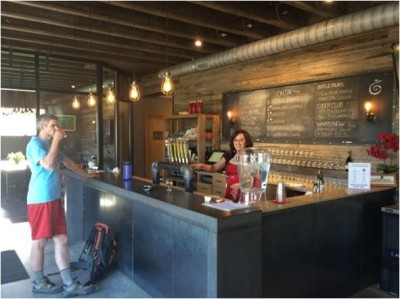 Inside the 'compound' is a welcoming and stylish tasting room. Tieton Cider Works is one of the fastest growing hard cider operations in the country. They make ciders that range from sweet to extra dry and utilize regional sources to provide apples, pears, cherries and hops to flavor their ciders.
This is a real treat if you've never sampled ciders. The samples are arrayed like a wine flight listing residual sugars and descriptions that include floral notes and fruity bodies. The beverages themselves range from hearty to delicate. I prefer their Dry Hopped cider. They don't offer food, but again, local vendors will often set up in the parking lot to fill the void.
Along the side of the parking lot you'll notice a long, white sandy bocce court. It's a fun game that I like to compare to shuffleboard crossed with bowling. Take a short break and try your hand at bocce.  Someone there will show you how if you don't already know.
One more stop on your bike tour of Yakima beer and cider….
Exit the cidery and head south on 8th Avenue for about 150 feet.  Turn right and head west on Hathaway Street for about ½ mile. Turn right and head north on 16th Avenue for about 1/3 of a mile. Turn left on River Rd and head west for about 1 mile and Yakima Craft Brewing will be on your left.
If they weren't open earlier, they should be now. The tasting room offers a small selection of chips, pretzels, and some other pub fare. Indoor and outdoor seating is available. Restrooms are available, but it is an awkward trek through the brewery to get there; you might need someone to show you how to get there. This will sound strange when you're at a brewery, but try some of their root beer — it's really good. The Good Monk and Bad Monk are my favorite beers, but don't plan on driving for awhile afterward. Don't be shy with the people in the tasting room. The staff and regulars alike are REALLY friendly. Introduce yourself and make some new friends.
This concludes our Yakima Beer and Cider Loop tour.  There are of course other breweries outside the city and wineries galore in the lower valley, which also makes for a fantastic bike ride.  The Yakima area has fantastic restaurants near several stops as well if you're looking for classier dining options.
Write Your Ride!
We invite you to share a favorite bike ride with others using our Write Your Ride form. Your description and local knowledge may inspire others to try your ride.