Last week brought news that 4 new Bicycle Friendly Communities were designated in Washington state. Now with 18 cities (2 expired), Washington state is tied for having the third most bicycle friendly communities in the nation. What makes a Bicycle Friendly Community and how do we get more?
Last week The League of American Bicyclists (LAB) announced its 2015 round of new and renewing Bicycle Friendly Communities.  Ellensburg joined the ranks at the Silver level, while Bellevue, Port Angeles/Clallam County and Jamestown S'Klallam Tribe entered as Bronze level communities. Tacoma, already a Bicycle Friendly Community, retained its Bronze status.
So what does this mean for growing bicycling statewide and how do we get more?
Washington State's Current List of Bicycle Friendly Communities
Communities have multiple opportunities each year to apply and a Bicycle Friendly Community ranking lasts four years. Consequently, Washington state has 14 other previously-designated communities, but two are expired and need to renew. Here's the active list of 16: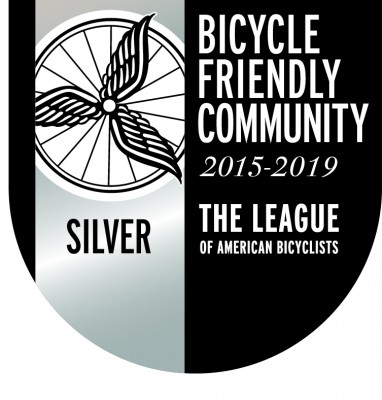 Gold

 

Silver

Bellingham
Ellensburg (new)
Port Townsend
Redmond

Bronze

Anacortes
Bellevue (new)
Greater Wenatchee MPO
Jamestown S'Klallam Tribe (new)
Liberty Lake
Port Angeles-Callam County (new)
Sequim
Snohomish
Spokane
Tacoma
Vancouver
The two communities that saw their designation expire as a Bicycle Friendly Community have great cycling advocates and a higher-than-average commute mode share, so hopefully they can work to renew in the August 2015 review cycle:
Bainbridge Island (Bronze – last applied in 2008 and designation expired in 2012)
Olympia (Silver – last applied in 2008 and designation expired in 2012)
What does this mean again?
Frustration about being named a Bicycle Friendly Community is also expected as it's a little surprising to be a Bicycle Friendly Community and not always feel like the town or city provides safe and accessible connections for all ages and abilities.
Just biked from Overlake to Main & 148th. @BikeLeague how did @bellevuewa get bronze BFC? Anyone who fills out applications gets bronze?

— Glen Buhlmann (@GlenBikes) June 11, 2015
For those that are frustrated, it's important to put this program in perspective: the Bicycle Friendly Communities Program provides a roadmap for what to do to make bicycling better in your community. Consider it not an end, but a beginning.
@GlenBikes Remember, Bronze is step one of five for @BikeLeague. I'm glad @bellevuewa is taking the time to apply (and learn).

— Evan Manvel (@evanmanvel) June 11, 2015
Indeed, a Bronze rating represents a fantastic first step toward making a community better for bicycling. But what are the benchmarks to better understand a hallmark of a community that is Bronze, Silver, Gold, Platinum, or Diamond? The League of American Bicyclists has put together this helpful graphic to illustrate general elements of what the different levels represent as communities learn, invest, and work to becoming inclusive of bicycling.
There are many reasons to receive the designations but in Washington state all but one (Redmond) of the cities receiving a silver or gold ranking enjoy somewhere between 3-6% of their residents commuting by bike.
More Communities Across Washington State Can Take the Next Step – Join Us!
Clearly, a wide spectrum of towns and cities in Washington state are already taking steps to become more bicycle friendly. Beyond looking for Bainbridge Island and Olympia to reapply, cities like Walla Walla and Pullman are prime candidates. Already they enjoy relatively high rates of bicycling – likely due in part to being home to colleges and universities – and they have great trails and beautiful riding.
And there are even more cities and towns that are seeking to attract bicycle riders to visit and ride their main streets, stay in hotels, and eat at restaurants. For those looking to attract more outdoor recreation visitors and make safer streets, applying to become a Bicycle Friendly Community is a great first step. Contact Washington Bikes today and we can help you take that next step before the August 11, 2015 deadline!