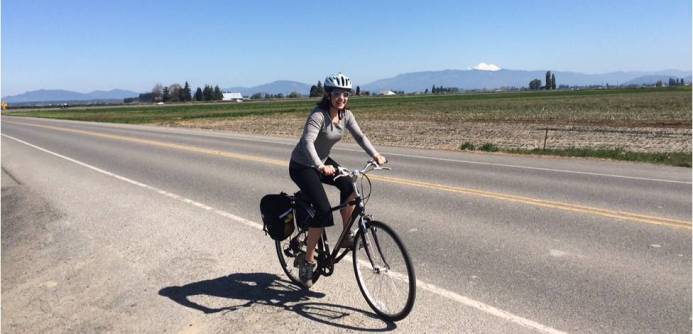 Petra Vallila-Buchman is a public health professional in Seattle and an enthusiastic bike commuter. She is a member of the Washington Bikes Board of Directors and is today's guest blogger.
I planned and executed my first bike trip in late April. I rode 28 miles in the Skagit Valley between Mount Vernon and La Conner. The Skagit Valley Tulip Festival is a much talked about festival during the month of April, and I had been looking forward to riding by the fields upon fields of brilliant blocks of color. A quick google search results in some incredible photos. The Washington Bulb Company farms about 2,000 acres of land in the area, including 350 acres of tulips – there would be quite a show!
The first thing I learned while planning my trip is that the Tulip Festival is about more than tulips. The second thing I learned is to keep an eye on the weather.
I found a great map on the www.beactiveskagit.org website which offered a few routes to choose from, including the Skagit Flats route which I had read about in a Mountaineers guide. I used that map and the bloom map offered by the Tulip Festival site to guide my trip.
The day's weather was spectacular: blue sky, warm sun and the mountains were out. I headed out to Mt Vernon by car from my home in Seattle via I-5. I parked at Edgewater Park , which sits along the Skagit River across from Mt Vernon. The park offered a perfect place to park in the shade and get the snacks organized.
The route was a lovely 28 miles primarily on flat roads with an adequate shoulder. I've created a map of my trip, based on a phone app that I usually use while running. I completed the route counter clockwise with a stop in La Conner for lunch at the Water Front Café, which boasts daily homemade chowder, and panko with parsley fried fish and chips. La Conner is a sweet town with several shops down its main corridor, which follows the Swinomish Channel. There is bike parking at the southern end of 1st street, outside of Calico Cupboard Old Town Café.
As we tootled along en route to La Conner I quickly learned that all of our recent good weather meant an early showing and harvest of the tulips – we missed the show by a week! Although there were no tulips along our route, there was plenty to look at and enjoy including small farms raising milk cows and lamas and a local arts festival.
If you'd like to see the tulips on this ride, aim for a trip during the first two weeks of April. There are ongoing activities throughout April in the area, including street fairs and live music. The Skagit Valley Tulip Festival website offers a comprehensive overview of all festival-related activities. This site offers a bloom map so you can see what's still in bloom. Keep an eye on the weather, a warm spring will mean an early show. If the tulips in your yard or neighborhood are out, chances are it's a great time to head to the Skagit Valley.
The Route
Take S Ball Street north out of the parking lot to W Division Street and make a left onto W Division Street. After two blocks, make a left onto S Wall Street. Make your first right onto McLean Road. Make a left onto Penn Road. Both W Division and McLean are busy-ish, but you're not on either for long. Make a right on Calhoun Road and ride this road until it ends, and jogs left, turning into Chilberg Road. Take Chilberg into La Conner. Chilberg turns into Morris closer to town.
To head back to Mt Vernon, take Morris/Chilberg out of town the way you came in. Make a right on Dodge Valley Road which takes you south toward Fir Island. When you dead-end into Best Road, make a right onto Best Road, which will take you across the Skagit. There is a bit of hill on Best which takes you onto the bridge. The shoulder is not substantial. You'll be making a left across busy traffic at the end of the bridge to turn left onto Moore Road. We opted to cross the bridge and turn with traffic right onto Fir Island Road. We pulled over shortly after making the right and then headed left when the traffic was clear.
Follow Moore Road along the dike. The road's name changes to Johnson briefly. Take Moore until it deadends into Skagit County Road, make a right here. Take the Skagit County Road along the dike until Fir Island Road. You'll be making a left onto Fir Island Road to cross a second bridge across the Skagit. This intersection can be busy, so wait for traffic to clear sufficiently before turning left. There is a small shoulder on this bridge. After crossing the bridge, make a left onto Dike Road to head north toward Mt Vernon. Follow Dike Road all the way to the edge of town. Make a left onto W Hazel Street and after about 5 blocks make a left onto Cleveland, which will land you in the middle of town.