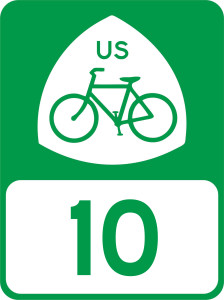 It's official! US Bicycle Route 10 has been approved as Washington state's first route in the nationwide US Bicycle Route System and we're holding a ribbon-cutting ceremony this Sunday, September 14 at 1 pm in Anacortes.
Ribbon-cutting for USBR 10 will feature State Secretary of Transportation Lynn Peterson, Anacortes Mayor Laurie Gere, WA Bikes Executive Director Barb Chamberlain, Representative Kris Lytton and additional elected officials who have helped to approve and support this historic route that crosses the northern tier of Washington state via the SR 20 corridor. A similar dedication will occur on September 20 at the Rotary Club of Colville's 2nd Annual Blazing Saddles Bike Ride fundraiser in Colville.
The ribbon-cutting ceremony will be held during Anacortes Open Streets. The open streets event–the first of its kind in Anacortes–will spread out over a twenty block loop and will include a Retro Bike Ride, a Concours d'Elegance bike show, Volkswalk, BMX and Mountain biking demonstrations, Special Olympics riders, bike repair station, live music, healthy lifestyle demos, information displays, a bike parts swap meet and more.
USBR 10 is a 407-mile bike route following the SR 20 corridor from Anacortes to Newport at the Idaho border. It climbs and coasts six mountain passes in between. The USBR 10 interstate route will eventually connect all the northern tier states, linking Washington state to Maine and running from the Pacific to the Atlantic Ocean.
Nationally, Adventure Cycling Association is managing the endeavor to create over 50,000 miles of interstate bike routes. Washington Bikes, in partnership with Washington State DOT, is coordinating the USBRS effort in our state.