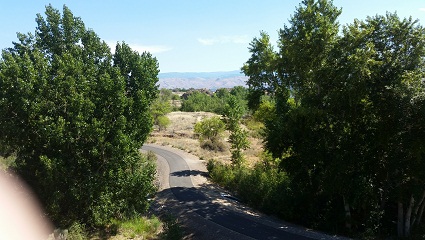 We don't just want to be a Bicycle Friendly Community. We need to be a friendly bike community. — Rufus Woods, Publisher, Wenatchee World
Words worth sharing! [Tweet "We don't just want to be a Bicycle Friendly Community. We need to be a friendly bike community.–Rufus Woods/@WenatcheeWorld"].
What a wonderful takeaway from a trip to Wenatchee this week, along with a 28-mile sunburn (it's warm bicycling in Wenatchee this time of year — good thing they have a river to jump into), pictures of the Apple Capital Loop Trail, and new bike friends.
WA Bikes has connected with local advocates several times the past couple of years, including a workshop on creating a more bikeable/walkable community in 2012 and a visit in 2013 with a number of local riders including people working to get bikes for kids who don't have them. Every time we go we see more people riding and more infrastructure connections to help grow bicycling.
This list will inevitably miss some of the great things happening in this beautiful valley to make bicycling better for everyone from 8 to 80; I'll take a run at what I heard and Wenatchee bike folks can add more in the comments.
Bicycle Master Plan: Recently adopted by the Wenatchee Valley Council of Governments
Wenatchee Valley Velo puts on a great Tour de Bloom omnium. My husband raced it and said it was outstanding and he'll be back; I'm going to plan to come with him (not to race….). They're now working on getting the entire Wenatchee Valley designated as a Bicycle-Friendly Community — a great goal in the #1 Bicycle Friendly State!
The Complete the Loop Coalition, trail advocates working to connect the Wenatchee Valley's outstanding outdoor assets, has raised money to link the Apple Capital Loop Trail with the Rocky Reach Trail and Lincoln Rock State Park. The first mile has been paved, with four to go in later 2014 after harvest season.
The Coalition also has a vision for a Wenatchee Valley Scenic Bikeway linking Wenatchee to Leavenworth — a popular route for bike touring travelers exploring the scenic climbs and descents through the North Cascades. This fits right into our work as route coordinators for the US Bicycle Route System in Washington, with the future proposed USBR 87 coming through the valley north/south, since travelers on the US Bicycle Routes are looking for great places to explore (and spend money). The USBR will put Wenatchee on the national map for bike travel, and the more assets business and community leaders can develop in the Wenatchee Valley to take advantage of that visibility, the better.
Sparkplug and WA Bikes member Deb Miller created the Pybus Kids Century, challenging local kids to ride the Loop Trail 10 times to finish a century. Now in its second year, the event has grown from 55 kids last year to nearly 150 so far this year, with at least one rider on track to finish a double century by the end of the challenge in October. She testified about her work at the meeting of the Governor's Task Force on Parks and Outdoor Recreation held Tuesday.
Deb is also working to build on the momentum from our 2012 workshop, the Bicycle Master Plan adoption, and these initiatives to build support for Complete Streets.
Nancy Warner of IRIS (Institute for Rural Innovation and Stewardship) described the Listening Post they've added on the Apple Capital Loop Trail as part of a regional network of places you can learn about by calling or clicking.
Bike tourism is growing in Wenatchee: people who ride through on multi-day tours, those who come in for a major event such as Tour de Bloom, mountain bikers looking for the outstanding trails in the area, and people coming for a visit and renting a bike at Arlberg's in Pybus Market to pedal along the Loop Trail.
This slideshow requires JavaScript.
Two quick stories from the Tour de Bloom that help illustrate the value of bicycling to the Wenatchee Valley, whether or not you ride:
Bikes mean business: [Tweet "Wenatchee restaurant had 50% increase in sales in a single night thx to Tour de Bloom race. #bikesmeanbusiness"] A local restaurant owner we're sure wants to remain nameless initially expressed some unhappiness about having the streets closed for the criterium race (fast loops on a short loop course in downtown). At the end of the evening, however, this owner said a typical night for the restaurant would bring in $3,500-$4,000. That night they did $6,000 in business. Not bad to have a 50% increase in just one night thanks to those hungry, fueled-by-calories racers and the family and friends who come to watch.
Bike events are good for community: The Wenatchee Police Department looked at the citations they issued during the Apple Blossom Festival and Tour de Bloom. According to Wenatchee Valley Velo member Ace Bollinger, they said they issued far fewer citations during the events than they did on any normal night — and that was with hundreds more people thronging the downtown streets. They were able to downsize their staff during a shift in which they expected an overload, which meant a direct savings to taxpayers.
Wenatchee is really rolling, and at the same time local advocates say they have a lot of work to do and projects to complete. My list doesn't include everything I heard and learned on my visit.
Your turn: If you bike in Wenatchee, what do you think people need to know about what's happening there to grow bicycling and make it even better?
Share this on Twitter to thank local bike leaders for all their hard work:
[Tweet "Thx local advocates in Wenatchee Valley/North Cascades for all your work. #bikeWA"]
Want to read more about what's happening for better bicycling in Wenatchee and around the state? Sign up for our e-news.