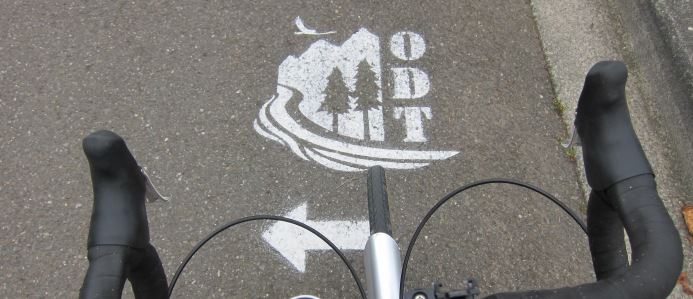 Thanks to public comments from citizens and advocacy groups like Washington Bikes and Peninsula Trails Coalition, Olympic National Park has announced that an 8-foot asphalt trail with 3-foot gravel shoulders is the selected alternative for the Spruce Railroad Trail improvements.  This trail segment is part of the larger Olympic Discovery Trail.
This is a change from last fall when the park first identified its preferred alternative for trail improvements as a 6-foot paved surface.  Read our earlierblog post for more info.
Unhappy with the preferred alternative, the WA Bikes and Peninsula Trails Coalition coordinated efforts to push for a safer multi-use trail design with 8-10 feet of paved surface.  A paved trail surface of 8-10 feet provides sufficient space for two bicyclists to pass each other and is consistent with the existing trail design.  It also meets the Americans With Disabilities Act (ADA) requirement to make this trail accessible and usable by people with disabilities. The park's preferred alternative would not have met those requirements.
In an announcement released this week, Olympic National Park Acting Superintendent said:
This project illustrates the value of public and community collaboration, as important issues and concerns have been raised throughout the process and have helped shape the final decision.
We are pleassed that park officials have listened to public comment and revised their final selection to reflect the safety concerns. You can read the park's announcement here.
A completed Olympic Discovery Trail will traverse approximately 130 miles of the Olympic Peninsula.  The trail begins at the Victorian seaport of Port Townsend and will end at the Pacific Ocean in the Quileute Nation village of La Push.  The segment utilizing the Spruce Railroad Trail through Olympic National Park will allow bicyclists to avoid a dangerous portion of Highway 101 along the shore of Lake Crescent.