New Staff Position to Serve the Inland Northwest Community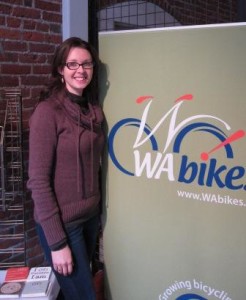 It is an exciting time for Washington Bikes as we open our Spokane office. With consistent staff presence in the greater Spokane area, we will be able to support more community advocates, impact more local policies and projects, and encourage more people to get on the saddle.
To support the effort, Kate Johnston has joined our staff as the Spokane-based School and Family Programs Coordinator. She is a third-generation eastern-Washington cyclist who studied Urban Planning and earned her teaching certificate in secondary education from Eastern Washington University. She recently completed two years of work in the project management division of a global engineering firm and is now looking forward to focusing her energies back home in the Inland Northwest region.
For two years in a row, Kate has been the team captain for the winning corporate-division team in the 185-mile Spokane to Sandpoint Relay. In addition to spending time with her family, she enjoys the luxurious simplicity of living in a central location with both a bike lane and a bus-line right outside her front door.
Kate will be working with the Spokane Regional Health District and Spokane Public Schools to promote healthy and safe routes for children to get to school in communities around Spokane.  Over the next four years, she will work with school staff, parents, and students to promote biking and walking to school around seven elementary schools: Bemiss, Holmes, Logan, Moran Prairie, Seth Woodard (Spokane Valley), Stevens, and Sunset (Cheney) elementary schools.
She will also be partnering with Spokane Public Schools to more directly promote policies and activities that support wellness at school, such as healthy eating and active living. With this additional approach, we will be able to impact policies and school culture around active transportation. This is an effort made possible with support from the Empire Health Foundation.
In addition to these school-based projects, Kate's presence in the Spokane region will support bike advocacy overall. Whether it is providing support for Bike Month, talking with communities about rail-trails, or working with city staff to promote better bike infrastructure, she will be a consistent face for us in eastern Washington. We are excited and look forward to this new era of Washington Bikes.
Kate can be reached at 509.280.5762  or kate@wabikes.org, and her office is housed with the Empire Health Foundation.